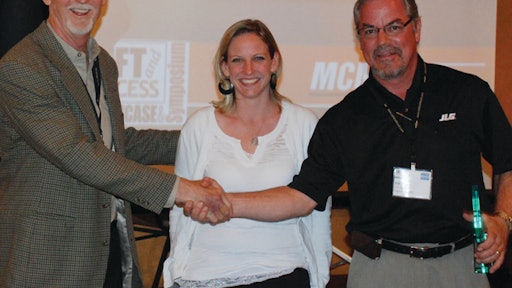 JLG Industries Inc., an Oshkosh Corporation company and a leading manufacturer of aerial work platforms and telescopic material handlers, announced the 1500SJ boom lift was named a Gold winner among aerial lifts in Lift and Access magazine's 2011 Leadership in Lifting Equipment and Aerial Platforms (LLEAP) Awards competition.
The LLEAP Awards, open to new products that were introduced to the industry between April 1, 2010 and March 31, 2011, formally honors products for leadership, influence, benefits and overall innovation. Judges selected the top products in the following categories: aerial lifts, material handlers, cranes, OEM-developed features/essential components for OEMs and aftermarket support products or services. All the award winners, including the 1500SJ, will be featured in the November/December issue of Lift Access.
"JLG is proud to accept this prestigious award, which recognizes the 1500SJ's innovation as the largest self-propelled telescopic boom lift in our industry," said Jeff Ford, JLG Industries product director. "The 150-foot boom provides incredible flexibility and unparalleled reach for our customers, and it only requires a simple weight permit for transport."
The 1500SJ includes a telescoping jib that offers expanded work envelope flexibility and up to 25 feet of horizontal and vertical reach. In addition, the lift delivers industry-leading terrainability and boosts productivity with the industry's best work envelope. The 1500SJ features dual 1,000/500 pound capacity, three steering modes and advanced systems to assist in safely positioning the platform.
For more information about JLG, please visit www.jlg.com.
Companies in this article