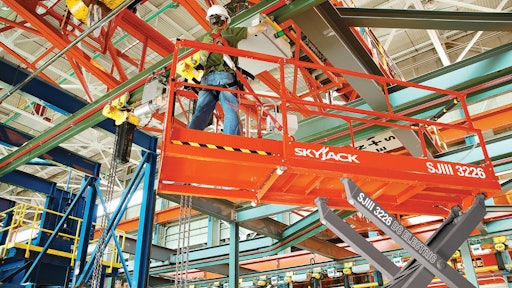 Following a huge £7-million investment into its power division, Speedy Services is continuing to flex its muscle as the UK's leading provider of equipment rental and support services by doubling the size of its electrical scissor lift fleet in a £4-million deal.
In what Speedy bosses are calling 'another landmark investment,' new batches of 19-foot and 26-foot Skyjack electrical scissor lifts – the SJIII 3219 and SJIII 3226 - have been ordered for the company's network of depot centerss across the UK, reinforcing its commitment to deliver access to rental equipment during busy summer months for the industry.
Electric scissor lifts are proving to be an increasingly popular alternative to powered access towers and present a number of safety and sustainability benefits for those who are required to work safely at a height.
The SJIII 3219 and SJIII 3226 both feature:
• Drivability at full height
• 90-degree steering with zero inside turning radius for optimum maneuverability
• Dual holding brakes
• Proportional controls for drive and lift functions
• A pothole protection system
• An overload sensing system
• Lowering warning system
• Two-person capacity, which reduces time spent erecting towers and moving between work points
Andy Connor, Speedy's supply chain director, says, "I'm delighted to announce another landmark investment for Speedy. We continually strive to put the needs of customers first through our product improvement, innovation and investment program.
"Skyjack manufactures outstanding electrical scissor lifts which give users the optimum level of performance and safety. We're confident that these units, which will be available at our centers across the UK, will meet the needs of those working in aerial lift professions.
"Our level of investment into rental equipment this year is a clear indicator that we are determined to fill supply gaps in the market and provide a market leading service to our customers."
Skyjack, which started to manufacture powered work platforms in 1986, is a world leader in the aerial lift industry with over 30% of global market share, reaching territories as far as North America, Asia and Australia.
"We're delighted that Speedy Services has decided to invest in the SJIII 3219 and SJIII 3226, as it shows a high level of trust in our products," says Charlie Patterson for Skyjack. "We're confident that customers across the UK will be impressed with these units and the many benefi ts they bring to working comfortably at a height."