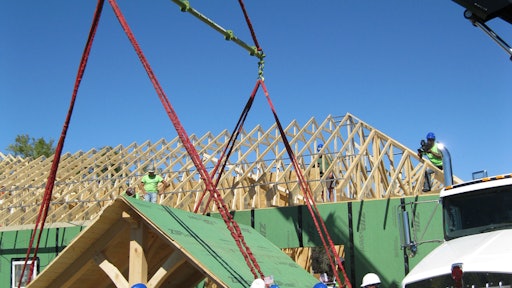 Lifting Gear Hire (LGH) recently donated a Modular 24 Spreader Beam with top rigging to help the Building Community Making Connections (BCMC) and Operation Finally Home. LGH donated a Mod 24 spreader beam with rigging to help place the roof on a deserving soldier's new home in San Antonio, TX.
BCMC partnered with Operation Finally Home to build a home for a deserving United States Veteran. Specialist Cody Nusbaum's unit was ambushed by Taliban fighters disguised as Afghan police officers on August 24, 2011. Since that day Cody has gone through over 65 surgeries. After a series of revolutionary procedures to repair his hip and leg, and five months of painful physical therapy, Cody recently took his first steps--fifteen months after the attack. To learn more about this please visit http://www.bcmcbuild.com.
"LGH believes in giving back to our communities. This opportunity to help someone who has given so much for our country means a lot to LGH and touches home for several of our employees," said Chris Hyatte, Regional Sales Manager in the Texas area.
Founded in 1990, Lifting Gear Hire (LGH) is the United States' largest single organization devoted exclusively to the provision of lifting and moving equipment for rent and sale. LGH provides hoisting, pulling, jacking, rigging, material handling and safety equipment available for immediate and safe use. LGH's mission is to offer expertise in the rental of the safest and most reliable hoisting and rigging equipment to build and support a better America.LGH – Puts Safety First. www.lgh-usa.com
Companies in this article