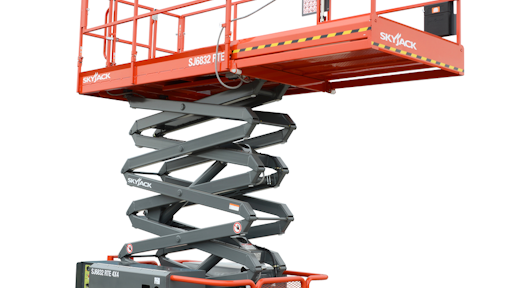 Skyjack is showcasing its full line of aerial work platform at APEX 2014, which takes place in Amsterdam, the Netherlands, June 24-26. Highlights among the 10 products featured at Skyjack's booth, located at the RIA center (booth 510), include the European unveiling of the SJ 6832 RTE electric rough-terrain scissor lift, which debuted earlier this year.
Malcolm Early, vice president of marketing at Skyjack, said APEX represented a good opportunity to meet with customers specialized in the access business.
"Because it's a specialized access equipment show, we know the quality of visitors at APEX will be high," he said. "It's also a great opportunity to meet with customers and colleagues who we might not have seen at other trade shows earlier this year. This has been a busy year for Skyjack, with new machine launches and celebrations to mark the delivery of our 100,000th SJIII 3219 and the wrap up of our Quest2013 contest to find the oldest working Skyjack. We're expanding our product line and our global operations so APEX is a great chance to talk with current and prospective customers about how we can help them grow their businesses."
New electric rough-terrain scissor lift
The new SJ 6832 RTE on show at APEX is the only machine in its category with 45% gradeability and four-wheel drive as standard. The RTE provides end users with a zero emission scissor lift that comes with the low running costs and high uptime customers expect from Skyjack's "simply reliable" AWP design philosophy.
"The SJ 6832 RTE offers the best of both worlds with a zero emission machine that doesn't require any special training to run because it's built on the standard lift frame that many of our clients are accustomed to using. You can take this machine from rough terrain to indoor projects seamlessly without any extra noise, emissions or costs," Early said.
The new electric rough-terrain scissor lift can handle a maximum capacity of 454 kg (1,000 lbs) and offers a maximum working height of 11.75 m (32 ft).
To simplify operator and service training, the SJ 6832 RTE was built on the same chassis as the existing diesel and dual fuel 68RT units. This allows those already familiar with the highly popular traditionally-powered 68RT lifts to transition seamlessly to the electric version. Foam-filled non-marking tires, near-zero noise levels, zero emissions and the tightest turning radius in its class make the transition from outdoor to indoor jobs easier than ever.
Maintenance costs and time are reduced with the RTE through the elimination of servicing air filters, fuel filters, oil filters, oil changes, belts, coolants, etc. Almost all non-power-plant related parts are common with the internal combustion 6832RTs. The standard Skyjack color-coded and numbered wiring system, along with full access to all serviceable components and a tilt-out hydraulic manifold adds to the ease of maintenance for the SJ6832 RTE.
Another eye-catching model from Skyjack's scissor line at APEX will be the SJ 9250 RT, full-size rough terrain scissor lift, which offers high work heights and heavy duty capacities. The SJ 9250 RT offers an expansive platform of up to 7.21 m (24 ft) in length, with a maximum working height of 17.24 m (56 ft) and capacity of up to 227 kg (500 lbs).
Machine bonanza
In addition to scissor lifts, both straight and articulated Skyjack booms will be on display at the show. The newest in this range is the SJ 63AJ articulating boom, which features a unique open center knuckle riser design for improved visibility and compact dimensions, and the "straight boom functionality," which allows the boom to reach the ground with the riser fully elevated, increasing productivity and offering below ground reach capabilities. Dual lift cylinders provide comfort and stability, while maintaining true vertical rise, which prevents any forward or backwards drift. Other key features include: direction sensing drive and steer controls, analog based controls and Skyjack's standard color coded and numbered wiring system. The SJ 63AJ is designed for versatility and combines a working height of 21.38 m (70 ft), a horizontal reach of 12.19 m (40 ft), and an up-and-over clearance of 8.38 m (28 ft).
Another articulating model on the Skyjack booth is the SJ 46AJ, which features a working height of 16.15 m (53 ft), a platform height of 14.15 m (46 ft), up-and-over height of 7.63 m (25 ft) and a basket capacity of 227 kg (500 lbs).
From the telescopic line, the SJ 66T will be shown and it features a working height of 22.1 m (73 ft), a platform height of 20.1 m (66 ft), horizontal reach up to 17.4 m (57 ft) and a basket capacity of 227 kg (500 lbs).
Compact, lightweight designs
Both the SJ 12 and SJ 16 vertical mast lifts will be on display. Their lightweight design provides low ground pressure and floor loading, a zero-degree inside turning radius and a traversing platform for added reach.
Rounding out the company's product line-up are the DC electric scissor lifts SJIII 3219, SJIII 3226 and SJIII 4632. The electric scissor lifts are quiet (with zero emissions) and able to work in the tightest of spaces, helping to make these the world's top-selling aerial work platforms.
With such a wide array of products on show, visitors will have lots to see at the Skyjack booth. The full list of Skyjack products at APEX 2014 is:
SJ 12, Vertical Mast Lift
SJ 16, Vertical Mast Lift
SJIII 3219, Compact DC Electric Scissor
SJIII 3226, Conventional DC Electric Scissor
SJIII 4632, Conventional DC Electric Scissor
SJ6832 RTE, Electric Rough-Terrain Scissor Lift
SJ9250 RT, Full Size Rough Terrain Scissor Lift
SJ46 AJ, Articulating Boom Lift
SJ63 AJ, Articulating Boom Lift
SJ66T, Telescopic Boom Lift