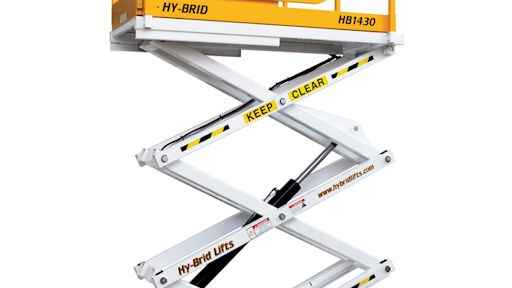 Custom Equipment has added Lew Hudson Sales, Lawrenceville, GA, as its new Hy-Brid Lifts sales representative firm in 17 southern and western states.
The Custom Equipment and Lew Hudson partnership will serve customers in Florida, Georgia, Alabama, Mississippi, Tennessee, North Carolina, South Carolina, Arkansas, Louisiana, Texas, Oklahoma, New Mexico, Colorado, Wyoming, Arizona, Utah and Nevada. Paired with Custom Equipment's factory sales team, Lew Hudson's 37 years of industry expertise and experienced product professionals will help support independent dealers and national accounts throughout the company's sales territory.
"I am very excited about this new partnership," said Dan Schneider, Custom Equipment's North American sales manager. "The Lew Hudson Sales team is well-known and respected in its sales territory and in the industry overall. This partnership will expand Custom Equipment's U.S. presence while offering Lew Hudson and its customers a high-quality, versatile product for all low-level-access projects."
Darrell Hudson, president of Lew Hudson Sales, adds, "We are very excited about the opportunity to work with Custom Equipment. Their products fit well with almost all of our rental and industrial customers. The Hy-Brid products answer a growing industry need for innovative and versatile low-level-access lifts."
Custom Equipment designs Hy-Brid Lifts to meet the daily challenges that contractors face in multiple industries, including electrical installation, warehousing, facility maintenance, drywall, construction, HVAC, industrial manufacturing, painting and plumbing, just to name a few. The product line includes electric and push-around units, and offers working heights of 11 to 20 feet and versatility to meet nearly any type of low-level-access application.
All Hy-Brid Lifts are ergonomically designed with low step-in heights and full access gates to prevent injuries and enhance ease of access. Customers can select units that best meet their needs with features that range from zero-turn radius capabilities to varying platform sizes and capacities. All Hy-Brid models offer enhanced efficiency and maneuverability for faster jobsite navigation and safer operation.