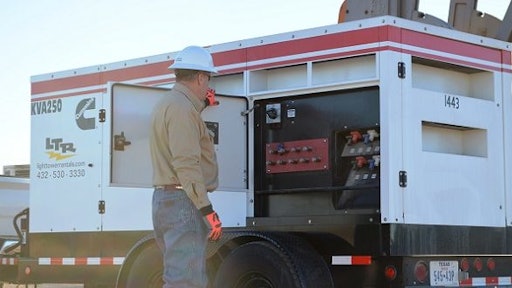 With depressed oil prices, smaller work forces and an increased emphasis on the bottom line, many companies in the energy industry have let safety procedures slide to the back seat.
But not all of them.
One company that actually enhanced its safety programs is Light Tower Rentals (LTR), a 22-year old firm well-known in the oil patch as a leader and innovator in the area of safety.
"Safety and health in our business must be a part of every operation," said Pat Bond, president and chief operating officer of LTR. "Without question, it is every employee's responsibility at all levels.  Our goal is nothing less than zero accidents and injuries."
But Bond does more than just lip service when it comes to safety. He and the rest of the LTR management team empower each and every employee with the power to stop any job in progress if they see a potential safety hazard, even if it's the smallest of occurrences.
Recently however, one employee's actions may have saved many lives thanks to LTR's "Stop Work Authority" policy.
"One of our NG Technicians in South Texas was dispatched to a location after an alert was received that one of our Natural Gas Generators went down," said Ted Hogan, co-founder and CEO of LTR.  "After arriving at the location, the technician noticed that the generator stopped working because of low gas pressure. He started looking over the generator for leaks and then traced up the line to the gas source.  He found a gas leak coming from the supply line to our generator."
According to Hogan, the area where the generator was operating is known for having high H2S (Hydrogen Sulfide, a highly poisonous gas) content, so the technician immediately shut down the entire location along with the adjacent location that was downwind from the leak.  The LTR technician removed at least 20-25 workers off these locations.