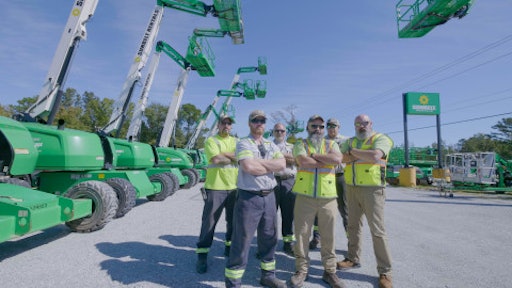 Sunbelt Rentals has been named one of the nation's top Military Friendly Employers by VIQTORY, a service-disabled, veteran-owned small business that connects the military community to civilian employment, as well as providing educational and entrepreneurial opportunities. The award comes following years of concerted effort and dedication from Sunbelt Rentals to provide employment opportunities for our nation's hard-working service men and women.
"We're very proud of this recognition and for the incredible work ethic and new ideas we get from our veteran employees every day," said Brad Lull, Executive Vice President of Central Operations at Sunbelt Rentals.
Former veterans who are now full-time employees at Sunbelt Rentals appreciate the recognition and what's been done to make it happen. This branch in Jacksonville, N.C. — located just a few miles from Marine Corps Base Camp Lejeune — has been particularly successful with hires from the military. Their current staff includes six Marine Corps and Army veterans with nearly a century of combined military experience.
"This location sets a great example of how contributions from veterans strengthen our organization," said Carson Hagar, Director of Recruitment Services at Sunbelt Rentals. "We continually strive to increase the scores and metrics used to designate this award. We're proud of the progress that we've made, but there's so much more we can do."
Sunbelt values safety, action, teamwork, and innovation: ideals shared by veterans. They find a fulfilling workplace where they can enrich our culture and contribute to the "Power of Sunbelt." It is Sunbelt's goal to deliver on a promise to offer a rental experience that's defined by availability, reliability, and ease. Veterans understand the importance of reliability better than most and take our promise to heart. In roles where they can embrace the strengths that served them in the military, veterans can take pride in their civilian careers as we grow together.
"If you're a military veteran looking for a civilian career – we want to hear from you," said Marcella Lozano, HR Regional Coordinator at Sunbelt Rentals. "With nearly 900 locations, we aim to be a premier employment option for veterans across the country, and we strive to provide the best support for our veteran employees and their unique needs."