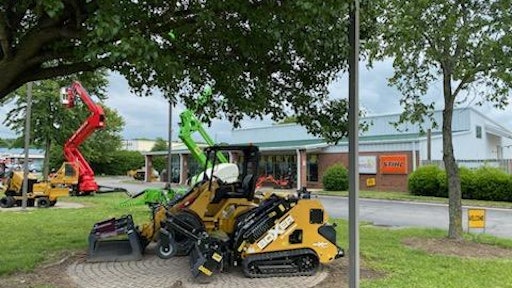 Southern Sun Landscaping
Achieving a perfect five stars is no easy feat—and yet, that's exactly what the local rental center for Southern Sun Landscaping in Roanoke, Va., did.
"I'd give them a 10 out of 10," says Andrew Grider, president of Southern Sun Landscaping, which provides mowing and maintenance, aeriation, design and snow and ice removal services to a commercial, residential and municipal clientele. "They're always very polite. They answer any questions we have. We've rented a lot of pieces of equipment in our years of being in business, especially when we started out because we didn't own as much. It's important to use rental companies no matter what stage of growth you're at in your company."
Grider and Andres Montiel, general manager of Southern Sun Landscaping, describe their most recent experience of renting a stump grinder from their local rental center. In doing so, they also offer insight into what other rental companies can do to provide top-notch service.
The project
For the project in question, Southern Sun Landscaping was servicing a residential property that needed four to five stumps removed.
"The stump grinder definitely came in handy, rather than hand-digging and using chainsaws to get the stumps out," Montiel says. "It saved us several man-hours."
Grider called to set up the initial rental, while Montiel dealt with the pickup and drop-off processes. Montiel had a more hands-on experience using the stump grinder in the field.
Overall, the project took about a half-day to complete using the stump grinder.
Southern Sun Landscaping had called on the rental center before for prior equipment rentals and knew the company would provide decent service for its next rental.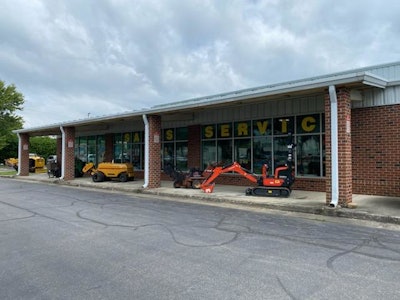 First impression
Before anyone from Southern Sun Landscaping even set foot in the shop, Grider says the customer experience proved to be smooth due to the rental company's easy-to-use website.
"The nice thing about them is that most of their prices are online, so I typically don't have to call into the rental center when I'm working out the pricing for our clients," Grider says, noting that sometimes the odd piece of equipment isn't listed, but the rental company makes it easy to call in and ask for a price if one is not listed and reserve the equipment from there.
The pickup and drop-off processes were fairly simple, too, says Montiel, who picked up and dropped off the stump grinder in the same day.
"Once they see me pulling up, they're already walking toward the truck," Montiel says. "They always help me load and unload."
While loading the trailer, the rental center employees asked Montiel questions such as how he wanted the equipment positioned in the trailer and whether he needed ratchet straps.
"Once I've entered the center and go talk to the guys I normally talk to at the front desk and pay, the equipment is already waiting in the back of my trailer," Montiel says.
Layout of the center
In addition to easy pickup and drop-off processes, Montiel says the rental center itself is intuitive to navigate—helpful for potential clients who may not have entered the store before.
"You can just look around their layout and really figure out where everything is on your own, but the majority of the time, the rental center staff is already getting it for you," Montiel says.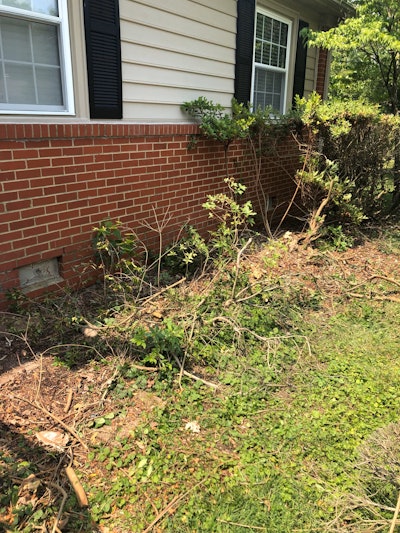 Equipment familiarity
Before Montiel departed the shop, he says rental center employees asked him whether he was familiar with using a stump grinder and gave him a rundown on its safe operation.
"They always ask me if I've used the piece of equipment before and give me the proper, basic information that I would need to operate it," Montiel says.
Montiel says he appreciates this because despite his tenure in the landscaping industry, he doesn't know the ins and outs of every single piece of machinery.
"I've been doing landscape for quite some time now, but there are still tools that I've never used before," Montiel says. "The rental center staff are just always polite and always making sure everyone stays safe using the equipment."
Although Montiel had used a stump grinder before, he recalls the education he received the first time he rented one.
"They showed me step by step how to use it, and they even turned it on for me," Montiel says. "They let me know how things run and said that if I have any questions, I can give them a call, and they will run through it all again for me."
Not only does the rental center ensure its customers are familiar with the equipment, but it also makes sure it's renting out quality and clean equipment, Montiel says.
Lessons to be learned
For other rental companies looking to step up their customer service, Grider says it helps if rental companies build in the price of attachments.
"We have a skid-steer and an excavator, but we don't buy all the attachments for them because they're expensive," Grider says. "So, a lot of times, we're renting out those attachments that we don't regularly use that often, and it actually ends up being less money than if we were to buy it. My advice for rental companies would be to make sure that piece of rental equipment has a built-in attachment price that you're charging the customer."
Additionally, Grider says creating relationships with customers is key.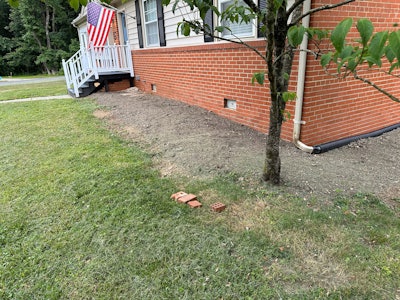 "Contractors know that a lot of times if they have a good repertoire with their local rental center, they'll help make things happen for you," says Montiel, upping the probability that the contractor will choose that particular rental center again for their equipment needs.