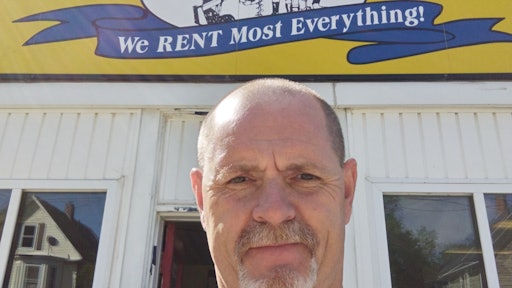 Rental
:
How did you first get your start in the rental industry?
Troy Greenleaf: My parents opened the business as a very small "general rental" store in 1983. My father was a merchant marine engineer and was gone most of the time, and the store was operated by my maternal grandfather with my mother helping out and keeping the books. My grandfather was a WWII veteran and an automechanic by trade, so this was a change of pace for him. He was excellent with people and very mechanically inclined, so it was a good fit.
I started working in the store afternoons after school and weekends with him. He taught me most of what I know today about this business and life in general. He passed away suddenly in 1985, leaving the store mostly to my mother. From there, we hired a mechanic, and I worked at the store most of my high school years, returning after graduation to manage the store through most of my 20s.
There were some issues with family working together, as there often are, and I left in 1999 to work in manufacturing, which I did for more than a decade. Having decided that the large corporate environment wasn't in my best interest, I returned to the rental store in 2011 to take over for my father, who was ready to retire. Twelve years later, I am 100 percent owner of the company, and our revenue is 150 percent of what it was when I started in 2011. In addition to managing the business, I'm still involved in day-to-day activities on a regular basis. I also have one son that works with me and a grandson that works part time in the summer.
Rental
:
Can you give us some insight on your current company?
Greenleaf: In 2011, when I returned to the business, we were still what I would call a family-owned and independent "general rental center." Our revenue was about 50/50 between equipment rental and party/event rental. I spent the next few years aggressively growing the event rental side of the business (specifically tent rentals and inflatables), while maintaining the equipment side with a more slow and steady approach. This worked well for us until around 2017, when finding quality seasonal labor started to become an issue.
At this time, our revenue was more like 70/30. This got progressively more difficult, and I started to shift steadily more toward equipment rental. In spring 2020, when the lockdowns happened, I decided it was time and discontinued all party rental while adding to the equipment inventory.
In 2020, our revenue was only down about 10 percent overall dealing solely in equipment. We experienced excellent revenue increases in both 2021 and 2022, and we continue to expand equipment offerings, mostly in aerial lifts and excavation equipment. We're also starting to delve more into sales, focusing on not just equipment but construction supplies as well.
Rental
:
What have been some of the challenges and successes you've had since you've been in business?
Greenleaf: Just operating a small business these days is a constant challenge in itself. Lack of a quality workforce, government restrictions, rising costs of everything from equipment, freight and wages, as well as economic uncertainty are issues we face on a daily basis.
I spent years building a successful event rental business, only to be forced to abandon it due to lack of workers and rising labor costs, not to mention COVID-related issues and restrictions. The upside of the pandemic was that it forced us to explore other avenues to maintain a viable business model during such difficult and volatile circumstances. Not only were we able to survive, but we found a way to thrive and learned a valuable lesson on staying positive and finding new ways to succeed by thinking outside the box and getting outside our comfort level.
Rental
:
What makes your company stand out?
Greenleaf: I think our independence and individuality set us apart from the competition. I am proud to have this still be a family-owned, independent business after 40 years. I like being able to offer equipment and services that are unique to us and our customers. We like to get to know our customers and offer solutions to suit their individual needs as best we can.
Over the last couple years, we've started offering seasonal and long-term rental options for our customers that can't afford to buy or aren't quite ready to invest in buying larger equipment. We offer these rentals in terms from six months to three years, providing full-service rentals with monthly payments and purchase options along the way. We find it simplifies things for the customer and provides convenience, flexibility and limited liability at prices similar to the cost of ownership.
Rental
:
What's one tool/technology that's completely changed your business for the better?
Greenleaf: I would say the internet and mobile technologies would be the biggest game-changers in my professional life. The amount of information that we're able to offer to be easily accessible to the customer is enormous and also incredibly beneficial to both of us. For a customer to be able to find us easily on the internet through a search engine, see product offerings, specifications and pricing and even place reservations and pay for services streamlines the process for both sides. And for us, easy access to information, specifications, parts, pricing, etc., makes our job so much easier. You can literally find just about anything almost immediately.
Rental: Rank these from best to worst: waffles, pancakes, French toast.
Greenleaf: 1. French toast, 2. pancakes, 3. waffles.