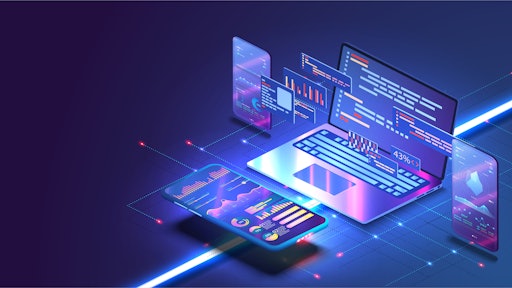 stock.adobe.com - ZinetroN
The rental industry no stranger to the labor shortage, it's key that rental houses find ways to streamline their operations.
That's where business management software comes into play.
Andy Clark, sales director, Americas, at Point of Rental Software; Joe Lewis, president of Fame Intel, parent company of Fame Rental; and Mary Crosslin, co-president and COO of Alert Rental; lay out how rental companies can best use business management software to their advantage.
Editor's Note: Part 2 of the article will cover how rental companies can gain buy-in from employees, the right time to implement a new software and key data point rental companies should be measuring with their software.
Rental: What are the benefits of using a rental software?
Lewis: Essentially five things happen with properly done software. The first is knowledge that enables your people to work smarter. Second is simplicity, which is lowering the barrier with an intuitive user interface experience. Third is efficiency, which influences efficiency across the entire organization and improves profitability. Fourth is policy enforcement because everybody has the rules and regulations of the company. Fifth is operational consistency; (there are) different people doing different things in different locations, but it's making sure everybody is doing everything the same way.
Clark: Very few companies today can run their business without leveraging some sort of software. We run into rental companies all the time who are using multiple applications to keep costs low such as Excel, accounting software, dispatching software, inspection software, etc. For small operations, these separate applications can handle the needs of each independent business area, but the problem lies in each application's ability to know what's happening in the other functional areas and how they impact each other. This can lead to broken processes, broken chains of communication, operational inefficiency, poor customer service and so on. For larger companies, not leveraging a rental management system is simply not an option.
Crosslin: Your rental software can make you more profitable. It will accurately calculate rates and can automate shift rates and add meter surcharges. Your software can calculate weekend rates, seasonal rates or even variable rates by days of the week or for specific groups of clients. Your sales staff can produce quotes for next year with next year's rates without them having to make manual adjustments. Rental software allows companies to reduce friction for their clients. Your clients want to self-serve, and your rental software can integrate to your website to allow them to do exactly that. They can reprint contracts, pay invoices, take equipment off-rent, get pricing and make real-time reservations. Your website is an integral part of your business, and your rental ERP can seamlessly integrate with it to make your clients' experience easy and efficient for them to do business with you. Rental software inherently produces and reports your KPIs and gives you oversight of your businesses' processes, profitability and trends. It can show you when and how deeply prices are being discounted (and scale commissions based on that information), share information between departments, provide job costing, tell you the utilization and ROI on your equipment and more.
Rental: How can rental software make companies more efficient?
Clark: Leveraging a software application that was built specifically for the rental industry, you can bring all of these separate business areas into the same ecosystem and streamline business processes. This has a huge impact on a rental company's visibility into things like item availability and overbookings, reservations, delivery, maintenance, customer interactions, billing and more. For ultimate efficiency, rental companies should also leverage a platform that offers mobile capabilities and the ability to integrate the software with their website. By choosing a system with integrated online features, rental companies can decrease the workload on their employees and lower their overhead, which has a big impact on the bottom line while simultaneously improving customer satisfaction.
Crosslin: Rental operations in every market and every part of the world are dealing with the same challenge: how to do more with less. We already touched on one way: allow your clients to self-serve. If they can place or change orders without taking up staff's time or pay their invoice from their desk at 10 p.m., they are happier, and you have allowed your staff to focus on more immediate tasks. Software can automatically send data to their accounting system, integrate with a CRM system to give sales access to better client information, share data with a GPS system for dispatching, gather data from telematics systems to locate and trigger maintenance notifications for fixed assets in the field and utilize RFID for better inventory management. Consider the things that your staff spends the most time doing and see how your rental software can help level-up efficiencies:
Schedule it to automatically email daily, weekly and monthly reports.
Send links, capture electronically and automatically attach information to the ticket, so you don't have to track down clients for signatures or payment.
Automate emails or texts to clients to follow up on late rentals or status updates.
Automate putting equipment down for maintenance and have telematics update meter readings to trigger preventive maintenance warnings and auto-create work orders.
Reduce loading errors and reruns by producing pick lists for warehouse staff.
Quickly update rates or schedule rate increases.
Improve your internal communication with pop-up notifications, dashboards, to-do lists, broadcast messages, etc.
Reduce your time to take inventory by utilizing a mobile device.
Lewis: Every employee receiving real-time notifications is huge because life changes dramatically in rental companies with equipment coming and going and customers doing different things. The cost of education is inexpensive compared to the cost of ignorance. Often, field personnel salespeople don't have the facts in front of them. If every employee is singing from exactly one sheet of music, the knowledge level goes way up as does efficiency. Running multiple siloed systems results in that information being all over the place and makes everything far less efficient because you don't know what to believe. Consolidating your tech stack into one version of the truth will improve efficiency overall. Finally, one of the most valuable commodities is data, so if you can collect all of that data without slowing down the day-to-day process, you'll be hyperefficient.
Rental: Are there any challenges or learning curves associated with onboarding a new software?
Clark: When a business replaces their current platform, there's always a pain during the transition. From data transfer to process change to employee training/adoption, the learning curve can be less than pleasant. However, the long-term benefits far outweigh the short-term pains, which is why it is so important to choose the right software platform the first time, rather than opting for a cheaper solution that will only serve as a Band-Aid for issues in the short term. Rental companies should look for a software company that aligns not only with their goals today but also with their goals for years ahead. Companies should also find a software partner that offers an in-house team of experts with long-term experience in navigating the complexities of these types of implementations.
Crosslin: The biggest learning curve is simply vocabulary. Most rental software does the same basic things: You just need to learn what the new software package calls it and how to do it. It's helpful if you are prepared to explain why you have a particular business process. The biggest challenges to onboarding (in my experience) would be: getting buy-in from key staff and underestimating the value of testing the converted data (a little extra testing upfront prevents a lot of stress during the go-live). Understand that training is not "one-size fits all" as each person learns differently, so expect some people to want in-person training, others prefer to learn by self-paced videos and still others need to read the steps and reinforce the practice.
Lewis: The No. 1 challenge is when people are missing data in current systems and try to get current data rationalized into one application. People struggle to find stuff, but in the end, the benefits are amazing. Another major factor in today's world is the age of employees and their adaptability to current technologies. Some people are used to pen and paper and a clipboard, so we always have to do kind of a human aspect of technology adoption. Another is an emotional attachment to the old system. You want to make sure everyone is on board.