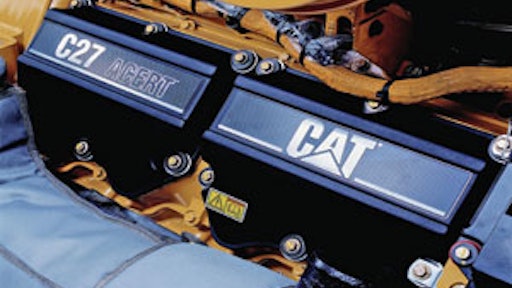 When Caterpillar introduced ACERT Technology in early 2003 for on-highway applications, it was setting the stage for future off-road designs. The company now offers a complete line of off-road engines with ACERT as the basis for meeting Tier III emissions requirements.
ACERT Technology is also being utilized by Caterpillar's Perkins Engine division. Perkins recently introduced a new engine series that includes electronic versions utilizing this advanced emissions control technology.
Following is a look at the most recent Tier III engine introductions from both companies, as well as a glimpse at what lies ahead.
From smallest to largest
Over the past two years, Caterpillar has introduced nine off-road engines equipped with ACERT technology. The smallest of these models is the C6.6 industrial engine, which replaces the 3056E.
The C6.6 provides 10% more displacement than the 3056E, all within the same size envelope. It is rated from 119 to 250 hp with 728-ft.-lbs. maximum torque at 1,400 rpm. Only an air-to-air charge cooled turbocharger is available.
The C6.6 incorporates cross-flow heads with four valves per cylinder; full-authority electronics; and hydraulically actuated, electronically-controlled unit injectors. Despite the design changes, the engine has experienced no increase in heat rejection to the coolant; maintains a 500-hour service interval (1,000-hour optional); has the same package size; and keeps the same mounting points.
Another recent addition is the C27, which replaces the 3412E. The C27 is available with a 27-liter displacement and five ratings from 730 to 1,100 hp at 2,100 rpm. It incorporates a MEUI fuel system, cross-flow heads with high cam position and the ADEM A4 engine control module. While it retains many features of the 3412E, maximum output has increased to 1,100 hp from 1,050 hp.
Rounding out the new models is the C32, a replacement for the 3508B. With a displacement of 32 liters, the C32 offers standard ratings from 860 to 1,300 hp at 2,100 rpm.
Like the C27, the C32 features the MEUI fuel system, cross-flow heads with high cam position and ADEM A4 control module. It also offers an increase in maximum output to 1,300 hp from 1,100 hp. In addition, the C32 weighs just 5,368 lbs., compared to 9,101 lbs. for the 3508B.
Both the C27 and the C32 are scheduled to begin production in July. The two engine designs will also serve as a platform for future Tier IV technology.
Adding ACERT to Perkins designs
Perkins Engines officially introduced its 1100D Series engines during a press tour last Fall. The new four- and six-cylinder engines will include a range of mechanical models, as well as electronic versions based upon ACERT Technology.
At the heart of the range is an advanced combustion management system that employs a precisely controlled, multiple fuel injection strategy using common rail delivery. Perkins will also be introducing enhanced mechanical fuel system combustion technology to provide a tailored solution for lower horsepower models.
Models equipped with ACERT feature major boosts in engine performance, with up to 43% more horsepower and 51% more torque. Power ratings are currently available up to 250 hp. Six-cylinder versions with ratings from 250 to 330 hp are due for launch prior to the 2006 legislation requirements.
In addition to lower emissions, the new engines incorporate design changes that lower bare engine noise by up to 5 dB(A). This equates to a third less noise than previous models. Sound reduction has been achieved by using isolating techniques on the engine oil pan, as well as through improvements in overall engine sound quality and reduced combustion noise.
The new engines have a 0% rise in heat rejection to the cooling groups, and comparable fuel consumption to previous models. Serviceability has been improved, and service intervals have been maintained at 500 hours or an optional 1,000 hours.
Reducing small engine emissions
Caterpillar and Perkins are also working together to address future emissions requirements for compact diesel engines.
Perkins' 400 Series includes seven compact models that meet Tier II emissions requirements. These units are also available as Caterpillar-branded engines (C Series). All provide increased power and torque, as well as reduced noise of up to 5 dB(A) at low idle speed. The newest models in the line are the Perkins 403-07 (Caterpillar C0.7), a .7-liter, three-cylinder engine rated at 20.5 hp at 3,600 rpm; and the Perkins 402-5 (Caterpillar C0.5), a .5-liter, two-cylinder model producing 13.7 hp.
These smaller engines are already poised to address Tier III emissions legislation. "The 400 Series and C Series compact engines narrowly miss Tier III," notes Paul Clark, facility manager for the Perkins Shibauru engine plant in Griffin, GA. "Relatively minor tweaking will be required to meet Tier III."
The goal is to meet emissions regulations without requiring major design changes to the equipment. "We are developing the 400 Series for Tier III with a clear focus on providing minimum changeover for our customers and will use our experience on larger engines to achieve this," says Chuck Wills, Cat Industrial Power Systems marketing manager. "We will be concentrating on improving functionality, such as increased power and torque, combined with low noise, optimal cooling packages and electronics."
New options for these smaller models will include electronic governing for variable-speed applications, and 24-volt electrics.