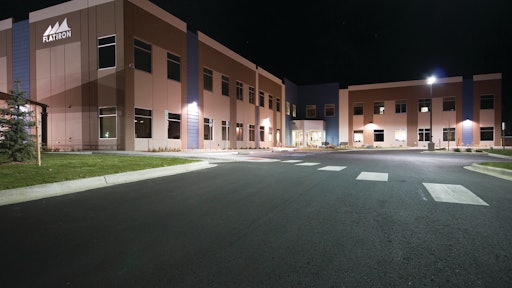 Flatiron, headquartered in Firestone, Colorado, one of the largest transportation and infrastructure contractors in North America, has earned the first-ever Platinum-Level Green Fleet certification for its United States fleet from the AEMP. The Platinum-Level certification is the highest of four levels of recognition given by AEMP to companies that actively pursue a more eco-friendly fleet. Flatiron achieved the certification based on an inventory of the company's equipment.
To receive Platinum-Level certification, Flatiron invested in new equipment that meets certain EPA emissions and fuel efficiency standards. More than 50% of Flatiron equipment with 25 hp or greater meets EPA Tier 3 standards, and more than 10% of the fleet is equipped with diesel particulate filters.
"As a company, environmental stewardship is one of our strategic areas of focus," explains Flatiron Corporate Equipment Manager Warren Schmidt. "This is not only helpful to us; it's helpful to the owners we work with as well as the environment."
Flatiron currently operates a mixed fleet, from generators to earthmoving equipment. In addition, its fleet includes about 500 diesel pickup trucks. The company performs work from coast to coast throughout the United States and Canada.
"We're proud to be the first company recognized with this highest level of Green Fleet distinction from AEMP," says Schmidt. "As the public becomes more concerned about the environment, more and more owners are asking for the level of environmental conditioning on our equipment. This certification will show that we are leading the way to becoming one of the greener fleets in the U.S."
Schmidt encourages other fleets to "get on board" with sustainability programs. "Be proactive; don't wait. The longer you wait to 'green' your fleet, the less impact it will have and the more it will cost."