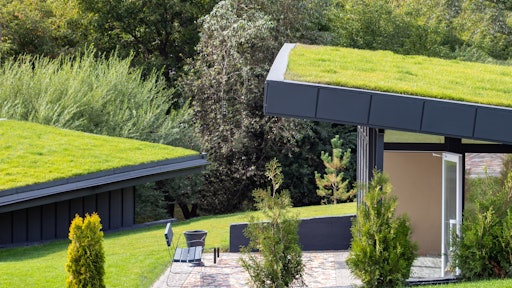 @Алексей Кочев - adobe.stock.com
Green construction – designing, building, and maintaining structures in environmentally responsible and resource-efficient ways – is increasingly popular among investors, buyers, and builders.
That's why, as a general contractor, if you haven't been asked about your Environmental, Social, and Governance (ESG) metrics already, the request is undoubtedly just around the corner.
This is a good thing.
While it may seem cumbersome at first, ESG is ultimately a business strategy that can help your organization become more profitable, attract and retain employees, and enhance long-term sustainability.
In other words, it's an investment worth making now, providing a strategic roadmap that can steer your organization toward increased profitability, employee satisfaction, and overall improvement.
Why Contractors Should Care About ESG
Many general contractors are being asked about ESG metrics like carbon emissions, waste recycling, minority and women business enterprise participation, and procurement. This is no longer a niche demand, and increasing regulation will make these metrics compulsory.
Today, several domains are demanding greater transparency, including:
Federal Projects: If your business handles at least $7.5 million in federal work annually, you'll likely need to report specific ESG metrics. For instance, proposed Biden administration legislation indicates that "Federal contractors with annual contracts ranging from over $7.5 million to less than $50 million would have to report Scope 1 and Scope 2 emissions."
Fortune 500 Companies: ESG reporting is fundamentally about accountability and fostering trust with stakeholders who influence a company's trajectory. While Fortune 500 companies have already embraced ESG for investor attraction, compliance risk mitigation, and customer loyalty building, many are broadening their ESG scope to encompass construction activities.
Higher Education: Numerous institutions are committing to reducing their environmental impact. They might not explicitly report ESG, but many prioritize metrics often found in ESG reports, such as carbon emissions, diversity and inclusion, and anti-corruption.
Simply put, tracking and reporting ESG metrics is becoming more common, and the construction industry will undoubtedly face more regulations and requirements, increasing the impetus for general contractors to create reporting capacity now.
Just as safety is non-negotiable on construction sites, expect ESG reporting to become an industry standard in the years ahead.
Proactively mastering ESG tracking and reporting can set you apart in a competitive field, especially when seeking contracts from federal government entities, major corporations, and higher education institutions.
How to Get Started
Unlike other construction standards, like LEEd certification, ESG doesn't have a fixed checklist and includes hundreds of data points. This leads to a paralysis-by-analysis situation where businesses struggle to determine where to start.
This can make the prospect of implementing an ESG program feel overwhelming.
However, ESG's flexibility is both a challenge and an opportunity.
Notably, implementing ESG initiatives will look different from one company to another, and where you start can depend on your unique circumstances.
However, for most general contractors, a three-step approach can help you get started.
1. Determine Your Scope
Think about your company's impact on the environment, your employees, the surrounding community, and the economy. What does your company want to achieve by tracking ESG?
You will need to determine the scope of your ESG first. Determine what is going to be the most important items to focus on. Is it carbon emissions? More transparency to your employees and other stakeholders? DEI in your organization and job sites?
Figuring out your scope will drive the benchmarking, tracking, and implementation of your ESG because it provides the big picture.
2. Start Benchmarking
If your company wants to focus on carbon emissions, your first step would be to understand the sources of carbon emissions in your business operations and measure how much is currently being produced in a given year. Once you get a good understanding of where emissions are occurring, you can then start to implement strategies to reduce them.
Data collection helps you make the best, most impactful decisions.
Notably, many companies are tempted to start with tactics, implementing solutions before they truly understand the problem. Don't jump the gun. Measure impact and then act with precision.
When benchmarking your ESG impact, start small and plan to expand your benchmarking as you get a good grasp on different metrics.
Tiers can be a way to show where you plan to start and where you plan to grow. Tier 1 would be a place to start with things your company directly controls.
3. Set Goals & Implement Tactics
Once you have collected at least 12 months of benchmarking data, you can move on to setting goals for your environmental, social, and governance performance. One tool that can be used to help your organization with this is S.M.A.R.T. goals, which enables you to stay focused on what is important by setting goals that are:
Specific:

Clearly outline what needs to be accomplished and your steps to make it happen.

Measurable:

Goals need to be quantified to track progress.

Achievable:

Goals shouldn't be too easy but also shouldn't be too hard to accomplish. Set a goal that is challenging yet realistic.

Relevant:

Goals should be aligned with the mission and vision of your organization and ESG.

Time-Bound

: There should be a deadline to complete the goal.
Part of goal-setting includes implementing tactics to help you progress on your goals. Tactics are going to look different for each company, and you can implement more than one tactic per goal.
This is not a process that can be completed quickly; rather, it should be a multi-year strategy that is integrated into your overall business operations.
Navigating the Green Transition
The movement towards ESG will have profound implications for the construction industry, presenting an opportunity for general contractors to align their practices with sustainability goals, appeal to an ESG-conscious client base, and cultivate more competitive, sustainable companies.
Of course, embarking on the ESG journey can be daunting. It doesn't have to be difficult.
Contractors can kickstart their ESG initiatives by first determining their scope of impact, then benchmarking their current state, and finally setting S.M.A.R.T goals and implementing tactics to achieve them.
Undoubtedly, the long-term benefits outweigh the initial challenges. With robust ESG strategies, contractors can meet and anticipate future regulatory requirements, ultimately enhancing their business sustainability and competitiveness.