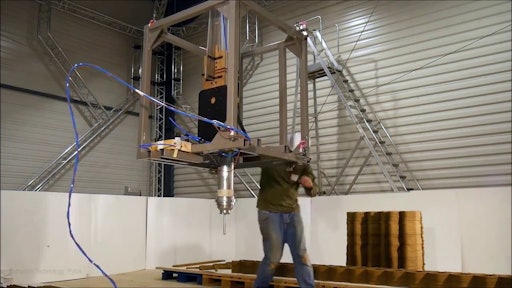 This year's Construmat construction fair will showcase a brand new additive manufacturing construction project from Barcelona's Institute for Advanced Architecture of Catalonia (IAAC) and its Bilbao-based technology partner, Tecnalia.
According to the IAAC, On Site Robotics is a new collaborative project which demonstrates how additive manufacturing and robotics can be used in tandem to fabricate sustainable, low-cost buildings that can be built on site with entirely natural materials. It combines ultra-modern robotics practices, such as the use of cable robots and drones, with digital 3D design and 3D printing, and its aim is to bring automation to the construction site along with the real-time monitoring of the construction process.
"The construction sector, which has traditionally been slow in integrating technology, is now opening up to digital manufacturing, 3D printing, and robotics," says the IAAC. "The possibility of printing anything that has been previously modeled in our computer lays the groundwork for a true change in the conception architectural production, and in the possibilities of personalizing the final product."
An important part of the On Site Robotics project is its 3D Printing System, developed specifically for the production of large-scale construction parts made from 100% natural materials. As the name suggests, On Site Robotics is capable of 3D printing on construction sites, and this is largely thanks to a servo-controlled winch system that uses cables to print in a wide range of workspaces. The 3D printer's extruder is controlled by Cogiro, a cable-driven parallel robot with automated CNC control that precisely automates the extruder's movement and allows six degrees of freedom.
Read more about the project here.