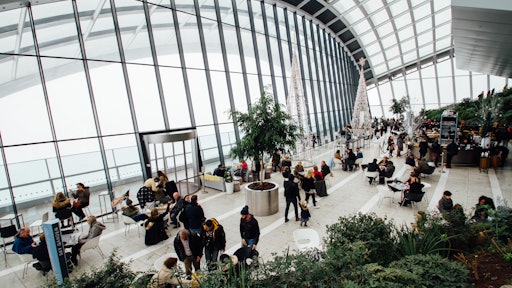 The industry has observed several driving trends in the incoming projects and client requests they see and those trends indicate that 2018 will be a different sort of year for green buildings. Paladino and Company, a sustainability consulting firm, surveyed their team of architects, engineers and building scientists, and here are a few of the big shifts that they expect in 2018:
SPACE DESIGN AND PLANNING
The workforce of today is more dynamic than ever. Organizations are trying to figure out how to use work spaces that serve their mission and their bottom line. This means that there's going to be an even greater demand for flexible spaces. Renovating the lobby to make it more like a lounge is just the beginning of the workplace evolution. Flexibility is stretching into many program spaces that were once thought of as static and standard. Flexible hallways, classrooms, stairways, meeting spaces, and more must be on the menu for design teams, property managers and tenants. Ceiling height, hall width, door configurations and AV options need to be highly adaptable. Furniture will also need to be light weight, mobile, and multi-purpose.
And building function is getting more flexible: apartments can be work spaces; offices can be event spaces; retail spaces can become community centers or simply pop up and pop down based on demand. This design approach means that these flexible spaces become more valuable and sustainable – same resources, different uses!
WELLNESS
While adoption of the WELL standard is relatively new, the interest in wellness is high. We will see an improved analysis of wellness-feature-impact on the pro forma, increased demand for wellness from corporate brands and employers – along with a scramble on the part of third-party certifiers like IWBI and Fitwel to right-sized their certification solutions. Despite the broad consensus that wellness is good for business, fees are most often mentioned as the impediment to certification, and if wellness certification is going to take off, this is the year to settle the business case.
RESILIENCY
On the heels of one of the most expensive years on record in terms of costs from climate events, resilience is a critical topic. Developers will continue to frame resilience in terms of risk mitigation and insurance costs, while architects and real estate owners carefully consider the in-place realities of more extreme climate patterns.
INNOVATION
Necessity is the mother of invention and this will be a period of great innovation. This year will bring everything from modular and highly adaptable building designs to technological advancements that unlock projects and create new solutions. We are looking at companies like ORI Systems and the Laurentian Project for inspiration!
CERTIFICATIONS
There are more options for certifying the sustainability, wellness and resilience of a building than ever. Expect to see more variety in the certifications, more combinations of certifications and more confusion about the value of certifications. Certifications must function as a back-check on the sustainability goals rather than a driver – so the onus is on our industry to guide clients through their options and to stay abreast of each organization's strength's and weakness across multiple dimensions.
HUMAN FACTORS
Consumers and investors are getting smarter about their expectations around social responsibility, and brands can expect more direct and specific questions about CSR initiatives. Consumers will vote with their dollars, and employees will vote with their employment-of-choice. Companies and developers will expect architects to produce buildings that represent their brand and offer experiences that have tangible examples of wellness and sustainability.