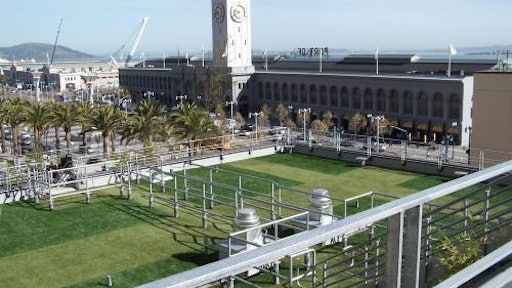 The green roof industry has been growing aggressively since 2009, up about 115% thanks to companies and organizations like Green Roofs for Healthy Cities (GRHC), Cities Alive, EasyTurf, and the more than 425 accredited Green Roof Professionals (GRPs) in the market.
The government is also taking a noticeable interest in this particular area. "Government investment in green roofs for their stormwater, air quality, green space and city cooling benefits largely fuels the growth of our industry," said Steven W. Peck, founder and president of GRHC.
A green roof system involves the creation of "contained" green space on top of a human-made structure, providing owners of those buildings with a proven return on investment and significant social, economic, and environmental benefits. Using EasyTurf's VersaLUSH product, there are extra benefits of water conservation and little-to-no required maintenance. VersaLUSH is perfect for almost all green roof applications, boasting easy installation over any standard surface and the durability to withstand every climate for up to 15 years.

The requirements of a green roof project include preserving, enhancing, and making viable living space from areas that were traditionally wasted, while at the same time providing a cost-saving, environmentally-friendly landscape solution, making urban areas more livable and vibrant through sustainable design. Some of the cities leading the green roof inititative include Washington DC, Chicago, New York City and Toronto, although every major city is taking an interest in these types of projects, creating more and more green jobs in their communities.

"EasyTurf gives companies the ability to enhance their appeal by providing an ultra-realistic, innovative and cost-savings landscape," said Dave Hartman, EasyTurf President. "EasyTurf's synthetic grass products and dedication to an exceptional customer experience continue to attract commercial businesses searching for aesthetic improvements."

Many businesses and architects/designers turn to artificial grass as a landscape alternative to benefit from dramatically lower water and maintenance costs. These potential savings help to make the switch to EasyTurf a popular option for the green roof industry, allowing for all the benefits but without the need to commit large funds and numerous time-intensive man hours to maintain the grounds.

About EasyTurf
In May 2010 EasyTurf, Inc. a long-time distributor of FieldTurf's line of landscaping products and a recognized leader in the artificial grass industry, became the national brand of FieldTurf's landscape, pets, playground, and golf artificial grass products. The partnership allowed FieldTurf to rapidly expand its existing dealer network and accelerate sales and distribution of FieldTurf's landscape products on a national level to homeowners, municipalities, schools, businesses and the military.