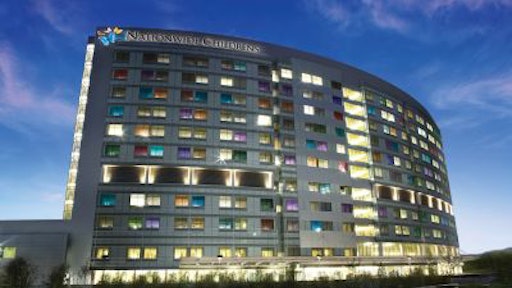 As the City of Columbus celebrates its bicentennial, Nationwide Children's Hospital celebrates the biggest achievement in its 120-year history, changing both the Columbus skyline and the future of pediatric care.
Nationwide Children's Hospital in Columbus, Ohio, a nationally ranked top 10 facility, has undergone a $783 million renovation – the largest of its kind in terms of square footage – to create a more patient-centered, healing environment for the 1 million children it serves annually.
The expansion adds 2.1 million square feet to Nationwide Children's downtown campus. The project will continue to create additional jobs through 2014, bringing the total job creation to 2,400 and a community economic impact of $1.3 billion.
The six key areas of growth of the campus expansion include a 12-story, 750,000 square foot new main hospital; a six-acre front lawn and green space that will complement the existing Livingston Park; a LEED-certified silver central energy plant; expanded parking with the Livingston Avenue garage (more than 1,500 parking spaces) and the two-story underground parking garage (more than 400 spaces) located beneath the front lawn and connected via tunnel to the new tower; a clinical research building that houses the Surgery Center, the Center for Digestive Disorders, GI procedures and clinical psychology as well as two floors dedicated to research; and an expanded West campus that includes a research facility known as Research Building III (RBIII).
The design and implementation of the expansion took into account several sustainable building and eco-friendly practices, including:
New Hospital
A LEED certified Central Energy Plant
A new main hospital building and research building built with LEED-certified principles including using low-emitting materials and eliminating or reducing materials that diffuse particles to the environment, including paints and coatings, carpets, doors and casework, furniture, and medical furnishings
LED lights throughout the hospital to conserve energy
An investment in light harvesting throughout the new hospital to ensure indoor lights automatically adjust based on the amount of light coming in from the outside
Insulated glass for windows to minimize cold air and UV coding to minimize heat and conserve energy
Recycling bins in every patient room
Green Space
Adding six acres of green space as a "front lawn" for the hospital
Adding to existing park space to help absorb rainfall and manage water run-off more effectively and keep the area cooler in warmer months. This space will be open to the public and includes park benches, serene gardens, a fragrance garden, walking paths, a story teller garden and an interactive garden.
Under the green space is a water retention pool equal to an Olympic size pool to accommodate storm water runoff. It also includes a 126,000 cubic feet detention tank which will hold nearly 1 million gallons of water in the event of a 100-year storm. This water not only is controlled so it releases water into the neighboring City of Columbus storm system correctly, but will also be used to irrigate the park around the new building. 
Take a look inside the new, 12-story patient tower of Nationwide Children's Hospital by clicking here.