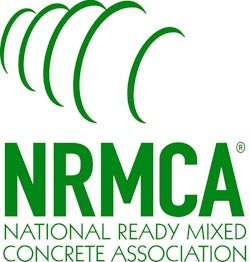 Speakers have been selected for the National Ready Mixed Concrete Association's 8th annual International Concrete Sustainability Conference to be held May 6-8 in San Francisco. Over 60 world-renowned experts will present the latest developments related to design, specifying, manufacturing, testing, construction, maintenance and research of concrete as they relate to sustainability. This year's conference is being held in cooperation with the RMC Research & Education Foundation and Stanford University's Department of Civil and Environmental Engineering along with over 30 other co-sponsors.
Keynote speakers for the plenary sessions include:
Dr. Michael Lepech, PhD, assistant professor, Department of Civil and Environmental Engineering at Stanford University, will discuss how innovations in the area of Virtual Infrastructure Management are leveraging the benefits of concrete technologies to reduce the impact of building and infrastructure construction;
Francesca Desmarais, director of the 2030 Challenge for Products, Architecture 2030, will present an update on the Architecture 2030 Challenge for Products;
Suneel Vanikar, team leader, pavement design and analysis team, Federal Highway Administration (FHWA), United States Department of Transportation, will provide an overview of FHWA sustainability initiatives and programs; and
Caspar Wagner, Google Green Team Design and Construction Lead, Google, Inc., will participate in a panel discussion titled Transparency and Material Ingredient Disclosure: What Google is Doing to Keep its Buildings Healthy.
Examples of topics and speakers presenting during technical sessions include:
Life Cycle Assessment
Dr. Arash Noshadravan, postdoctoral associate with the Material Systems Laboratory (MSL) at Massachusetts Institute of Technology (MIT), will present Life Cycle Sustainability Assessment of Pavements Under Uncertainty and Variation;
Frances Yang, structures and materials sustainability specialist, Arup, will present 10 Questions LCA Can Answer about Concrete Buildings; and
Dr. Jeremy Gregory, research scientist, MIT Materials Systems Laboratory, will present Life Cycle Assessment of Buildings: A Gap Analysis of Existing Literature and Trending Tools.
Low Impact Development
Dr. Jim Alleman, professor, Department of Civil, Construction, and Environmental Engineering, Iowa State University, will present The Science and Engineering of Photocatalytic Pavements: Update on the 1st US 'TX Active' Highway Application;
Dr. Liv Haselbach, associate professor, Department of Civil and Environmental Engineering, Washington State University, will present Removal of High Levels of Dissolved Zinc and Copper in Pervious Concrete; and
Dr. Dev Millstein, postdoctoral fellow, Lawrence Berkeley National Laboratory, will present Cool Communities: The Benefit of Cool Pavements in CA Cities.
Green Concrete
Dr. Lisa Bradley, vice president and senior toxicologist/risk assessor, AECOM, will present Coal Ash Material Safety – A Health Risk-Based Evaluation of USGS Coal Ash Data from Five US Power Plants;
Dr. Jason Ideker, assistant professor, Oregon State University, will present Perceptions and Usage of Recycled Concrete Aggregate Within Transportation Agencies in North America; and
Ahmad Ardani, manager, Concrete Laboratories, FHWA, will present Enhancing the Performance of High Volume Fly Ash Concretes Using Fine Limestone Powder.
New Concrete Technology
Dr. Fabrice Brunel, Laboratoire Interdisciplinaire Carnot de Bourgogne, France, will present Controlling the Cohesion of Calcium Silicate Nanohydrates by the use of Polyelectrolytes: Towards Sustainable Cementitious Materials;
Dr. Irvin Chen, cement scientist, Calera Corporation, will present A Novel Cementitious Calcium Carbonate Containing CO2 from Industrial Flue Gas; and
Bijoy Halder, graduate research assistant, Department of Civil Engineering, University of Texas at El Paso, will present Use of Mutated Micro-Organism to Produce Sustainable Mortar.
Sustainability Initiatives
Chris Erickson, CEO, Climate Earth, will present EPDs: An Inside Look at the Keys to Successful Implementation;
Tien Peng, senior director of sustainability, codes and standards, NRMCA, will present Responsible Sourcing through CSR Reporting; and
Ben Tymann, attorney, Greenberg Traurig, will present Navigating the Legal Obstacles on Your Road to Sustainability: Recent Developments in the Law.
Functional Resilience
Matthew Comber, design engineer, Degenkolb Engineers, will present Sustainable Concrete Structures Through Seismic Resilience: A Case Study;
Jacob Sobstyl, researcher, Department of Civil and Environmental Engineering, MIT, will present Energy Management: City Texture Matters; and
David Shook, associate structural engineer, Skidmore, Owings & Merrill, will present Mapping a Structure's Impact on the Environment: Case Studies.
A complete list of speakers and additional details about the conference are available online at www.concretesustainabilityconference.org. The conference provides learning and networking opportunities on the latest advances, technical knowledge, continuing research, tools and solutions for sustainable concrete manufacturing and construction. This year's conference will take place at the Hotel Sofitel San Francisco Bay.
NRMCA, based in Silver Spring, MD, represents the producers of ready mixed concrete and the companies that provide materials, equipment and support to the industry. It conducts education, training, promotion, research, engineering, safety, environmental, technological, lobbying and regulatory programs.