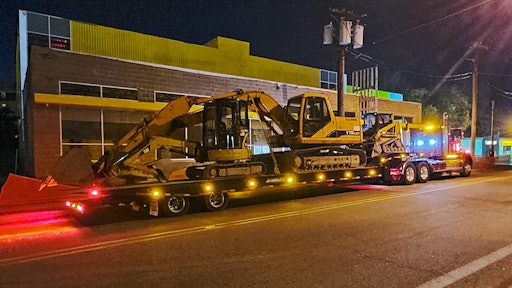 Talbert
Ideal loading conditions are a rarity in the hauling industry. While loading equipment in the yard might not pose any difficulty, a level surface with plenty of room to maneuver is much harder to find on an active jobsite. 
Many operators have found traveling axle trailers provide the ideal combination of features to increase safety and versatility. However, like any trailer, maximizing these benefits relies on a careful matching of product specs with the individual operation. Simply selecting a traveling axle trailer off the lot, so to speak, will often get the job done. But a careful consideration of available features with a reputable dealer or manufacturer promises a long-term solution that will provide more safety, durability and better return on investment.
Traveling axle or sliding axle trailers are available from a number of manufacturers. Each brand offers slightly different features, but there are a few design standards that make these trailers well suited for operations looking for versatility and ease of loading. Operators who know what they need in these areas are well on their way to finding the right trailer for their operation.
Key Specs to Consider
First, start with your required capacity. Generally, traveling axle manufacturers offers models with a 40- or 55- ton capacity, making them suited for transporting a variety of equipment.
If the trailer will mostly be hauling larger machines like excavators or pavers, pay close attention to the manufacturer's 10-ft. capacity rating. Those wanting to haul mixed loads of small and mid-sized construction tools, such as skid steers or lifts, should carefully consider the overall capacity. This number tells you how many pieces of equipment, such as mini-excavators or concrete road dividers, you can safely transport on the trailer deck.
Depending on the required capacity and intended use, you can then choose from a number of available deck lengths — usually 48, 50 or 53 ft. — to select a trailer that is optimal for your specific hauling needs. This customization is especially cost effective for businesses that often haul mixed or concentrated short loads, since it allows them to choose a length that works best in the areas they will be used.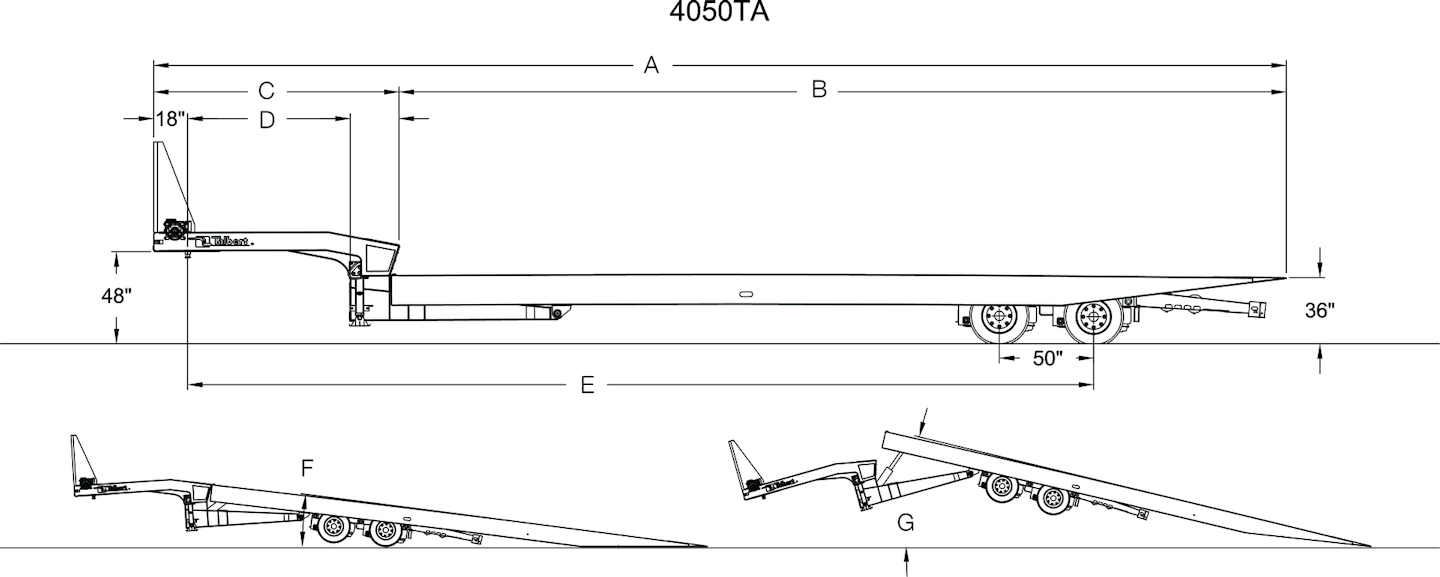 A traveling axle trailer with a low loaded deck height of 36 in. provides optimal flexibility for transporting taller equipment such as excavators.TalbertLoaded deck height is another spec you should keep in mind to limit permit costs and maximize productivity. Within the U.S., legal load height is 13 ft. 6 in. However, operators are faced with many overhead obstacles that are even lower, especially in urban environments. In these situations, a single inch can mean a difference of hours when it comes to getting from point A to point B and beyond. A traveling axle trailer with a low loaded deck height of 36 in. provides optimal flexibility for transporting taller equipment.
Also make note of the trailer's load angle. This feature is key to safety and efficiency since it allows you to simply drive or winch loads onto the deck, eliminating the hassle of ramps and the dangers associated with driving up and over the rear axle. It also makes transporting machines with low ground clearance, such as pavers and rollers, much more convenient.
Load angles vary between models and manufacturers, but are usually between 8° and 6°. Generally speaking, the lower the load angle, the easier loading will be, so compare this important spec before making a final decision.
Designed for Durability
Look for a trailer with a rugged design made to excel in the adverse conditions often found on construction jobsites.
To provide ample power and traction for moving axles on muddy or uneven terrain, carefully consider the rig's piggyback cylinder. Most traveling axle trailers rely on hydraulics to move axles forward and back and tilt the trailer deck up and down. When it comes to the axles, the piggyback cylinder is the driving force behind this movement. While a 4-in. cylinder is common on most traveling axle trailers, models with a 5-in. cylinder provide 56% more push force of the cylinders to maximize axle operation while loading and unloading.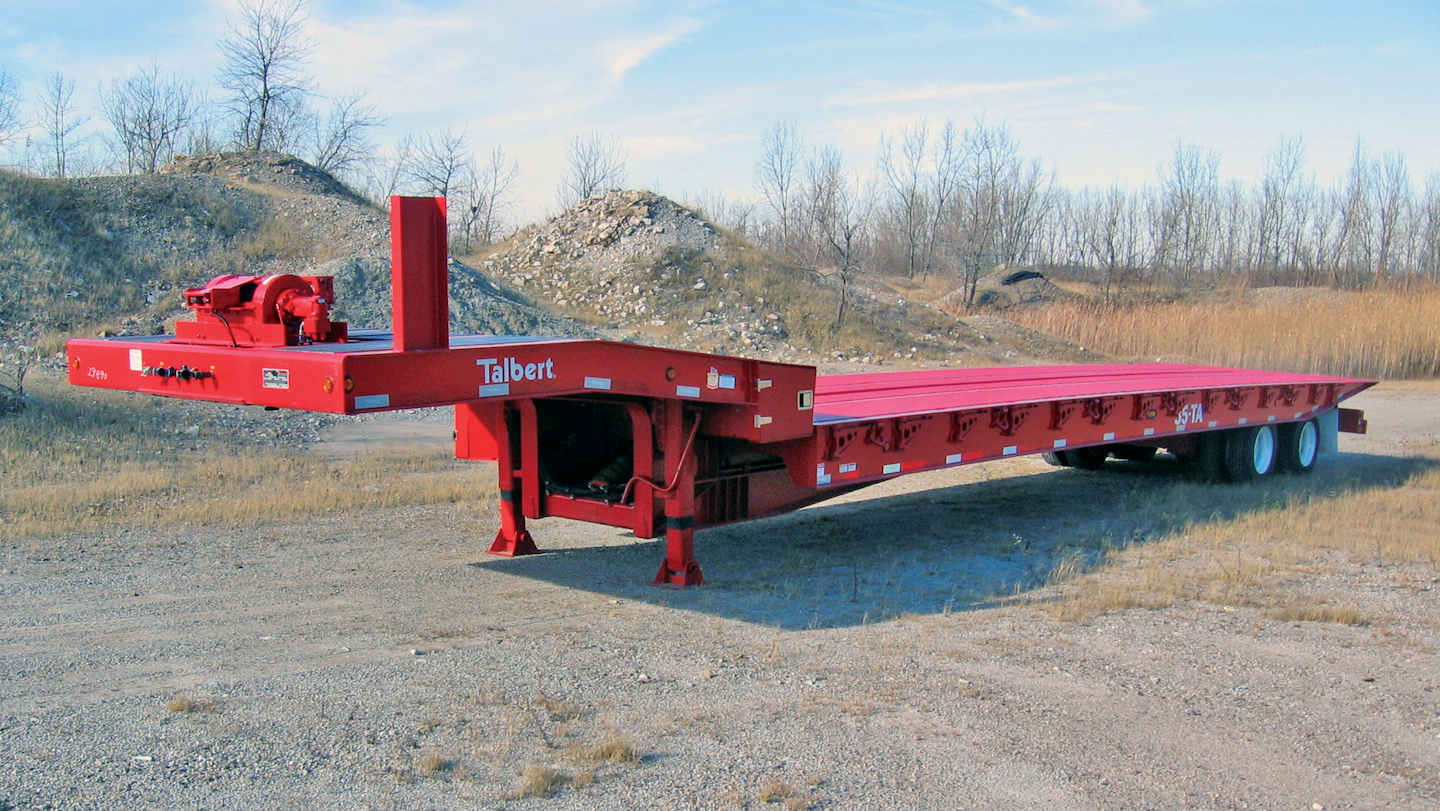 Trailers offering double keyhole tie-down slots on top of the outside beams and recessed in the center of the main deck offer increased flexibility.TalbertFor additional durability and long-term value, consider a 4-beam frame design that uses 4-in. I-beam crossmembers. Compared to the perimeter frame, which uses 3-in. crossmembers and concentrates weight on only two outside beams, the 4-beam frame offers better deflection across the entire deck. This results in a more even weight distribution that increases trailer longevity and versatility with mixed loads of smaller equipment. 
Another durability differentiator is the thickness of the apitong decking. This tightly woven and incredibly dense South Asian wood is less susceptible to chipping and cracking compared to oak or other hardwood, while providing more traction than metal. For maximum longevity, look for trailers offering 1.5-in.-thick (nominal) apitong. 
Winch Type Matters
An in-deck winch is standard equipment on most traveling axle trailers from reputable manufacturers. However, the type of winch makes a significant difference.
Look for a trailer with a 20,000-lbs. direct-drive planetary winch, which offers up to twice the loading speed of a more traditional worm gear model. This productivity boost is especially important for operators frequently needing to load immobile equipment or objects.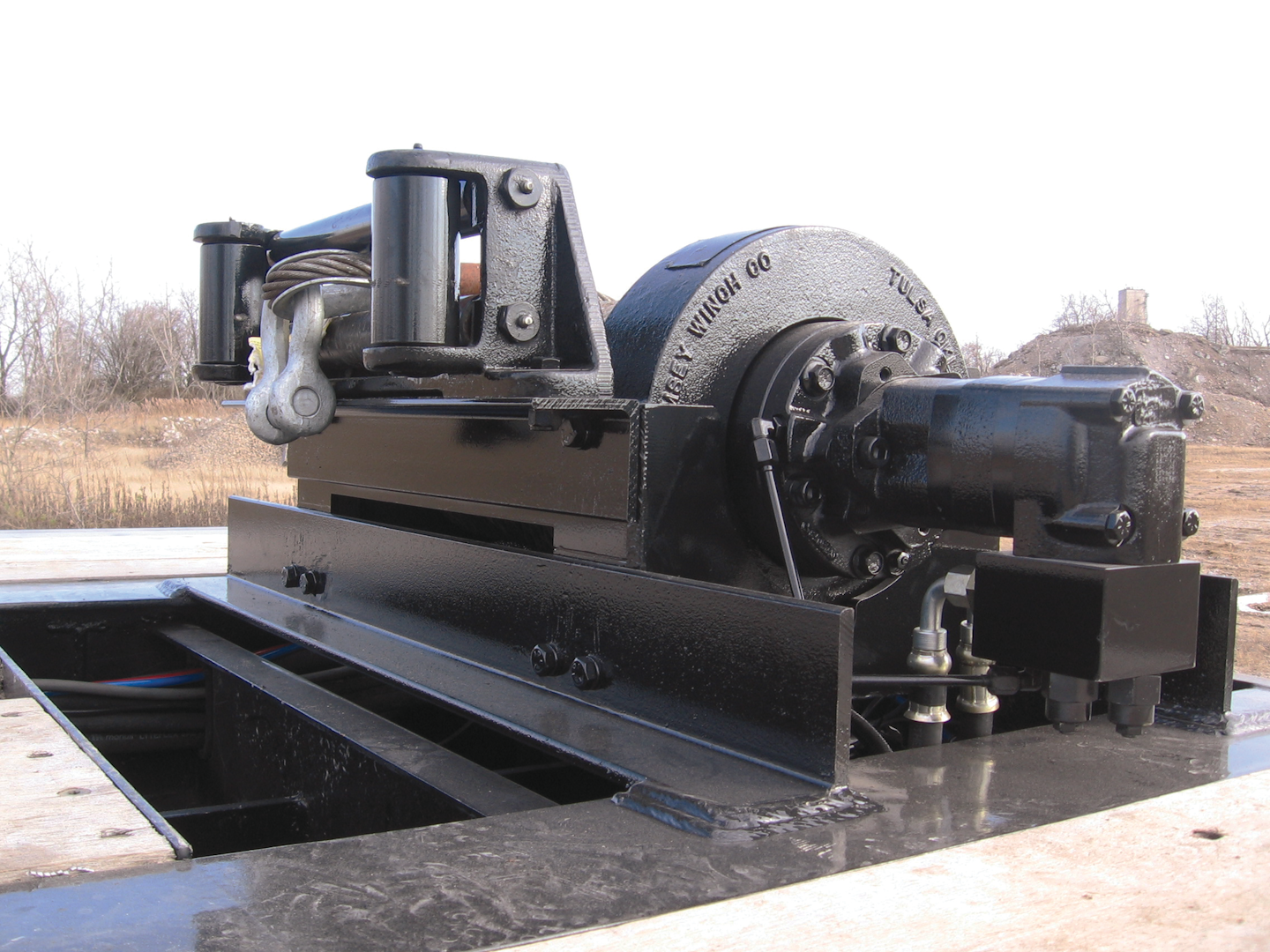 A trailer with a 20,000-lb. direct drive planetary winch offers up to twice the loading speed of a more traditional worm gear model.TalbertRemote control winch operation should also be considered. For the most part, this is a standard feature from leading manufacturers because of the safety and productivity benefits it provides. With a remote control, operators can use the winch from any position — including behind the wheel of inoperable machinery or on the passenger side of the trailer to avoid traffic. This feature also makes it possible for a single operator to load the trailer.
Here again, small differences between manufacturers can quickly add up. For optimum efficiency, look for a six-function remote system. This not only controls the winch but also moves the axles and tilts the deck. A remote with a range of 150 ft. increases the viable working area, allowing operators to choose the safest vantage point for loading and unloading. Additionally, a USB-chargeable remote offers added convenience over battery-powered options.
Additional Features
After all the "make or break" decisions that go into trailer selection, there are the little extras from leading manufacturers that can make a big difference in productivity and safety.
Take the number and size of toolboxes, for example. Look for a trailer with ample storage for chains, binders and other necessary equipment. Some manufacturers offer traveling axle trailers with an additional curbside toolbox with a chain rack for safe, convenient access away from oncoming traffic. This second toolbox also provides significantly more storage capacity than models with a single driver-side storage option.
Trailers with double keyhole tie-down slots on top of the outside beams and recessed in the center of the main deck can offer increased flexibility. This feature allows for safe side-by-side loading of smaller equipment, such as skid steers. 
While selecting a traveling axle trailer can be a complicated process, there are experts readily available to help walk you through all the options and ensure you get the right trailer for the job. Work with reputable dealers and manufacturers to understand the key considerations for optimal safety, efficiency and longevity.