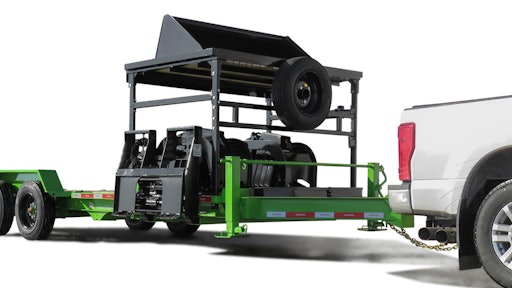 Felling's new IT-I design will be seen on Felling's 2020 model year IT-I tilt trailers. The refined design incorporates additional standard features, structural strength, and ease of operator use.
Operator friendly tilt deck latch design

D-rings that were once located on the topside rail behind the fender on the rear of the tilt deck are now located on the side of the trailer bed

Dual stop, turn, taillights located on rear of the fenders have been incorporated into the standard design

Additional structural integrity for cylinder crossmembers

Hitch area redesigned with a more user-friendly, integrated nose plate

New for 2020 the IT-I now features a removable attachment rack 

that provides ample room to transport a skid steer on the 18-ft. tilt deck, along with multiple attachments and various job site tools like shovels and brooms on the rack   
Model changes and enhancements from the previous design include:
FT-10IT-I and FT-12IT-I are built to the same spec (7k axles and 1in. tires); however, the FT-10IT-I does not have reflective tape and has a GVWR rating of 9,980 lb.

FT-14IT-I now has 215/75R17.5-in.  tires on plate wheels standard.

New design FT-14IT-I has an 8-in. I-beam frame compared to the 6-in. I-beam on the previous model design.
Request More Information
Fill out the form below to request more information about
Advanced Design IT-I Series Trailers