The major risk when transporting equipment occurs during the loading and unloading procedure. Following a few basic guidelines can help ensure safe equipment transport. We contacted Nathan Uphus, sales manager, Felling Trailers, to provide a list of the top 10 safety tips. They include:
Read the trailer owner's manual and decals. Familiarize yourself with the rated capacity of the trailer, which is posted on the VIN tag.
Know what you're hauling. Oftentimes, the weight of the equipment with additional attachments, etc., is miscalculated, which can easily cause the trailer to be overloaded.
Know the tow rating of your vehicle, and ensure it is properly sized to handle the trailer and equipment you'll be towing. Each vehicle manufacturer assigns a tow rating, which is the maximum weight of the tow vehicle when loaded.
Ensure that your tow vehicle's hitch rating meets or exceeds the Gross Vehicle Weight Rating (GVWR) of the trailer you're towing. This applies to the receiver hitch itself, as well as the ball mount and ball or pintle hitch assembly.
Be aware of towing dynamics. Any time a trailer is added to the back of a vehicle — no matter the size — there is going to be a significant degradation in the vehicle's performance, whether it's acceleration, braking, handling or stability.
Perform a walkaround inspection to ensure that the trailer is within safe operating specifications. Inspect the frame for any cracking, check the tires for proper pressure and excessive wear, and inspect suspension components. Also inspect braking systems for proper brake adjustment, and ensure the emergency breakaway system is functioning properly.
The hitch height is critical in ensuring that the trailer tows properly. As a rule, when on a flat, level loading surface, the trailer should be higher in the front than the rear, so that when the trailer is fully loaded, the truck and trailer are sitting level.
Do not exceed maximum allowed tongue transfer. A common example of tongue transfer is 10% to 15%. However, the percentage could differ depending on vehicle, hitch style, coupler rating, load, etc. Under-loaded or negative tongue weight is worse than excessive tongue weight, and could cause loss of control.
Know your tie-down needs. Depending on the equipment being hauled, the size and quantity of tie-downs can differ.
Lastly, and most important, keep up with regular maintenance, including hubs and bearings, brakes, suspension components, tires and electrical system. In equipment fleets, trailers are often overlooked; they cannot serve their purpose if they are not properly maintained.
Properly Secure the Load
An important criterion for any equipment move is properly securing the equipment to the trailer. You need to have a working knowledge of proper tie-down techniques, as well as which chains and binders are most appropriate for the load being transported.
Chain comes in various grades and thicknesses. The most commonly used chain for securing loads is Grade 70, 3/8 in., which has a 6,600-lb. maximum pull. For heavier loads, there is Grade 70, 1/2 in., with 11,300 lbs. maximum pull.
The Federal Motor Carrier Administration's Aggregate Working Load Limit uses equipment weight to identify the number of tie-downs needed, as well as their capacity. The basic requirement is that tie-downs must have a combined strength equal to at least 50% of the load being secured.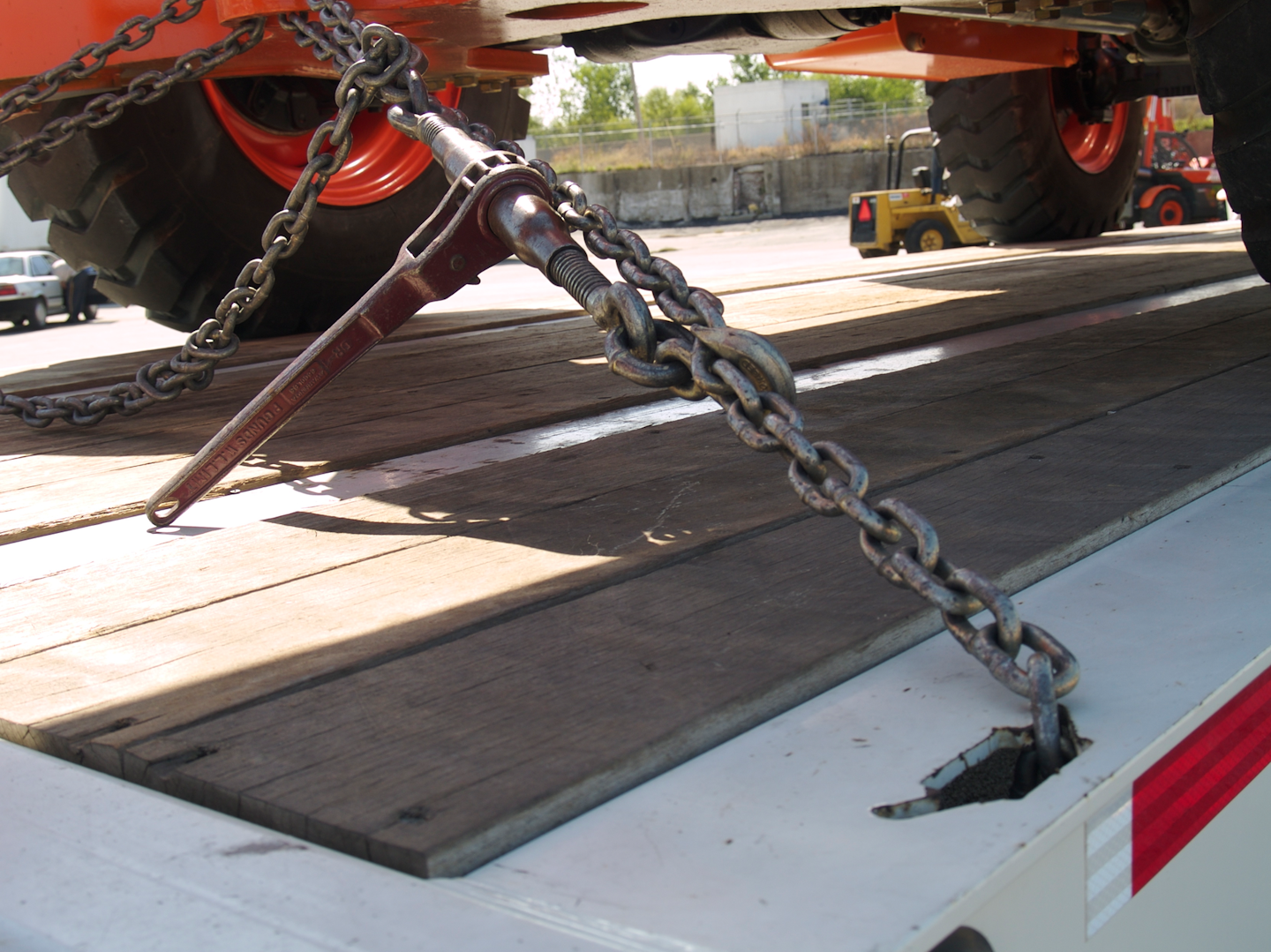 Permanently mark all binders, chains, hooks and clevis pins with their capacity. One consideration is that ratchet binders have twice the strength of mechanical lever binders, and are much easier to tighten.For example, if you're hauling a 20,000-lb. backhoe-loader, you need chains that can support a minimum of 10,000 lbs. A 3/8-in. Grade 70 chain has a rated capacity of 6,600 lbs. Because this would be divided by two according to the load limit calculation, you would need four 3/8-in. chains to properly secure the machine. If you're hauling a 40,000-lb. excavator, you would need to either add more chains or upgrade to 1/2-in. chain for greater capacity.
"Each piece of equipment requires a certain quantity of chains and binders. They must be rated accordingly," says Uphus. "The Federal Motor Carrier Safety Administration offers information on proper load securement."
Here are some of the minimum requirements:
If the loaded vehicle has crawler tracks or wheels, at least four tie-downs need to be used to prevent movement side to side, forward, rearward and vertically.
An indirect tie-down routed through an anchor point and attached to both sides of the trailer is counted as a single tie-down.
A chain can be used as two tie-downs if properly attached to two anchor points using two binders, with slack in the middle of the chain so that a break in the middle would not affect either tie-down.
The sum of the working load limits of the tie-downs must equal at least 50% of the weight of the cargo. If unsure of the cargo's weight, additional tie-downs may be needed.
Inspect chains before each use and remove any from service with cracked, stretched or fatigued links. Also make sure any tie-down points, binders, hooks and clevis pins meet capacity regulations. The tie-downs are only as strong as the lowest rated component. Permanently mark all binders, chains, hooks and clevis pins with their capacity. One consideration is that ratchet binders have twice the strength of mechanical lever binders, and are much easier to tighten.
Think about how you are tying the machine down. It is easy to damage equipment by routing chains in sensitive areas such as tie-rods or near hydraulic hoses. When securing the equipment, a chain angled at 45° between the equipment and deck provides the maximum working load. This angle provides a clamping load that prevents equipment from sliding, while also pulling the load down to the trailer.
During transport, you should periodically pull over and check the load since chains and straps have a tendency to shift and stretch. Re-tighten them as necessary. 
Companies in this article