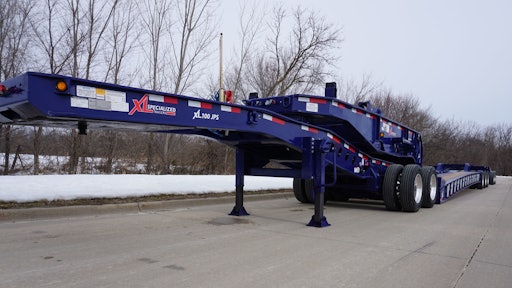 XL Specialized Trailers is launching the XL 150 hydraulic detachable gooseneck (HDG) 2+3+2 trailer at CONEXPO-CON/AGG, March 10-14, in Las Vegas. This unit hauls extra-large construction equipment as well as a variety of crane-loaded freight.
The new 2+3+2 west coast multi-axle is designed for achieving maximum payload
The ability to scale 140,000 to 150,000 lbs. in the western U.S. To achieve this, XL included strategic axle spacing, spreads and widths
The XL 150 HDG offers a heavy-duty capacity of 150,000 lbs. in 16 ft. concentrated or 140,000 lbs. in 10 ft. concentrated
The overall length of the jeep, trailer, booster plus a truck with a 300-inch wheelbase comes in under 120 feet
The trailer is 9 feet wide
A 13-ft. hydraulic gooseneck has two swing clearance settings: 105 in. and 97 in.
The 100-in. hydraulic flip neck extension adds two more swing clearance settings for added versatility: 205 in. and 199 in.
The flip neck also adjusts the fifth wheel height to 64 in.
The ramp-style jeep easily moves the fifth wheel up over the frame of the truck
A higher fifth wheel enables drivers to distribute weight to the fourth axle of their truck
The XL 150's gooseneck features self-erecting legs, allowing the gooseneck to stand on its own when detached
This is accomplished with legs that flip down from the side of the neck when needed
The main deck is 30 ft. long with a loaded deck height of 24 in. and ground clearance of six inches
It is equipped with 10 bent d-rings per side and eight flat d-rings inside of each main beam to ensure ample tie-down options
The main deck also features a bucket well at the rear, including a plate on the bottom, in addition to a detachable wheel area, allowing users to shim as needed to accommodate various loads
The west coast subframe evenly distributes the weight on each of the trailer and booster axles
The sliding booster design allows for varying spread between the trailer and booster axles, to accommodate a range of loads
The spread can go 13 ft., 10 in. to 15 ft., 11 in., with many stops in between
XL Specialized Trailers will feature the XL 150 HDG trailer along with three other new trailers at CONEXPO-CON/AGG. They will be located in Booth No. F6413 of the Festival Grounds.   
Request More Information
Fill out the form below to request more information about
XL 150 HDG Trailer