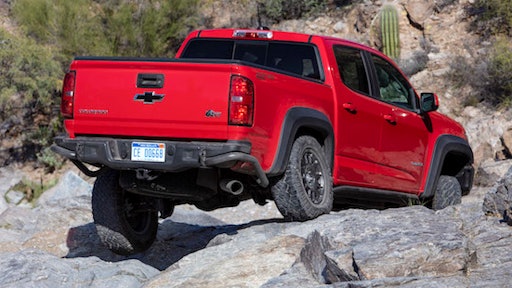 PickupTrucks.com
After 45 minutes of trail driving showed how the Colorado's off-road dampers handle terrain that would halt anything less capable than an off-road pickup or SUV (no stock Subaru Outbacks out here, thank you very much), we came upon a moonscape.
There was no obvious visual way forward through this 100-foot-long rubble-strewn wash, which featured high, sharp rocks and boulders challenging for anyone to negotiate on foot, much less in a truck. Nevertheless, we made our way forward — the ZR2 features electronically lockable front and rear differentials, an exclusive feature on a mid-size pickup, although we really only needed to lock the rears to get through.
The grip exhibited by this truck's ZR2's 31-in. Goodyear Wrangler Duratrac tires on Bison-exclusive 17-in. wheels was astonishing. Throttle control of the 3.6-L V6 engine was a little tricky, as the engine revs didn't always quite correlate with what our right foot was doing, but in Off-Road mode and in a 4-Low setting on the transfer case, the Bison crawled over everything with minimal fuss. Skid plates did their thing — clangs and scrapes over rocks that were taller than the Bison's ride height were plentiful.