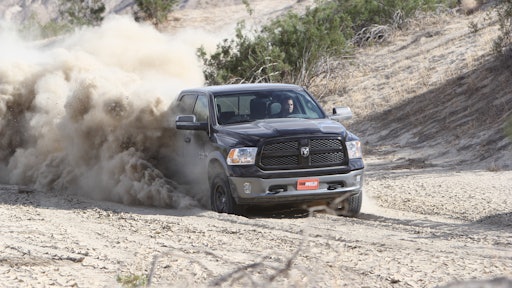 Beginning in third-quarter 2013, Ram will offer a small-displacement diesel for its half-ton line of trucks. The 2014 Ram 1500 will offer a new, 3.0-liter EcoDiesel engine, mated with the eight-speed TorqueFlite automatic transmission.
"Truck owners have been emphatically asking for it, and Ram will be the only manufacturer to offer a diesel powertrain in the half-ton segment with the 2014 Ram 1500 EcoDiesel," said Fred Diaz, President and CEO — Ram Truck Brand and Chrysler de Mexico, Chrysler Group LLC.
"The Ram 1500 with 3.0-liter V-6 turbo EcoDiesel and TorqueFlite eight-speed transmission deliver on the demands of truckers by providing best-in-class torque, fuel economy and range," said Diaz. "There's no doubt that being the only truck manufacturer to offer this game changing technology will provide Ram with a competitive advantage."
The new 3.0-liter V-6 EcoDiesel offers emissions that are 60 percent less than those produced by diesel powertrains 25 years ago. Ram's newest turbo diesel engine is manufactured by VM Motori, a Chrysler Group diesel engine supplier since 1992.
Companies in this article