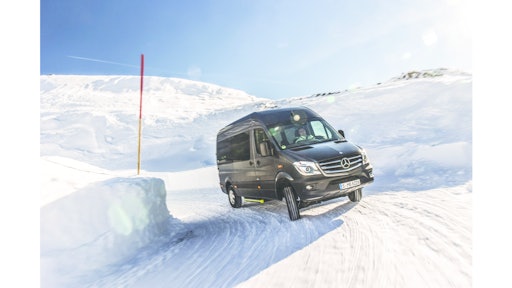 Mercedes-Benz Vans' long-term strategy for producing the successor model of the Sprinter commercial van inlcudes creating assembly capacity in North America.
The Sprinter, also marketed in North America with the Freightliner nameplate, has been a success story in the van business for almost 20 years. It is the worldwide market leader in the large van segment and is delivered to customers in about 130 countries.
The U.S. is now the Sprinter's second-largest sales market after Germany. About 23,000 Sprinter vans were delivered to U.S. customers in 2013. As part of its growth strategy, Mercedes-Benz Vans plans to capitalize on North America's high growth rates in large-van segment sales.
Because of high import tariffs, Sprinters for the U.S. market have been produced at two German plants, partly dismantled for shipment, and reassembled at the plant in Charleston, S.C. This process results in a significant competitive disadvantage on the U.S. market for Mercedes-Benz, since it leads to long delivery times, makes the vehicle more expensive for U.S. customers, and is therefore not economical in the long term.
"We can cover the growing demand for large vans in the North American market economically only if we produce the vehicles locally in the NAFTA region," says Volker Mornhinweg. "That's why we have decided to produce the next generation of the Sprinter in North America as well."
Mercedes-Benz Vans will decide on the location for future production of the new Sprinter in the NAFTA region during the coming months.
Since 1995, Mercedes-Benz has delivered a total of more than 2.5 million Sprinter to customers. About 200,000 of large vans are currently built per year in plants in Düsseldorf and Ludwigsfelde, Germany. The vans also roll off assembly lines in González Catan, Argentina; Fuzhou, China; and Nizhny Novgorod, Russia.