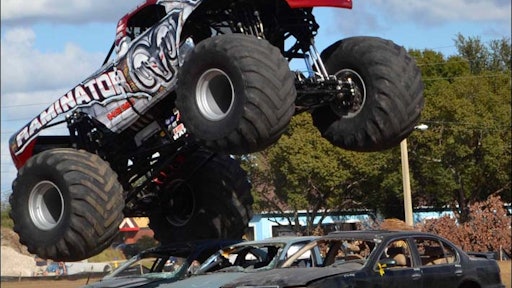 Raminator, a monster truck sponsored by the Ram Truck brand, has broken the Guinness World Records record for the "Fastest Speed for a Monster Truck" at Circuit of The Americas in Austin, Texas. Hitting a new record speed of 99.10 miles per hour (mph), Raminator and driver Mark Hall secured the Guinness World Records breaking the previous record of 96.8 mph.
Ram's video of Raminator's record run
"Taking on the challenge of breaking a world record has been an experience we will never forget," said Hall Brothers Racing President and Crew Chief Tim Hall. "With the support of Ram and Mopar, we continue to add to our achievements and are honored to now be a Guinness World Records holder."
"Most of the time we're in an arena or a stadium or the infield of a fairgrounds, so we don't have a big run like this," said Mark Hall. "This is pretty unique for us."
Raminator is an 11,000-lb. monster truck powered by a 2,000-hp, 55 cu. in. HEMI engine.
Ram Trucks chose Circuit of The Americas, a multi-purpose facility and 3.4-mile race track situated on 1,000-acre site in southeast Austin, as the site for this attempt at the record. Throughout the year, the Ram monster trucks compete in races and freestyle events and tour the country, making appearances at dealerships to offer ride-alongs and car-crushing spectacles for hundreds of thousands of fans of all ages.