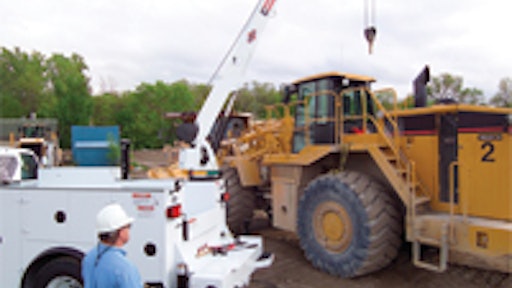 For many contractors, field service vehicles take on the role of a comic book superhero, swooping in to save the day when parts break and equipment stops. They rely heavily on the field service vehicles to minimize their downtime by fixing their equipment as fast as possible.
As in comic books, superheroes aren't supposed to get sick or injured. The same holds true for field service vehicles. Contractors expect -and need -service trucks to be in working condition and ready to go when they call. That's why it's important that service trucks are properly maintained so they can come to the aid of downed equipment.
In maintaining a field service vehicle, there are several components an operator must inspect, says Tim Worman, commercial vehicle product manager for Iowa Mold Tooling Co., Inc. (IMT). IMT field service vehicles are usually equipped with a body, telescopic crane and compressor. Each component has its own checklist of items that requires routine inspection and servicing.
The body
One of the most visible components of a service truck is its body. The body, which is usually formed with steel, features easy-access drawers, shelves, compartments and other lockable storage areas for carrying all the operator's tools, parts books and other supplies. While operators go in and out of these storage compartments and use the workbench area daily, not everyone stops to notice the condition of the service body.
Worman recommends that operators inspect their service body at least weekly, if not daily, when doing a walk-around inspection before starting their day. They should look for any hydraulic leaks, broken transportation/safety lights, and cracks in the body's structure. They should also get down on their hands and knees to check under the body, to ensure there isn't any plumbing or wiring dragging.
"If a hydraulic leak goes unnoticed, you could potentially have a catastrophic failure and dump all the system oil," he says. "So if you see a leak, react quickly and get it fixed."
Not keeping your service body clean can lead to unsafe working conditions and prevent you from noticing potential maintenance problems. "The dirtier the truck, the less likely you are to see a crack," Worman says. "If you keep it clean and routinely monitor the truck, typically you can get it rectified quickly and prevent future problems."
The crane
The most intricate component of a field service vehicle is the crane, which has more than a dozen items that should be inspected daily before operation. The checklist includes inspecting:
All load charts, safety and warning labels and control labels to ensure they are present and legible.
All safety devices for proper operation.
Control mechanisms for proper operation of all functions, leaks, and cracks.
Control and operator's station for dirt, contamination by lubricants, and foreign materials.
Hydraulic system (hoses, tubes, and fittings) for leakage and proper oil level.
Presence and proper operation of hook safety latches.
Proper reeving of wire rope on sheaves and winch drum.
Proper engagement of all connecting pins and pin retaining devices.
Overall observation of crane for damaged or missing parts, cracked welds, and presence of safety covers.
Remote control devices for proper operation.
All lights, alarms, etc. for proper operation.
Anti-two-block device for proper operation.
While operating, Worman says you should observe the telescopic crane for any abnormal performance or unusual wear, such as loose pins and wire rope damage. If you witness any abnormalities, he says to discontinue use immediately to determine the cause and severity.
Two of the biggest wear items on a telescopic crane are its wear pads and winch cable, Worman says. The winch cable is the most important wear item from a safety standpoint because you don't want it to become frayed and cause an accident.
There are some simple practices operators can exercise to keep their cranes in peak working condition, such as not overloading and misusing it. However, even under some of the best operating conditions cranes will eventually require routine maintenance. That's why it's important that operators follow the planned maintenance schedule in their manufacturer's manual, Worman says. While most operators follow a maintenance schedule set by calendar year, cranes working in high-usage environments receive maintenance based on their number of service hours.
The compressor
Service trucks are often equipped with an air compressor that delivers dry, cool air to power tools that operators may need to do their jobs in the field. IMT service trucks come equipped with either a reciprocating air compressor or rotary screw air compressor.
No matter which model of air compressor you are using, Worman says the airend oil level should be checked daily. Operators should also make sure the air tanks have been drained of all condensation before using the compressor. After starting the unit, observe that it is building pressure and inspect the fitting and air lines for any leaks.
"Our No. 1 recommendation is to always, always drain the air tank after each use," Worman says. "If you're using a rotary screw compressor, always let it run for a minimum of 15 minutes to get it up to operating temperature and remove moisture from the circuit."
Just as changing the oil in your car regularly is important, this simple maintenance procedure can extend the life of your air compressor. Worman says oil should be changed every 250 service hours or every three months, whichever comes first.
When using an air compressor to operate tools, operators should always match the psi output with the tool requirements. Oftentimes, operators ignore these requirements and run more psi through the tools believing they get more power-which can be detrimental to the tools.
Safety
While it's important to keep the body, crane, and compressor in good working order, operators must also ensure they are operating these components as safely as possible. Field service vehicles come with several safety features that prevent possible hazards when on the job.
Deploying outriggers on field service vehicles is one of the most important safety procedures when using the crane. The outriggers provide stability and prevent the truck from tipping when lifting heavy loads.
If all the components of a field service vehicle are not properly maintained and serviced, the risk operators run is big. Many times poor maintenance leads to catastrophic failure. And when your field service vehicle is down, it impacts the contractor's downtime.
"If your service truck is down, your customer may go to someone else who can service them faster," Worman says. "The risk is losing that customer in the future. So you really want to prevent any downtime on the service vehicle."
Information provided by Iowa Mold Tooling Co. of Garner, IA