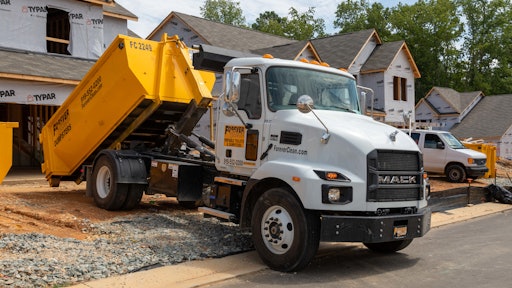 PALFINGER

PALFINGER has launched the HT 160 SLD 3 Telescopic Hooklift tailored for the North American market. The product is engineered for performance, installation and use on construction sites.
"Our focus is always on developing an exemplary product portfolio specialized for our regional customers to address their challenges effectively. We are proud to offer the HT 160 SLD 3 Hooklift to meet industry demands. We are confident that this new model will boost productivity and overall satisfaction for our customers," said Ismael Daneluz, PALFINGER vice president of sales and service North and Latin America.
The HT 160 SLD 3 Hooklift highlights performance with a 10% reduction in dead weight while maintaining a consistent lifting and tipping capacity of 16,000 lbs. at 36-in. hook height and 18,000 lbs. at 54-in. hook height.
Coupled with an innovative subframe design that includes a raised front cross member, the HT 160 SLD 3 Hooklift is versatile and fits a range of trucks. It also has a Standard Advanced Mounting (SAM) system, which supports installation, minimizing downtime during set up. This hooklift features an adjustable hook height (measuring 36 in./54 in.) for maximum flexibility.
"In response to customer feedback, we have redesigned the hook shape to enable easier connection to the container bar. Furthermore, the introduction of greaseless bushings reduces maintenance time and costs for the customer," explained James Hanson, PALFINGER North America director of sales.
The HT 160 SLD 3 Hooklift is finished with the PALFINGER Origin Protection (POP) painting and surface treatment for protection.
Request More Information
Fill out the form below to request more information about
PALFINGER Offers HT 160 SLD 3 Telescopic Hooklift