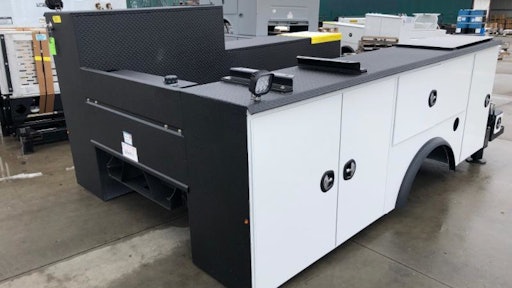 Palfinger is pleased to announce the installation of a new LINE-X booth for the application of LINE-X interior compartment coatings and spray-on bedliner on Palfinger's full line of PAL Pro Mechanics Bodies.
"The addition of a LINE-X system at Palfinger is a testament to our dedication to improving customer return on investment by manufacturing the most durable mechanics truck bodies in the industry" expressed Brian Heffron, National Sales Manager. As an added bonus, Palfinger-applied LINE-X coatings come with an exclusive three-year limited warranty at no additional cost.
The new system adds the option to include LINE-X bedliner at the factory before shipment to the upfitter, which shortens lead times, lowers costs for buyers and increases product durability. In addition to the optional exterior bedliner, all PAL Pro bodies 39,000 ft./lb. to 86,000 ft./lb. now include a standard LINE-X ULTRA bright white compartment interior coating.
Palfinger's LINE-X system was designed to be applied directly after the PAL Pro body undergoes Palfinger's E-Coat priming system. This allows for a seamless transition from E-Coat to LINE-X, ensuring the best possible adhesion and durability of the LINE-X coating.