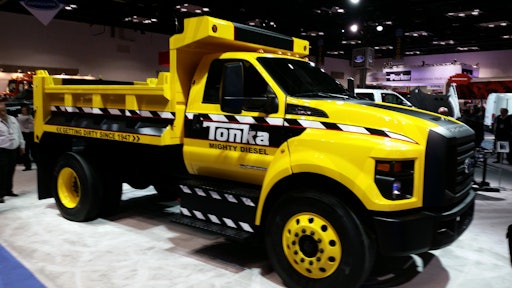 Over the last five years, the National Truck Equipment Association (NTEA) increased the size of the Work Truck Show floor by 40% in response to growing demand. The show continues to grow as a venue for significant product introductions. This year, North America's largest work truck event, held March 4 through 6 at the Indiana Convention Center in Indianapolis, broke attendance records with 11,005 fleet managers, manufacturers, distributors, dealers, equipment buyers and maintenance personnel from all 50 states, eight Canadian provinces and 23 countries.
Among the major product introductions, Mercedes-Benz Vans revealed its Metris mid-size van, Hino Trucks moved into the Class 4 market with its 155 model, Chevrolet introduced 2015 Colorado and Silverado 1500 box delete options, Ram Commercial expanded its Ram 2500 CNG offerings and STAHL debuted the industry's first polymer composite service body, the Razorback. Ford also provided an update on its soon-to-be-released F-650/750 and Ford telematics system, while pulling the covers off a one-of-a-kind F-750 Tonka dump truck intended to generate buzz about the new models.
Ford F-650/750 and Ford Telematics Kick Off Announcements
Ford claims its 2016 F-650/F-750, when powered by the 6.7-liter Power Stroke V8 diesel engine, is 25% quieter inside the cabin at 60 mph than the previous model. At idle, the Ford-designed and built Power Stroke diesel is as much as 45% quieter inside the cab and 35% quieter outside in front of the grille.
The 6.7-liter diesel will be offered in three power levels: 270 hp and 675 lbs.-ft. torque, 300 hp and 700 lbs.-ft. and 330 hp and 725 lbs.-ft. Unique in the industry, the truck will also be offered with a 6.8-liter V10 gasoline-fueled engine pumping out 320 hp and 460 lbs.-ft. torque.
The trucks will be offered in Regular Cab, SuperCab and Crew Cab styles with straight-frame, dock-height and all-new dedicated tractor models.
Next, Ford announced improvements to its telematics fleet management system. Developed with technology partner Telogis, Ford Telematics is the next generation of the fleet management platform previously known as Crew Chief, which was available in the U.S. and Canada. The new version will be available globally and adds new features and analytics.
Ford Telematics is a suite of cloud-based applications that gives customers visibility into the work day of every driver in the field. The technology is designed to provide exclusive metrics and insights for any size commercial fleet. Features include:
Mobile connectivity: Connects workers in the field with fleet managers to coordinate Department of Transportation compliance (including hours of service and driver vehicle inspection reports), work orders and more
Data reporting: Ford-exclusive data and services for more vehicle intelligence, such as diesel emissions and idle time
Workflow and information gateways: Integration with new workflows, scripted alerts and application programming interfaces that connect Ford Telematics with customer information systems to leverage data in new ways in the back office or in the field
In-cab alerts: Provide audible driver feedback on harsh acceleration, hard braking, excessive speed and excessive vehicle idle time
Driver scorecards: Customizable driver behavior scorecards, dashboards and optional Telogis Coach, a driver feedback mobile application for Android or iOS
Fuel management: Fuel management reports and dashboards
Dashboards: Ready-to-use dashboards monitor driver behavior and operations to help ensure the fleet is running efficiently and productively
Customizable reports: Easier-to-use reports with new user interface improvements, resource filtering and more output formats
Ford Telematics is available from the factory and as a dealer-installed aftermarket option. It is available today in North America for 2009 or newer models of the Super Duty and F-150 pickups; Transit and Transit Connect; E-Series vans; and Police Interceptor Utility and Sedan. The system will be introduced on F-650/F-750 trucks for 2016.
General Motors Announces Box-delete Options
General Motors will offer its Chevrolet Silverado 1500 and Colorado pickups with "box-delete" options.
Chevrolet offers the only box-delete option in the mid-size truck segment with the 2015 Colorado. The box-delete package — bringing a cab and chassis that can be customized with service, utility and a host of other rear ends — is available on Colorado Work Truck 2WD, extended-cab models and is offered exclusively with the 305-hp 3.6-liter V6 engine and six-speed automatic transmission. A $300 credit is applied to the Colorado's suggested retail price when the option is selected. In the city, the V6-powered Colorado 2WD (with box) is rated at 18 mpg, and on the highway, it's rated at 26 mpg.
Features include:
2,200-lb. payload rating
6,001-lb. GVWR
Full-size spare tire included
Eight body mount provisions (four per frame rail)
Z82 trailering package
G80 locking differential
Option to delete the rear seat available with the Colorado Work Truck extended cab regardless of whether the box stays or goes
Chevrolet also offers a box-delete option on the Silverado 1500 regular cab with an 8-ft. bed. It is available for both 2WD and 4WD models. The option deletes the box, bumper and rear tire.
Parker Chelsea Unveils PTO, Smart Start Option
Parker Chelsea unveiled a 249V Series Power Take-Off (PTO) for the Ford Super Duty trucks that promises flows up to 23 gpm and pressures at 3,500 psi. It fits both 2WD and the tighter spaces of 4WD. The PTO integrates the noise reduction technology of the 249 Series and the T6C vane pump. When mated to the TorqueShift 6 automatic transmission with the engine-driven gear, the 249V provides 200 lbs.-ft. of torque capacity.
A single hose connection and an integrated cartridge valve and pressure switch help reduce installation time.
Parker Chelsea also introduced the Smart Start technology option for the Chelsea 277 and 280 Series PTOs. This option solves the spike torque issues found on higher startup inertias associated with mobile air compressor applications. Smart Start manages the system pressure that is used to engage the PTO's clutch pack, enabling it to absorb the torque spikes from compressor applications and provide a smooth engagement, free from shock loads. This helps protect the transmission by preventing the spike torque from being transferred downstream into the transmission.
STAHL Unveils Composite Service Truck Body
Made from impact-resistant polypropylene, the STAHL Razorback composite service body is rust-proof, resists dents and dings and allows a larger payload capacity. It features lightweight composite panels on a steel or aluminum subframe for corrosion resistance and improved fuel economy. An automotive painted finish and clean exterior lines enhance appearance while the design allows less wear on the chassis.
Buyers Products Introduces Waterproof, Electric Winches
Buyers Products waterproof electric winches are available in 9,500- and 12,000-lb. sizes. Their waterproof-submersible construction seals and protects the electronics and internals for use in the harshest of environments.
The 12-volt winch is powered by a 4.9-hp series wound motor. A high-speed, three-stage, planetary gearbox provides quick, efficient line speed. The 3/8-in., galvanized winch cable is 100 ft. long. A standard spooling clutch provides manual cable deployment. The auto-brake and power IN and power OUT controlled via handheld or optional wireless remote provide consistent load control.
IMT Shows CAS80R Rotary Screw Air Compressor
IMT's hydraulic-driven, continuous-duty CAS80R rotary screw air compressor offers 33% more air output than the previous model, as well as increased hydraulic cooling capabilities and an easy-to-set air pressure output. The single-stage, pressure-lubricated unit delivers up to 80 cfm at 150 psi. A hydraulic aftercooler is integrated into the design.
Ram Trucks Expands CNG Offering
Ram Trucks expanded its factory-built CNG offering. Previously, it was available only as a crew cab 4WD long box. It will now include 2WD and regular cab long box configurations, which essentially quadruples the number of configurations to meet customer demand. Ram builds its CNG trucks in-house instead of farming them out for an upfit, which also means these trucks are covered under factory warranty.
Knapheide Offers Service Bodies for Bed-delete Pickups
The EC-Series of steel service bodies from Knapheide are specifically designed and tailored for General Motor's mid-size and 1/2-ton pickups with bed-delete options. By optimizing the design and materials incorporated in the EC-Series bodies, customers can maximize the utility and capacity.
Features include:
Aluminum shelf design
Floor plate constructed of 14-gauge galvanneal steel
Understructure and front end rail enhanced for torsional support
25% lighter than standard steel bodies
Kenworth Adds 18,000- and 20,000-lb. Front Axles for T370 Truck
With the new 18,000- and 20,000-lb. front axles, customers can put more weight on the front ends in fuel hauling, dump, mixer, utility and crane applications. This also allows more payload in a shorter BBC truck package. The axles are available with the PACCAR PX-9 engine rated up to 350 hp and 1,150 lbs.-ft. of torque.
The package includes a heavy-duty, crossbrace-reinforced front frame assembly. Bolted crossmembers and either 10 3/4-in. frame rails or 10 5/8-in. frame rails with inserts complete the chassis package. Iron hubs, drum brakes and dual-power steering gears, along with a power steering cooler, are part of the spec package.
Rugby Rancher Features New Hitch, Narrower Bulkhead
Rugby Mfg. showcased its redesigned Rancher body, which features a narrower, tapered bulkhead and a B&W Turnoverball hitch that allows a flat surface with no cutouts in the floor. The body is built with black powder-coated 12-gauge steel. It also features outside stake pockets with tie rails on the sides and rear. A built-in receiver hitch is standard on cab chassis models.
2016 Mercedes-Benz Metris Commercial Van
Mercedes-Benz Vans USA launched its Metris mid-size commercial van, which is larger than other vans offered in the segment below the Sprinter. Beginning in September, the Metris will be available in a variety of panel van (cargo) and Tourer (passenger) versions at more than 200 dealerships.
Features include:
Turbocharged, four-cylinder, 1.9-liter M274 gasoline engine rated at 211 hp and 258 ft.-lbs. of torque
Seven-speed transmission
Maximum cargo van payload of 2,500 lbs. and maximum towing capacity of 4,960 lbs.
Six airbags in cargo vans and eight airbags in passenger
versions standard
Standard Tire pressure monitoring, Attention Assist system and Crosswind Assist
DuraClass Redesigns Dump Bodies
DuraClass introduced the improved HPT "tub" body line to meet all heavy-duty dump body needs.
The HPT-B1 features a closed fender design and comes in 14- to 18-ft. lengths in carbon steel or stainless steel. It has capacity ranges from 10 to 20 yds.
The HPT-B2 features an open fender design, which decreases the possible areas for rust and the overall body weight. The body comes in 10- and 11-ft. lengths in 3/16-in. AR400 carbon steel, and 14- to 18-ft. lengths in 3/16-in. hi-tensile carbon steel. It also has an option for stainless steel.
Crysteel Reveals Redesigned A-Tipper Aluminum Dump Body
Crysteel Mfg. unveiled the redesigned A-Tipper dump body made from 3/16-in. 5052 aluminum. It features minimum welds and an aerodynamic design. The crossmember-less understructure has 8-in.-long sills and a one-quarter integrated, tapered cab shield. The new design results in a weight reduction of 200 lbs. Lightweight aluminum also offers increased payload capacity, corrosion resistance and lower maintenance costs.
A new tailgate features independent tailgate latching, minimal welds and a 3/8-in. stainless steel handle. Positive independent locking latches allow users to easily drop the tailgate, spread through or simply remove. All A-Tippers come standard with 3/16-in. aluminum construction, rigid sides with single panel reverse bend, tarp mounting provisions and integrated receivers, 6-in. board pockets and LED lighting with one-piece wiring harness.
International Boosts Computing Power
International Truck's new body control module and enhanced Diamond Logic features are expected to drive increased vocational truck uptime.
The new body control module design will deliver six times the current processing speed for truck and body electronics, add 16 more input/output slots to integrate more truck body equipment, plus provide three additional data links to expand truck capabilities. The expanded system will be in production starting in November 2015.
New Diamond Logic features will include:
Intelligent Start — Single ignition activation on the key is all that is required and the vehicle will manage starting the engine automatically. The starter motor is disabled the moment the engine starts, which prevents over cranking and overheating to extend starter life.
Programmable Real Time Starting — Trucks can be programmed to start prior to the driver's arrival at a specific time each day, ensuring the vehicle is warmed up and ready for operation.
Auto Start-Stop — This function not only reduces idle time and saves on fuel but allows vocational customers to recharge batteries automatically, or heat the cab without continuously running the engine.
Hino Adds Class 4 Cab-over
The model 155 cab-over truck has a GVWR of 14,500 lbs. and is powered by Hino's J05E-TP engine rated at 210 hp with 440 ft.-lbs. of torque. The Class 4 truck comes standard with a five-year, 175,000-mile Powertrain warranty, Hino's 24/7 roadside assistance program, HinoWatch, and HinoCare, a two-year or 60,000-mile preventive maintenance program.
Features include an Aisin A465 six-speed automatic transmission, all-steel cab and double-cab version marketed as the 155-DC. Both the 155 and 155-DC will be available at dealerships in May 2015.