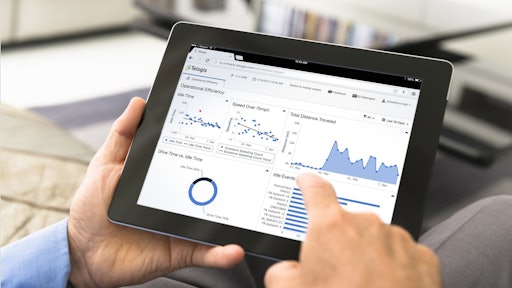 Depending on how many drivers you have traversing public roads, utilizing technology to track their driving behavior can prove an important component of your overall safety program. Many different systems are available to track driver behavior and record unsafe practices. This data can then form the basis of a training program to reduce risks.
Some of the systems are dedicated to monitoring driver behavior, while others provide a full spectrum of telematic data. The type and amount of data you can monitor really depends upon the individual system being utilized.
For instance, Telogis has partnered with Ford, General Motors, Hino, Isuzu, Mack and Volvo to provide very specific data related to driver and operator behavior, such as seat-belt use, hard braking, hard acceleration and many others. Further, the Telogis platform can look at behavior on different road types and match that data to the driver data.
"Our ability to take the unique data elements from the vehicle and combine it with the underlying mapping data, such as posted speed limits or off-highway usage, provides actionable information with little analysis required to make operational decisions," notes Jeff Cohen, vice president of asset & security systems at Telogis.
Establish a Driver's Scorecard
Before you can determine corrective actions, it's useful to get a baseline of what your drivers are doing today and then establish a driver scorecard. "A driver scorecard and driver dashboard allow you to pull out the metrics that are most important to you," says Cohen.
You can choose which data to include on the scorecard and how it should be weighted. For example, you may place more emphasis on speeding than harsh acceleration. This allows the owner or fleet manager to run a report on a daily, weekly or monthly basis and show the drivers where they rank, which gets the drivers involved. The ranking comes in the form of a mobile app called Telogis Coach, where the information can be delivered directly to the driver in real time.
"Inherently, no one wants to be at the bottom; I sure don't," says Cohen. "By showing drivers where they rank and how they are trending, you subconsciously mitigate the severity of the accidents that are happening. You can take that a step further by providing incentives to the safest drivers." By tracking driver performance, you can also identify areas where they need further training.
Once a baseline and key measurement criteria have been established, monitoring behavior often leads to drastic improvements. "Whatever the key component is that we want to measure, and once we know the baseline, implementing those internal changes can reduce incidents significantly in the first 90 days," says Cohen.
Often, you will need to choose a starting point when trying to change behaviors because there are so many metrics to measure. This offers a greater opportunity for success right out of the gate.
"Excessive speeding or speeding above posted speed limits is often where people go first," says Cohen. "Customers grasp speeding and the impact it can have by gaining control and visibility into it."
A Picture is Worth A Thousand Words
There are alternatives to full telematic systems, including event recorders that provide video of the driver and the vehicle surroundings when an event occurs. These videos allow the driver and owner or fleet manager to get a clear picture of what happened during the event, both inside and outside of the cab.
The recorded events provide an opportunity to coach drivers. "The Lytx DriveCam program is about improving driving behavior," says Greg Lund at Lytx. "A device mounted on the windscreen contains a forward-looking lens and a lens focused on the interior of the cab. It also contains an accelerometer and other components to record data. It is much like the DVR you may have at home. It is always recording, but doesn't save a 12-second clip (eight seconds before the activation and four seconds after) until some sort of G-force anomaly triggers it, like a hard brake or a swerve."
Recorded events are reviewed by the trained staff at Lytx to screen out miscellaneous recordings that may be triggered by potholes, rough terrain, etc. "A truck hitting a pothole may trigger the device, for example, but the clip would not be sent because there was no behavior associated with that clip that needed coaching," Lund points out.
Only events that are deemed coachable are forwarded to the fleet manager. "The fleet manager then reviews the clip and coaches the driver on any needed behavior change," says Lund.
The driver can also use the DriveCam to document unusual circumstances. For example, the driver can manually activate the recording from the cab to record incidents such as another vehicle driving erratically or something in the roadway blocking his/her path.
Acting on Data
To be useful, the driver monitoring system needs to provide actionable data. "We work with each client to make sure the device is providing the right level of data to us and that we provide intelligent reporting and data back to the client," says Lund.
The goal is to identify drivers who need training. "Our predictive analytics process can assess behaviors and help forecast which drivers are more likely to have a collision and therefore need coaching," Lund explains.
The video event recorders have proven very effective. "Typically, our clients see our program reducing risky driving behavior by 50% to 80%," says Lund. "Usually our clients see rapid improvement. Often, drivers weren't aware they were doing some of the things that show up, and being professional drivers, they adjust very quickly."
Most customers seem satisfied with the results. "We have a 98% retention rate with our clients so they are getting results," Lund asserts. "Part of the value comes from using the great tool of video to show individuals and groups risky behavior and how to improve. In fact, Crowder College's truck driving school uses our system as a teaching tool for new drivers."
An added benefit of video is that it can help prove a driver's innocence if there is an accident. "Many clients use our service to exonerate drivers," says Lund. "Often, the truck driver is the first one blamed for a collision. Our video provides an impartial look at what occurred."
Opportunity to Cut Insurance Costs
No matter what type of driver monitoring system or program you put into place, be sure to check with your insurance company on any potential savings on premiums.
Many insurance carriers work with select providers of driver monitoring tools. "We have relationships with nearly 20 insurance brokers, companies and captives who see the benefits in reduced collisions and subsidize the DriveCam Program for their clients," says Lund.
Telogis also touts its partnerships with several insurance companies. "But it is very individualized to the companies you are insuring with," says Cohen. "There are some companies that will provide automatic discounts for monitoring certain fleets and for them getting that data, as well." Others may not raise rates for a specified time period as long as you are monitoring the fleet.
Even a small percentage saved through a driver monitoring program can add up to large savings long term. "We have seen between 5% and 10% reductions in insurance premiums," says Cohen.
Weigh the Cost Benefit Equation
Most driver monitoring systems require a monthly fee. For instance, with the DriveCam, a client typically agrees to use the program for a period of time, usually three to five years.
"We can structure agreements to fit the client's needs," says Lund. "The greatest opportunity for clients comes from a quick reduction in collision costs. Typically, that goes right to their bottom line in fewer trucks out of service, a reduction in claims costs, better driver behavior and safer drivers."
In the case of telematic systems, driver monitoring is only one factor in the overall decision. There are also additional benefits in terms of fuel mileage, maintenance, idle time, theft prevention, utilization, etc. For instance, the Telogis system also allows electronic hours of service (HOS) or inspection reports to be interfaced via a tablet.
But no matter if you choose a full telematics system or an event recorder, monitoring and then coaching drivers based on the feedback generated has proven successful in limiting risky behavior.
Companies in this article