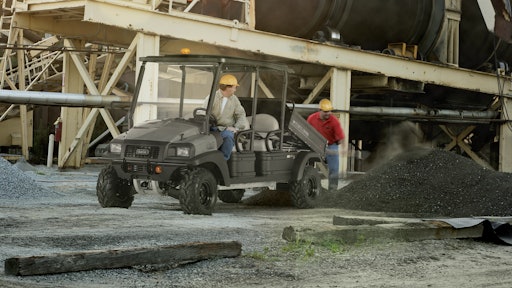 The old days of "throwing in" a few used UTVs or golf carts to transport jobsite superintendents and others around big construction and industrial sites are gone. 
"Today's superintendents and managers generally want new, powerful UTVs, particularly four-passenger 4x4s that carry two crews and their gear," says Darrell Hudson, president of Lew Hudson Sales Inc., a manufacturer's representative in Lawrenceville, GA.
The growth of this Category Class is fueled, in part, by the fact that UTVs are stronger and more durable than ever, yet cost much less to purchase and operate than trucks. "The largest UTVs now have a total vehicle capacity of almost a ton," says Dino Dakuras, regional sales manager for retail and rental at Club Car, which manufactures the Carryall line of utility and transport vehicles.
In addition, many companies no longer allow personal- or company-owned trucks on their property. Yet sites are more spread out than ever, with staging areas and tool rooms far from work places. This makes other forms of quick, reliable transportation a necessity. 
"Ten years ago we rarely rented UTVs. Now we rent them all the time. Some of the industrial sites we serve use hundreds of these vehicles," says Mike Sauve, branch manager with United Rentals in Saint Rose, LA. 
"Since UTVs are often the first equipment rented for large construction sites, they've been a lead-in for us on many jobs," Sauve says. "They allow us to show the quality of service we offer and land the contract for big-ticket items as well. We have about 500 UTVs in our district and are increasing our inventory now."
How to avoid buyer's remorse
"The best of today's UTVs are totally different from the vehicles we had a decade ago. They're holding up well carrying people and equipment and towing materials, even on unimproved sites," Sauve says. "But there are big differences in performance and durability." That makes it important to do your due diligence.
"Don't look at purchase price alone. Think long term," advises Dakuras. "Partnering with a vendor who puts reliable UTVs on your job sites creates value for your customers by increasing productivity and compressing jobsite cycle times. This also generates good will and saves you money in the long run."
Hudson advises looking for a manufacturer with a full line of electric, gas and diesel UTVs and a wide range of commercial-grade accessories. "That way, you can serve contractors during construction and meet the operator's needs for maintenance, security, transport and other types of vehicles once the facility opens," he says.  
Sauve suggests you buy from a single manufacturer, if possible. "This lets you deal with one company for service, parts, training … everything. We're moving in that direction now," he says.
How to increase your ROI
To keep your UTVs up and operational, get years of service from them and ensure good resale value, look for these features: 
Durability - "Built-in quality in the frame, body and suspension systems can't be underestimated," says Dakuras. "Vehicles built on frames made of a rustproof material like aluminum generally last longer, and if properly designed, resist impact better than steel frames."
Make sure your vehicles are equipped with a rental package that includes such options as a heavy-duty suspension, aluminum CV boot guards, and belly pan.
In 4x4s, look for a four-link semi-independent rear suspension system that combines independent system performance with solid-axle strength. They maintain their axle ground clearance even when fully loaded on rough terrain.  
Automatic all-wheel drives - These systems have fewer moving parts than standard four-wheel drives, and are much easier to maintain. The driver doesn't have to anticipate trouble and pull levers or push buttons, because the system shifts automatically as needed. "Users love them, and that makes them important to rental companies as well," Hudson says.
Fool-proof braking - Look for vehicles with a separate park brake. Without this, customers often drive through the park brake. This burns up the primary brakes, creates a safety hazard and increases maintenance costs and downtime.
Clean air intake and CVT covers - For maximum performance and power, make sure the air intake comes from a clean environment as far from the ground as possible. And look for vehicles with CVT covers that will keep the clutches clean, reduce maintenance and improve reliability and lifespan.
Protect your crew members and limit liability
Make sure your 4x4 rental package includes a certified roll-over protection system (ROPS), seat belts and a loud back-up alarm.
Dakuras suggests you avoid vehicles with high speeds that are designed for recreational purposes, but sold as work vehicles. "Lots of UTVs can reach speeds of 50 mph, but that can be a safety hazard on worksites and violate OSHA guidelines," he says. "Faster vehicles also have suspension systems designed for play, not work. Their frames may sag when the vehicles are loaded."
Financial considerations
Understand the Warranty - "Warranties are all over the place on rental UTVs. Some companies offer no rental warranty at all," says Sauve. "Others have good coverage."
"A strong rental warranty shows that manufacturers have confidence in the durability of their equipment," says Dakuras. "That's why our rental UTVs carry the same coverage as the vehicles we sell into other markets."
Consider four-passenger vehicles - "Many of our clients want four-seater diesel 4x4s with extended beds," says Sauve. They are fuel-compatible with other equipment and carry two crews and an air compressor or other equipment.
"What's more, they can move four employees instead of two, and the purchase price is only about 20 percent more than a two-passenger vehicle," says Hudson.
Charge what they are worth - "End users will pay good money for hardworking four-wheel drive UTVs. We have contractors calling and asking for them all the time," Hudson says.
Think about service response times - "The rental industry moves at lightening speed, call volumes are high, and time is money. Yet many manufacturers are still struggling with service, parts and delivery issues," says Hudson. This eats into profits and the goodwill of clients.
"With one manufacturer, I have to send someone to a local motorcycle dealer for parts," Sauve says.
"At Club Car, we've put the resources into building the industry's first dedicated rental team that works directly with customers and speeds service response time. Its members understand the market and address problems quickly. The team includes a seasoned technician who works only with rental customers and offers regional and sometimes on-site training," Dakuras says.
The road ahead
The American Institute of Architect's most recent consensus construction forecast projects overall nonresidential construction spending to increase 7.7 percent in 2015 and 8.2 percent in 2016, with particular growth in hospitals and educational facilities.
Further, UTVs manufacturers continue to assess the rental market and add features and create new models that improve performance, cut maintenance costs and address users' concerns.
All this will boost the demand for utility vehicles in the years ahead.