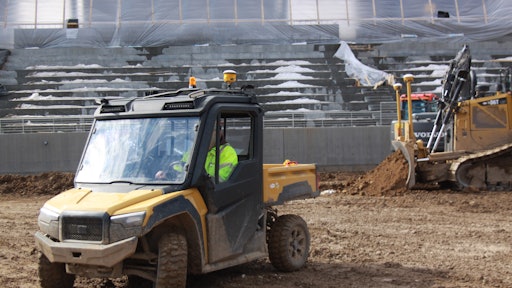 Excavating and grading work is the foundation for all building projects. Before the first wall is raised or the first beam positioned, earthwork contractors are on location, sometimes months ahead of construction crews, moving material and reconfiguring the site to final grade. 
This is the type of work where St. Paul, MN-based Frattalone Companies got its start and earned a reputation for delivering the highest level of quality work for its clients. "We are a second-generation family-owned company started in 1970 by my father, Frank Frattalone," says Tony Frattalone, president of Frattalone Companies.
The contractor is currently in the midst of a multiyear, multiphase demolition, grading and construction project for a professional sports team in Eagan, MN, that started in mid-2016. Located on the former headquarters of a major airline company, the project site covers nearly 200 acres and initially required demolition of the existing buildings, completed by Frattalone Companies.
The current construction phase focuses on a 40-acre section of the property that requires construction of several different structures to accommodate the team's needs. "The campus will include office space, a training facility, two medical facilities, four practice fields, an indoor practice facility and a 6,000-seat stadium for local games and concerts," explains Lee Gass, site superintendent, Frattalone Companies.
Nick White, laborer foreman, adds, "By the time we finish, we'll move nearly 1 million cu. yds. of material."
Frozen Tundra Test Site
Frattalone Companies has 20 pieces of equipment to complete the excavating and grading work, including the expected excavators, dozers, trucks and GPS equipment. One critical tool often spotted on, but not commonly thought of for a project of this size, is the utility vehicle.
"We have been using and testing utility vehicles on large projects for more than five years, and they are a very big part of our fleet," says Frattalone. "If you think about it, it's more economical to transport people and tools across a site using a $15,000 UTV compared to a $65,000 pickup."
It was Frattalone Companies' extensive experience with UTVs that initially led Ziegler Cat representatives to approach the contractor to test the Cat CUV82 prototype. In addition, Ziegler was looking for jobsite conditions that would really put the new UTV to the test.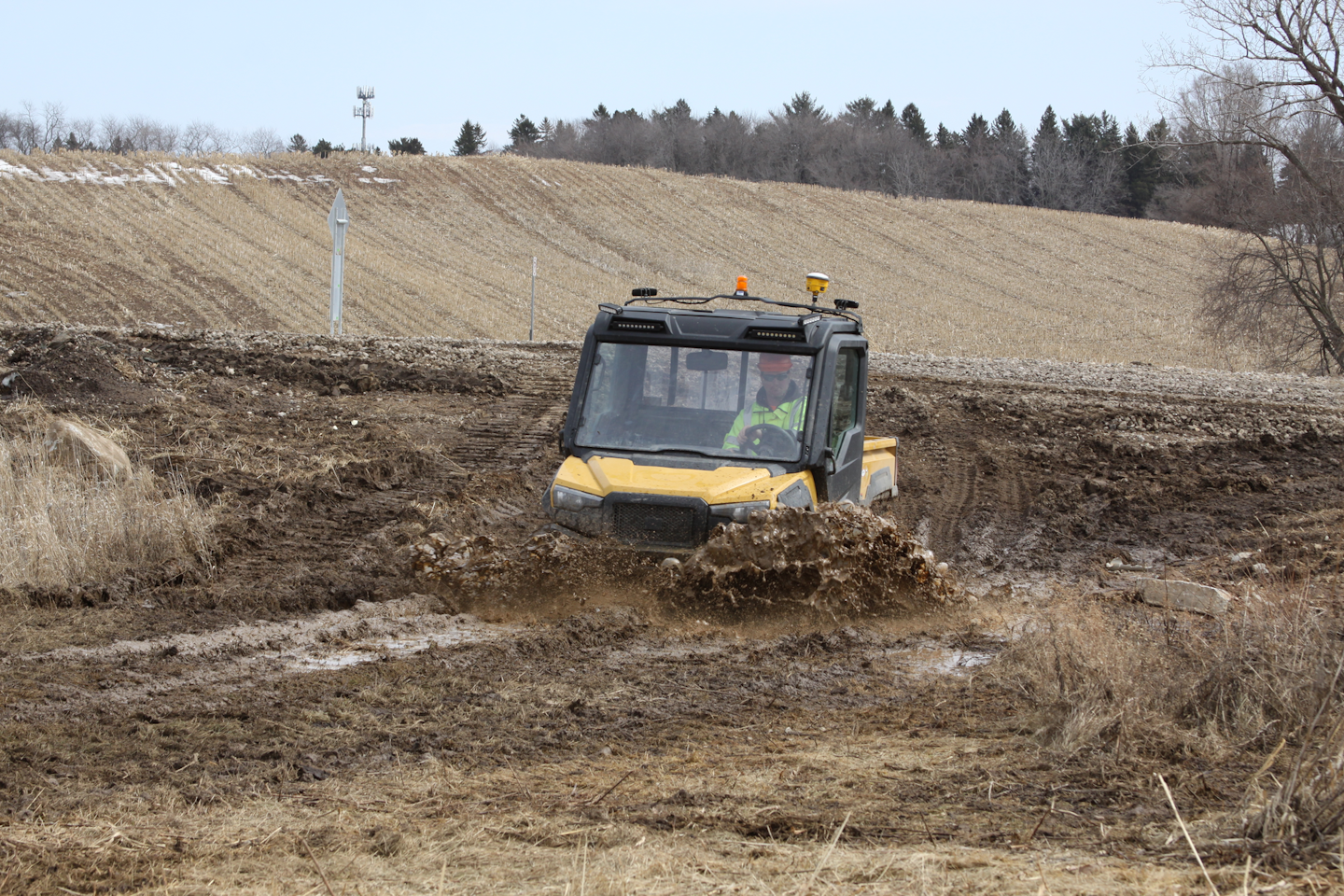 Ziegler Cat chose the location for the test due to the harsh conditions – extreme cold and freeze/thaw cycles plus a lot of rain and mud during the spring."We wanted to put it in the harshest conditions we could find – large project, extreme cold weather, and Midwest snows and freeze/thaw cycles with a lot of mud – to test its reliability," explains Matt DuCette, territory manager, Ziegler Cat. "We also wanted a site using other UTV models as a comparison point."
The Eagan project site gave Ziegler everything it wanted plus Frattalone was a willing participant offering vast experience with UTVs well beyond the project site. The company is outdoor power sports oriented, and "I am a snowmobile tester for Arctic Cat," mentions Frattalone. "When I heard that Caterpillar was coming out with a UTV, I told Matt 'I want to be the first in line for one.'"
In December, Frattalone's request was granted, and the demo unit was delivered to the project site. Since that time, the UTV has seen high utilization in a variety of extremes. White has logged more than 600 miles and 450+ hours on the UTV in less than four months.
[VIDEO] Frattalone Companies Uses a Cat UTV on Major Earthworks Project
Scouting Report
Non-relenting above-average precipitation throughout the project's duration has turned the site into a muddy mess, making it a challenge for the grading equipment, let alone a UTV. "The clay soil soaks up the rain and takes forever to dry out. We've had one day where we had the site dry from the prior rain in the 20 months we've been on the project, which has resulted in some scheduling challenges," comments Gass.
Frattalone adds, "It's like driving through peanut butter at times; and with the delays, we are basically doing 12 months of work in a 9-month window."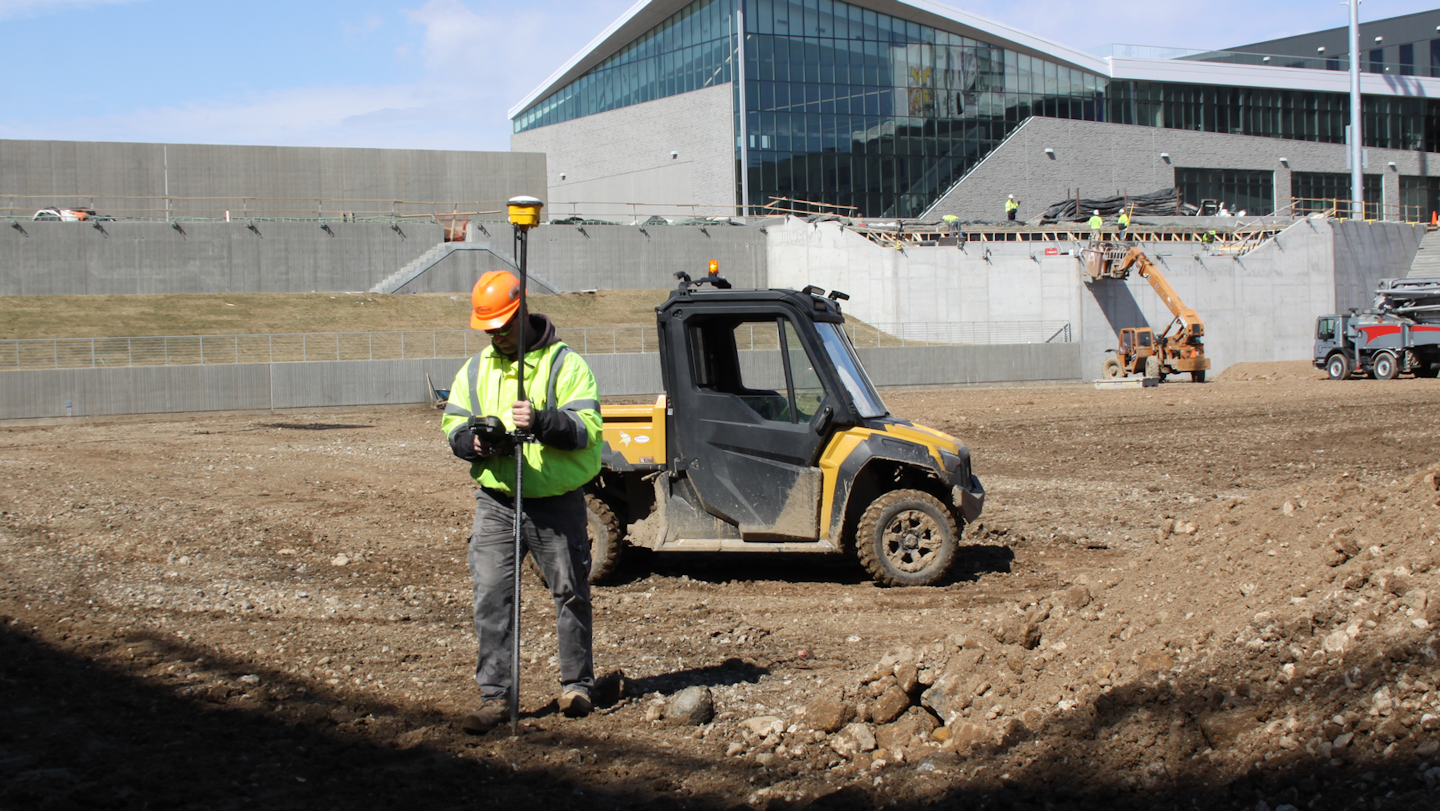 Frattalone added a GPS beacon to the top of the UTV's cab for topographical surveying of the site to expedite setting grades.The work crew drafted the new UTV to help with topographical surveying of the site. Workers added a GPS beacon to the top of the vehicle's cab to expedite setting grades. "It's a lot faster for mass excavation to tell the operators how much dirt needs to be moved from one side to another at 15 mph than by walking," White comments.
To assist with slogging through the jobsite's rolling hill quagmire, the CUV82 offers three driving modes – two-wheel, four-wheel and four-wheel lock – and a 10.5-in. ground clearance to cross the tire ruts left behind by the haul trucks. "We are using mud tires, and it is easily climbing the hills and navigating the tire ruts without hangups, easing one of our initial concerns with the UTV," says White. "When we encounter muddy conditions, we just push the button to lock the rear axle and go."
Its suspension system is specifically built for operating in the extreme conditions presented by excavation and construction sites. "We designed both UTV models with a long swing-arm suspension, custom-tuned springs and shocks to offer contractors balance between a smooth ride and hauling loads," explains Campbell Lowman, engineering project team leader for Caterpillar."The four-wheel independent suspension with front sway bar provides excellent stability at full load."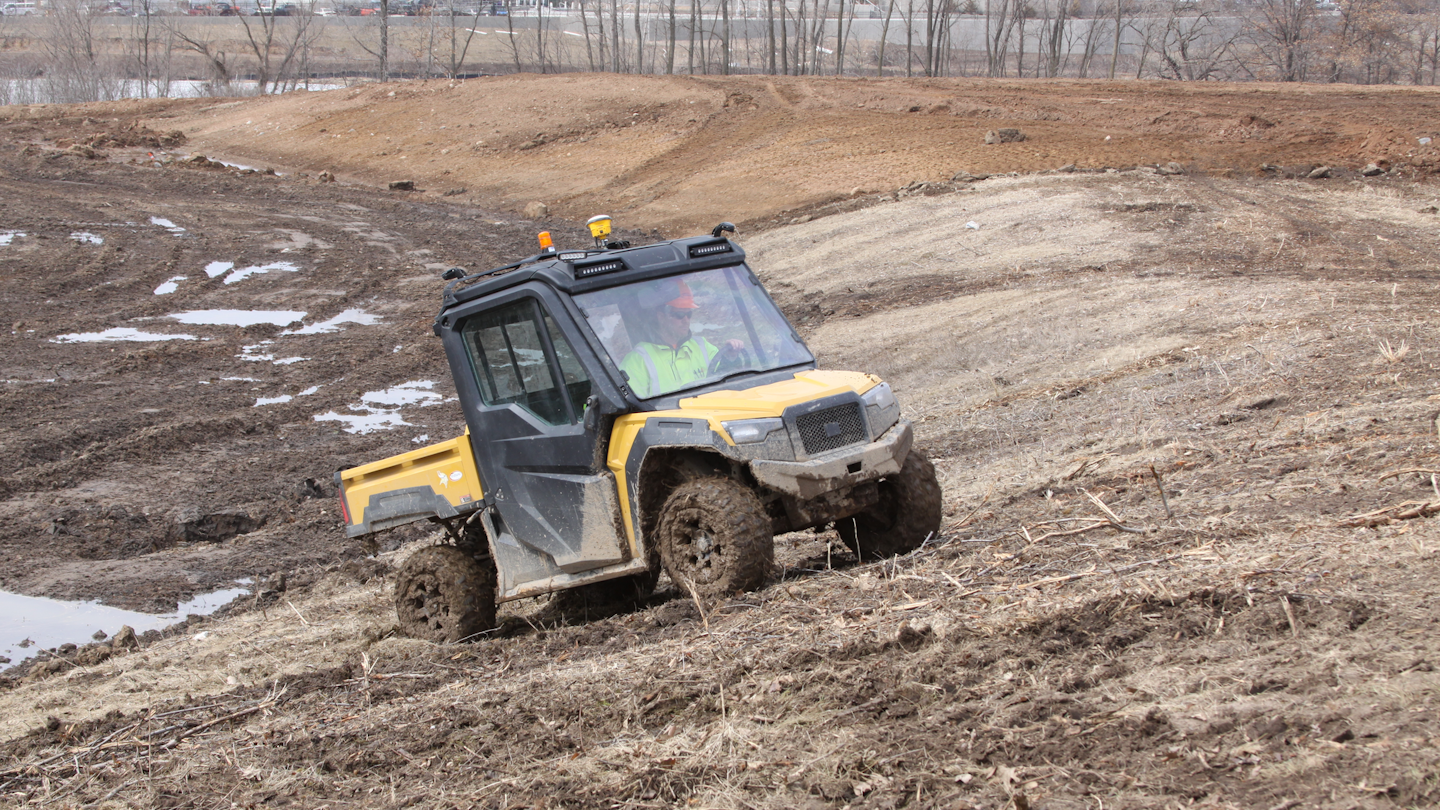 With three driving modes including four-wheel lock, the UTV easily navigated the project site's rolling hills.The CUV82 at the Eagan site offers up to a 2,000-lb. towing capacity and a 1,000-lb. bed capacity. The drivetrain has been tuned especially for hauling loads. "It's geared lower to provide torque for hauling," says White. "But there's no noticeable degrade when we are hauling material compared to driving with no load."
One thing workers are carefully watching is the brake and axle wear on the new UTV. With the muddy site conditions, the brakes of UTVs not designed for construction work will cake with mud, which quickly wears down the brake pads, says Gass. "We are not seeing this wear with the Cat UTV," he adds.
The ability to haul workers and materials is critical for Frattalone Companies, especially when working at a site as big as Eagan. "We use our UTVs to haul everything from water pumps and fuel cans to tools and workers, and they have to be able to stand up to the day to day demands of the jobsite," says Gass.
Lowman adds, "We gave the CUV82 a 100% steel cargo bed for added machine longevity."
A Chance to Come in From the Cold
The new Cat UTV models offer more than 50 accessories, so contractors can customize the design specifically for the project. One option Ziegler and Frattalone Companies felt was a must for the trial period was a full cab with heater, and workers put this option to use in an inventive way over the winter months.
"With the subfreezing temperatures, we would cycle our workers in and out of the UTV so they could get warm," White points out. "It's cheaper portable heat for the long winter shifts than using the equipment. And when the guys needed some extra light, we would use the UTV's cab lights to illuminate the area."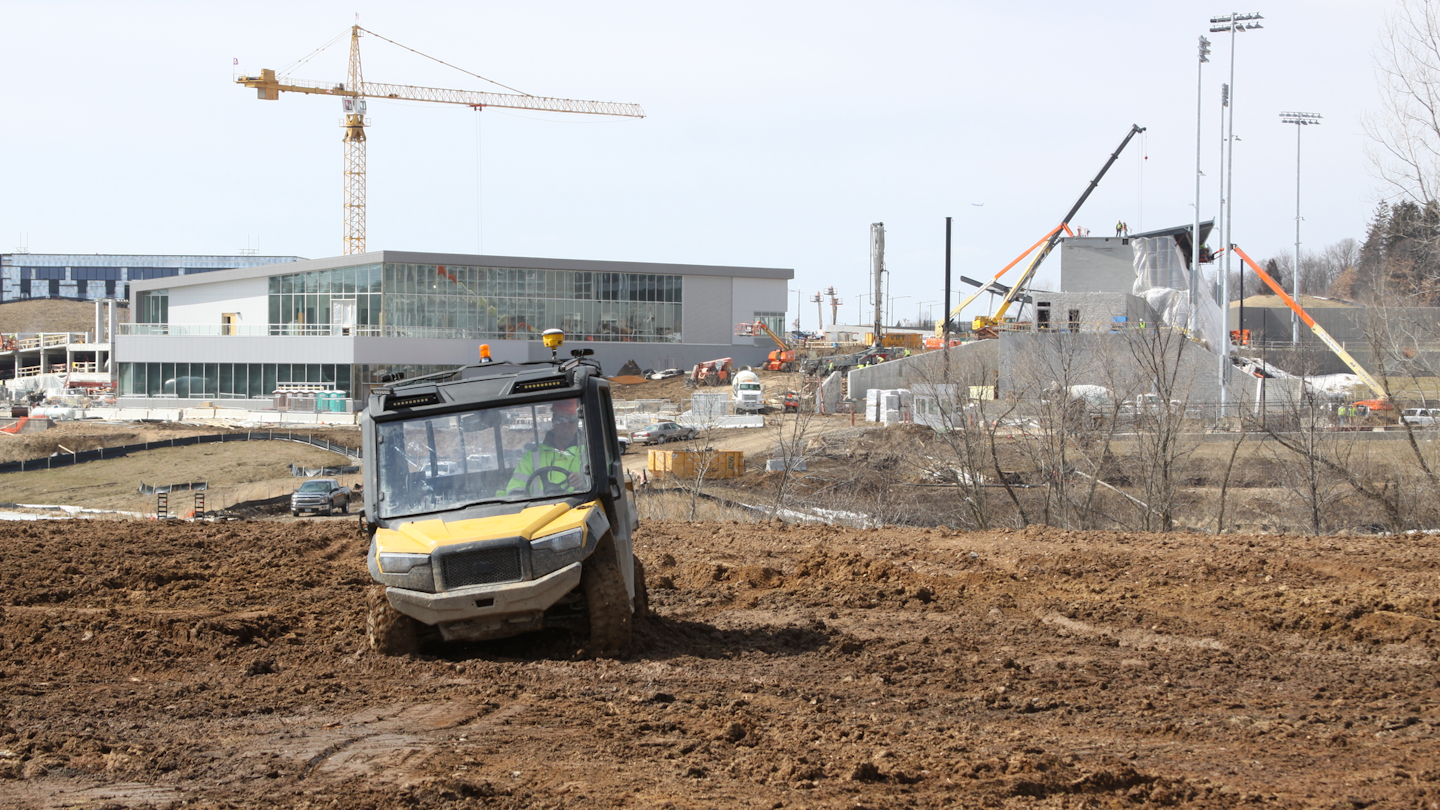 Designed specifically for excavation and construction sites, the UTV offers a long swing-arm suspension, custom-tuned springs and shocks.The cab not only provided portable heat but also a break from external jobsite noise. "I'm impressed with the how quiet the engine is," says Frattalone. "The cab is also quiet and comfortable, and you can easily carry on a conversation inside the cab while the engine is running. You can't do that with other UTVs."
For extremely cold climates, the UTV can be equipped with a block heater, but the Frattalone Companies did not opt for this configuration. Even so, the UTV delivered dependable starts over the winter. "Temperatures reached -20° F (-28.9° C) at times, and it started without a problem," reports Gass.
White notes one safety feature of the UTV he likes. "Although it's capable of reaching speeds in excess of 45 mph, if you forget to fasten the seatbelt, the UTV will go no faster than 15 mph," he says.
While a few company officials initially had some reservations about trying a new UTV on such a high-profile project, the Cat UTV has performed as needed for Frattalone Companies in what workers call some of the muddiest grading conditions encountered. This has helped with the contractor's scheduling delays.
"Just like with our other Cat equipment, we are looking for performance and longevity with the UTV," says Frattalone. "So far, I'm impressed... It seems durable, and it looks like a Cat."