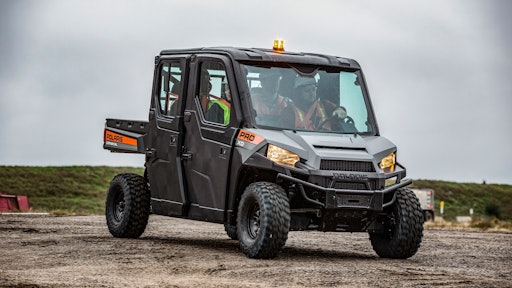 Polaris introduces the PRO XD utility vehicle specifically designed for the rental industry. With a focus on safety, durability and serviceability, the PRO XD promises to reduce downtime and increase ROI.
"The new Polaris PRO XD responsively delivers professional-grade durability, safety and capability to meet the demanding work of our customers and markets - they spoke, we listened, we collaborated and then we delivered," says John Olson, vice president and general manager of Polaris Commercial, Government and Defense. "The result is our first commercially focused vehicle designed and built from the ground up to perfectly fit the needs of the rental industry with superior performance, price and productivity."
Current UTVs have struggled to be successful in rental applications due to tough usage demands and inadequacies in safety, durability and serviceability, leading to short vehicle lifespans that burden both the rental industry and its customers.
Polaris points out the new PRO XD is not a Ranger, the company's well-established line of utility recreation vehicles designed for work and play. The PRO XD is entirely focused on work and specifically designed for the rental industry and its customers. It's also a great option for property maintenance, facility navigation, landscaping and more.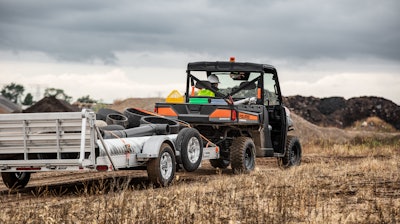 "At Polaris Commercial, we are committed to providing application-specific vehicle solutions that drive profitability for our customers," says Sean Cheatham, vice president of marketing and product management. "By engaging directly with major rental companies throughout development, we were able to build a product focused on the needs of the rental industry... the introduction of the PRO XD demonstrates Polaris Commercial's commitment to invest in a long-term partnership with our rental customers."
Polaris has launched the new PRO XD 2000D in 4x2 or all-wheel drive for two-person seating, and the PRO XD 4000D with all-wheel drive, seating four passengers. Both models can run at top speeds of 15 or 25 mph.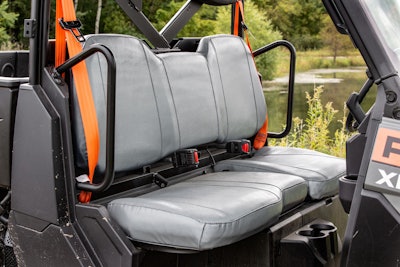 Powered by a 24-horsepower Kubota diesel motor, PRO XD models work with over 50 accessories, allowing users to customize to meet the needs of any jobsite. All models can be equipped with heat.
Features include a heavy-duty independent rear suspension for excess loads and minimal squat, Kevlar vinyl seats that resist punctures and tears, hard-surface jobsite tires and a larger box to carry a full-size pallet.
Maintenance intervals have been doubled to 200 hours and all daily checks can be performed with the box down.
Request More Information
Fill out the form below to request more information about
Polaris Introduces PRO XD Utility Vehicle Specifically for the Rental Industry