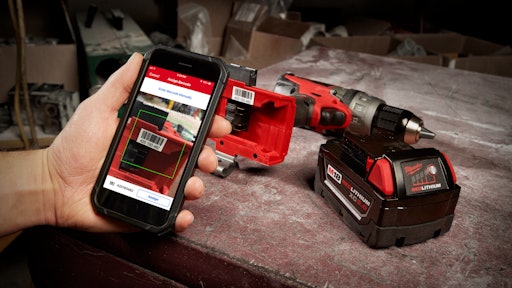 When Milwaukee Tool began development on its One-key Bluetooth Tool and Equipment Tracker in 2014, most contractors didn't even have smartphones on the jobsite.
Now, there seems to be a mobile app claiming to simplify almost every task on the job.
In addition, the construction industry is being revolutionized by technology that leverages sensors, IoT platforms, artificial intelligence and machine learning, augmented reality, and more to change how the jobsite operates. Some of the most innovate solutions are helping contractors better collaborate with the office, ensure safety, monitor productivity and track assets.
Milwaukee Tool is among several industry leaders on the forefront of that revolution. The tool manufacturer is working to align its solutions with this infiltration of technology.
"There have been advances in AR and VR and apps like plan grid that are driving general need for more infrastructure and technology such as tablets and smartphones. What we're trying to do is align with that," says Steve Matson, director of project management at Milwaukee Tool. "So, I don't want to sell you a separate scanner. If you're already buying phones or tablets for your team, how can we utilize the technology that a contractor has to give them the solution?"
Investing in Productivity
The answer is Milwaukee Tool's One-Key mobile app, which uses Bluetooth tracking, barcode scanning and geofencing to enable tool and equipment users to gain complete control and visibility of their inventory. The app also sends real-time alerts to help prevent loss, theft and other expensive setbacks.
"At its core, it is an equipment management program for contractors of any size," Matson says. "We work with people who are sole proprietors and in business for themselves to some of the largest commercial and industrial contractors in the United States and everywhere in between."
The idea behind the program is wrapped around looking at productivity on the jobsite.
Unlike manufacturing and related industries, the construction industry historically has underinvested in technology to improve productivity. For the last couple decades, the manufacturing sector has invested heavily in automation and other technologies to get more output per worker. But because demand in the construction business can be so volatile, the industry has shied away from capital intensive investments.
"The construction industry grows by employing more people, not by buying more equipment," explains Brian Moore of FMI Corporation during a recent webinar hosted by the American Concrete Institute (ACI). "It's easier to hire more labor when the economy is good and lay-off employees when it falls than make big capital investments in technology and equipment."
The industry, Moore adds, has also found it easier to simply raise costs and prices than invest in becoming more efficient.
With its One-key platform, Milwaukee Tool has made it a priority to identify how it can contribute to solving this productivity problem on sites.
According to Matson, every person on the jobsite experiences about 18 minutes of downtime or waiting time per day. This could be time spent waiting for a delivery, being locked out of the site, or in the case of equipment, something is broken and needs to be fixed.  
"When you look at industry statistics that show productivity remaining pretty much flat within the skilled trades for the last 10 years, this starts to become a major hindrance that says, 'Okay, well equipment is at the center of a lot of these downtime issues. And if we can start to solve some of the problems with equipment, we can start to really get some grease back in the gears and get this jobsite moving more quickly, more efficiently and more safely," Matson says. "It starts from that idea of equipment management…What can we do to start bringing more smart technology in with the lens of making management and use of our equipment simpler?"
Barriers to Adoption Remain
While the industry has generally resisted technological investment, Moore expects this trend will increasingly change over the next decade as the construction business faces a significant labor shortage while at the same time continuing to grow. Companies that are unable to find labor will be constrained by what types of projects they can take on and, therefore, how much they can grow. In turn, they will look to technology to solve their people problems.
For these reasons, Moore says technology will infiltrate the construction industry more quickly in the next decade than it has in the previous five decades.
"Our industry, our national economy is demanding it," he adds.
Venture capitalists also see the construction industry as one ripe for a digital transformation, investing nearly $1 billion in construction technology in the last year. This means that the prospect of construction technology is no longer science fiction. In fact, much of it already exits, and it is beginning to be deployed today.
"We launched [One-key] to a lot of resistance," Matson notes. "But we've been kind of slowly seeing this shift of conversation from, 'I'm going to meet you with resistance about the technology you're pitching me to I've got about 100 questions for where this is going and how this can work with other programs.
"You're starting to see contractors more and more understanding how they can use technology to their benefit," he adds.
John Somers, senior director, utility, Association of Equipment Manufacturers, add that while they have been hearing there is a lot technology available, the adoption rate is much lower than it should be.
"But what's that barrier that only 10% to 30% of all end users are using it?" he asks. "Is it cost, proving the ROI? Is it the generation and the workforce kind of pushing back against data? Is it Big Brother watching?
"From the association side, we're trying to figure out how to we get that message across and get over that hump," he adds.  
To some extent, Matson agrees that implementation has been slow, but he attributes that to imperfect solutions.
"It's such a unique challenge to create something that works in new construction, new commercial construction, industrial construction, service, renewable energies, government projects. They're all so different that they really require a close touch to make sure that the solution works across all these different places that the built world exists in," he explains.
Usability is another hurdle equipment manufacturers are trying to overcome.
"There is a huge onus on usability simplicity and making it something that somebody actually wants to pick up and get into and try and that they can figure out how to use and it's a big deal for this industry," Matson says. "We're coming out of the stone age where all of the programs that were created came with these thick manuals or week-long training and it's just not feasible to do anymore. It's not enough to just have this feature; it needs to be simple and easy to use as well."
This is true for even some of the industry's biggest players. Software company Trimble has a reputation for developing innovative solutions, but not as great of a reputation for implementing them, says Tom Austin, Americas OEM Business development manager, Trimble.
In response, the company began hiring video game designers to help create training and demonstration materials that help users better understand what the technologies are and how to use them.
"You put a system on a machine, and then you try it out and you're going to buy it after that. Where you might not buy it if you read about it on a brochure or something like that," Austin explains.
Understanding ROI
According to Trimble's Austin, most major construction companies have in fact by and large adopted technology well at this point. Medium-sized companies are becoming very active, and now even very small construction companies are getting on board.
The challenge Somers adds is that "if you're a smaller midsize contractor, you might just be concerned with your margins or getting the job done right.
"Companies are just really busy, I mean everybody's still rolling and…they're not necessarily taking the time to ask, 'How can I be more efficient?' They're just worrying about what's happening today," he continues.
Those slim margins are exactly why Matson says solutions like One-key should be taken seriously.
"Industry standards on margin are like 2% to 5% that you take home. Once all the bills are paid, your two biggest cost centers are labor and materials, and you have this little sliver of expense called tooling and equipment that affects both of those cost centers in a really big way," Matson explains.
The challenge is helping contractors understand the real impact of equipment management.
"We're really trying to wrap a better understanding around the idea that you pay for your replacement product out of profit and not revenue because that sheds light on how big of a deal that little tiny line in a budget is," Matson says, adding that "the dollars don't always tell the story."
For example, often contractors see equipment management as something as simple as going to Home Depot or wherever you buy your tools from and buying a replacement unit. They look at a $200 drill and decide its easier to just buy another one because it's so inexpensive compared to labor costs.
Why have a guy waiting an hour or two for a drill, when I can just buy a new one?
But Matson notes that those replacement costs add up.
 "If you're running two to five points of margin on a job, think about how much more margin you need to create to pay for $200. Whatever your replacement cost is in a year, it starts to stack up pretty significantly," he says.
For example, Matson says for a field team of 50 people spending around $100,000 a year in tools and equipment, it will cost about $1 million of new work to replace.
Equipment management is just one way that technology has the potential to positively impact the bottom line, but it is a great example of a simple solution to a complex problem.
"In an environment where there's such a shortage of skilled labor, you don't want to be looking at a backlog that's two and a half years long necessarily as a good thing. That leaves an opportunity for a competitor to come in and take some of your business down the road. There's a lot of things that need to be done to address it, but equipment management is such an important piece," Matson adds.
Milwaukee Tool's One-key platform provides the opportunity to build a better inventory solution with the understanding that a lot of contractors still use a notebook or Microsoft Excel to manage their tooling and equipment.
"A big piece of what we're doing here is just making your inventory more accessible, more tangible, and helping drive accountability down the field to start to address some of these problems that we talked about," Matson says. "If I can solve for you the issue of where is my stuff? The next question is, 'what's going on with it? Is it being used? How is it be used? This thing came back broken; what happened to it? What can I do differently to make sure that it doesn't happen again when I send a replacement? Do I need to train my team differently?'
"So, we're looking through a lens on these tools to say, 'What can this thing tell you about itself that helps you be a better, more effective manager of your tools?'"
In addition, Matson says it's about "finding things that we can do in a tool to help it be a little bit smarter of an application and deliver a high quality of work."
Trimble is taking a similar approach by employing the philosophy of "We started with the machine and we're working our way out," Austin says.
"First, we helped improve very specific processes, and now we're moving in on the entire jobsite itself. We want to make things more efficient, everything from inner communication between contractors and subcontractors and better service ability for machines by the dealer's foreman," he says. "We're trying to give better visibility and just a better understanding of what exactly is going on instead of the fragmented picture that you've gotten so far."