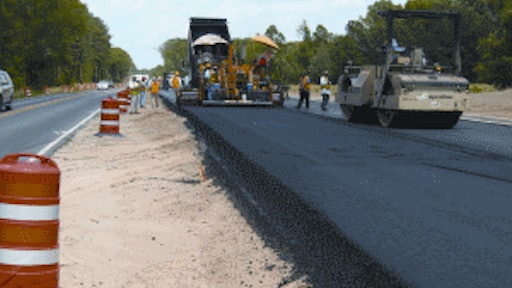 The heavily-travelled 5.2-mile corridor between Rock Hill and York, SC received a much-needed upgrade this past fall with Sloan Construction expanding the two-lane highway to four lanes and a center turn lane.
The project included approximately 115,000 cubic yards of earthwork, placement of graded aggregate base course, placement of over 77,000 tons of base, binder and surface asphalt, the construction of over 45,000 linear feet of curb and gutter, the installation of 33,000 linear feet of concrete storm drain pipe and 227 drainage structures.
The project also included the construction of a 140-foot long three span bridge over Fishing Creek, using 45-inch pre-stressed concrete AASHTO Type III beams, 42-inch drilled shafts and steel end-bent H-pilings. Capital Management & Engineering of Rock Hill, SC coordinated utility relocation work for the project, as well as field management for York County.
Pennies for Progress is the name of the York County Capital Projects Sales and User Tax Program. The Pennies for Progress Program was initiated by York County to provide citizens with a safer and more efficient roadway system.
Projects were chosen by a Sales Tax Commission representing citizens, and then were approved by voters. York County was the first county in South Carolina to pass this type of sales tax to improve the road system, with 99 cents of every sales tax dollar raised in York County staying in York County.
In 1997, voters approved a referendum for a six-year 1% sales tax to support a $185 million budget required to fund 14 projects from 1998 to 2009. Again in 2003, voters approved to continue the 1% sales tax for another seven years to raise the $173 million required to fund 25 projects.
The Pennies for Progress initiative currently has targeted more than $200 million in projects aimed at making the road system in York County safer and more efficient. It is estimated that it will take approximately eight more years to complete construction on the 1997 and 2003 Pennies for Progress road projects.
CME manages the program by overseeing and monitoring the environmental/planning design, right-of-way acquisition and construction-phase services of 34 projects included in the seven-year capital program.
The goal of the $13.9 million Hwy. 161 widening project, for example, was to alleviate congestion and improve safety by providing additional needed road capacity.
Project specifics
The original 24-foot-wide two-lane roadway was constructed of 10-foot-wide concrete travel lanes. The travel lanes had subsequently been widened with an 8-inch hot-mix asphalt overlay. Joseph Fowler, project manager for Sloan, said widening was accomplished by creating two new eastbound lanes and half of the center turn lane.
"Generally we would widen a road on both sides, but we were restricted by an adjacent railroad, so we could only expand in one direction," Fowler says. "It actually made it a little easier to construct since we could maintain traffic flow on the existing road while we were building the expansion. In order to expand the width of the roadway from 24-feet wide to 63-feet wide, all of the new 30-foot wide construction work (to accommodate two 12-foot wide travel lanes and half of the center turn lane) took place on one side of the road right-of-way."
Once an 8-inch HMA base layer and a 2-inch binder layer were placed, traffic was then rerouted on the new travel lanes and work on the existing travel lanes began.
"We then milled two inches off the old asphalt overlay of the existing road, replaced it with a 2-inch binder course before covering the entire width of the five-lane roadway with a 2-inch surface course," Fowler explains.Sloan produced (at its Blacksburg, SC plant) and placed a standard South Carolina Superpave mix design - a Type A 25mm base mix, a Type B intermediate/binder 19mm mix, a Type B 9.5 mm surface mix; along with several other mix designs used for patching and leveling. All mixes were produced with approximately 5% PG 64-22 asphalt cement binder, and all were produced with South Carolina's allowed reclaimed asphalt pavement content - 30% in the base, 15% in the intermediate and 15% in the surface mix designs.
"We had to meet SC Superpave air void requirements of 3.9-4 percent and minimum density of 91.2 percent," says Adrian Kroger, Sloan quality control manager. "Project incentives and disincentives were based on percent within limits' (PWL) specifications.
All work on the project was completed during the day between 9 a.m. and 4 p.m.
"We were restricted somewhat by the time we could work on the project due to the heavy commuter traffic in the morning and evening," Fowler notes, "but the way we were able to construct the project (by adding the additional width on one side of the right-of-way) did allow us to maintain a productive schedule."
Sloan's paving crew used a Blaw-Knox paver equipped with a Roadtec Shuttle Buggy to maintain its high production and rideability objectives.
"We were not required to meet any ride smoothness specifications since the project was designed for traffic traveling under 50 mph, but we did want to produce the smoothest possible ride while placing as much asphalt as possible during the construction window allowed on the project," Fowler says. "We also wanted to avoid the $2,500 a day penalty the contract called for if we failed to meet our completion deadline."
As one of the largest heavy highway and general contracting companies in the Carolinas and Georgia, Sloan Construction was able to perform all major aspects the project required.
From excavation and site work to underground utilities, asphalt paving, bridge construction, and materials supply, the Greenville, SC based company is well-equipped to meet the challenges presented during a major road construction project, and do so in a way that delivers a quality project on schedule.
The 75-year-old company is currently part of COLAS Inc., a world leader in road construction. Sloan has built a strong reputation as a leader in the road construction and asphalt industry, winning numerous state and national awards for quality in paving, plant operation, quality control and safety.
Most notably, Sloan was the recipient of the National Asphalt Pavement Association's Sheldon G. Hayes Award for Highest Quality in Asphalt Paving.
Work done on the SC Hwy. 161 project represents the quality Sloan delivers to road agencies and taxpayers, who are willing to support projects that improve safety and efficiency. York County's Pennies for Progress clearly demonstrates the commitment of local governments and their constituents in maintaining a quality road system.