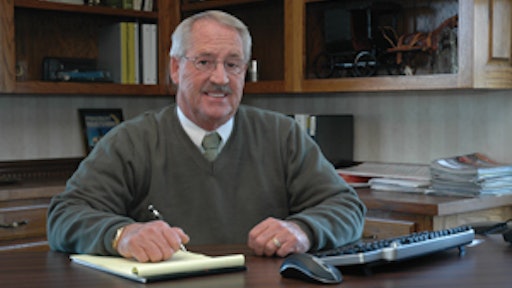 Harold Neal, Neal Mfg., dies at 63
Harold Neal, president of Neal Equipment Manufacturing, Villa Rica, GA, died April 1. He was 63.
Despite the fact that he did not have an engineering background, Mr. Neal was an innovator in the pavement maintenance industry, pushing development of equipment in an effort to improve efficiency and sealer application speed. He founded Neal Manufacturing Company in 1978 and began manufacturing a 175-gal. ride-on squeegee machine. Since then he was instrumental in numerous developments and innovations that have helped grow the pavement maintenance industry.
"At that time people were doing sealcoating as a business, but it definitely became more efficient and more profitable once that machine was introduced," said Brett Neal, one of Mr. Neal's sons and marketing manager of Neal Mfg. "From that point on it was always his goal with the equipment he built, including the piston pump, to increase profit for the contractor."
Mr. Neal followed his first model four years later with a 210-gal. model, the largest in the industry at that time.
"Harold was an industry icon. He was a visionary with equipment," said Mark McLeod, vice president of Maintenance Inc., and a close friend and business associate of Mr. Neal's. "He was more than a pioneer in the equipment business for pavement maintenance contractors, he was there for the guys who were just starting out, teaching them how to do the work and extending them credit when they really didn't have anything to back it up."
The next step in the evolution of the sealcoating business was the spray applicator, and while Mr. Neal wasn't the first to bring that machine to the market, he went to work improving what was available. In 1981 he introduced the industry's first 550-gal. tow-behind spray applicator. The Neal 550's spray system was driven by a Bowie rubber gear pump and featured in-tank agitation - another industry first.
"The 550 really gave contractors a way to efficiently and profitably sealcoat large areas such as parking lots," Brett Neal said.
But Mr. Neal wasn't satisfied with the pumping system so he developed the Neal ESP Piston Pump, which was brought to the market in 1984 and is still a mainstay in sealcoating systems today. The first pumping system designed specifically for sealcoating equipment, the ESP pumped 50 gpm, an unprecedented volume at the time, and was also able to provide an uninterrupted flow of material under an even pressure to the spray bar or wand. Combining this pump with aspects of the 550 tow-behind spray applicator and the 210-gal. ride-on squeegee machine, Neal Mfg. introduced the industry's first ride-on spray machine in 1985.
In 1986, Neal introduced the ESSP 100 gpm pumping system, which also advanced production for contractors. Because of the higher pumping capability Neal Mfg. was able to introduce the material spray bar, which could be attached to the rear of any Neal unit. And, because of the increased psi provided with the ESSP Pump, contractors could use a distributor bar to spray material, with sand, up to 15 ft. wide without a loss of pressure.
That lead to the development of the DA-350 in 1987, the industry's first ride-on dual applicator machine outfitted with a squeegee, a spray bar, and two hand wands, resulting in a higher level of efficiency.
"My Dad built his business by knowing what contractors needed and trying to make it for them," Brett Neal said.
Mr. Neal sold Neal Manufacturing to Ingersoll-Rand in early 2000. After a five-year break he re-entered the business in 2005.
Mr. Neal is survived by his wife, Debbie Miles Neal; children, Craig Neal, Amy Neal, Brett Neal, Justin Keaton, and Miles Neal; sisters, Joy Walters and Brenda Jacks; brother, Tommy Neal; three grandchildren; and a niece.
Cygnus sales veteran Phil Merrick dies
Phil Merrick, 50, national sales director for the Construction, Landscape and Manufacturing Brand Group at Cygnus Business Media died April 24, 2009. Phil was a consummate sales professional who worked tirelessly to develop successful marketing programs for numerous clients during his 24 years at Cygnus.
Phil began his publishing career at Johnson Hill Press (Cygnus Business Media) in 1985 as a salesman on the PCA (Production Credit Association) Farming Magazine program that served the financial needs of the farming community. He went on to build Farm Equipment and OEM Off-Highway magazines, helping to successfully launch Farm Equipment Catalog and develop OEM as a stand-alone publication. He served as publisher of OEM before moving on to leverage his sales expertise on Sport Truck Accessories and Recreational Vehicle magazines. He eventually moved to the Construction Group in 2004 as national sales manager and eventually was promoted to national sales director.
"Phil was instrumental in helping to establish and grow the business-to-business publishing side of our company," said Cygnus Publishing President Mike Martin. "He focused on the customer and the customer's needs with a seamless marketing approach designed to help a customer sell his product. It didn't matter whether a customer was selling farm equipment or any other product, Phil just focused on the customer."
Phil was an avid outdoorsman and dedicated many hours to coaching youth athletics in his hometown of Janesville, WI. He is survived by his wife, Marcia, and two sons, Daniel and David.
Companies in this article