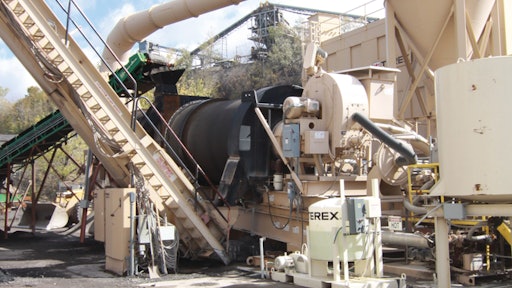 Tracing its roots back more than 150 years, Barrett Paving Materials, Inc., Roseland, N.J., has seen and been a part of much innovation in the asphalt industry. In 1903, the company developed a roofing tar treatment product used to advance America's burgeoning roadway system. Tarvia™ revolutionized the road industry by offering a cost-effective solution for building and maintaining higher quality roads.
In 1927, Barrett built its first stationary mix plant in Jamesville, N.Y. Ever since, this division of Colas, Inc. has been a part of the industry building America's transportation infrastructure. Through innovation and acquisition, the vertically integrated company's presence can be found in industry segments ranging from aggregate processing and binder manufacturing to asphalt production and paving.
This same Jamesville site is now home to both batch and counterflow drum mix plants. It is also home to innovation of a different nature: the production of warm mix asphalt with its Magnum 400-ton-per-hour counterflow drum mixer, using the first N. Y. State-approved water-injection foamed asphalt system from Terex Roadbuilding.
Transition to Foam
Several years ago, Barrett began experimenting with warm mix asphalt. Initially, the Jamesville site tested warm mix binder additives. These trials included both a wax additive blended with liquid AC and a proprietary binder with a goal of lowering mix temperatures at the plant.
These products were successful in allowing Barrett to meet target asphalt production temperatures. However, meeting this goal came at a price. "There is an additional cost per ton to use these products," says William "Bill" Lallier, plant manager for Barrett Paving Materials, Inc.'s N.Y. Central Regional.  
With a vision to expand warm mix production, this additional cost per ton gave Barrett an incentive to look for other warm mix solutions. The producer looked at three different manufacturers offering warm mix asphalt systems based on water-injection foaming technology. At the end of the review process, Barrett chose the Terex® warm mix system for three primary reasons. "It was easy to install, is compact and could be put on any drum mix plant we own," comments Lallier.
Scott McMaster, district manager for Terex Roadbuilding, offered one additional explanation. "A Barrett plant in Ohio was ordering our warm mix system at the same time, so it gave the company an opportunity to use and compare the system in two different regions."
The Terex® warm mix asphalt system consists of two primary components. Installed directly into the plant's existing liquid AC line, the system's exclusive expansion chamber mixes water with hot binder to create a foaming action. Once exiting the chamber, the foamed asphalt binder is immediately injected into the drum via its existing AC line to thoroughly coat the aggregate.
A PLC/water skid package comprises the system's second component. System operation is controlled by the plant's existing controls package. The pump accurately meters a predetermined amount of water to the expansion chamber, based on a percentage of the binder's mass weight. The system has enabled producers to lower mixing temperatures by 50 to 90° Fahrenheit.
Barrett installed the system on its existing Terex® Magnum E400 counterflow plant and began experimenting with its capabilities for lowering mix temperatures. The plant reached target mixing temperatures with both virgin and RAP mix designs, and the water-injection foamed asphalt technology saved Barrett money when compared to the additives tested in the past.
The savings are not limited only to the price difference between using water vs. proprietary additives to lower mixing temperatures. "When mix temperatures are below 300° F, fewer emissions are produced," explains Lallier. "With the Terex® system, we were able to bump our maximum RAP content from 40 to 50 percent without blue smoke." The system also gives Lallier more control over baghouse temperatures, so the company does not waste fuel. "Terex has estimated a 10 to 15 percent fuel savings. We are noticing lower fuel costs but a final number has not yet been determined," he adds.
State Approved
All initial warm mix testing was carried out on private sector and local municipality applications. Before Barrett could use the mix on N.Y. State Department of Transportation projects, the Terex® warm mix asphalt system had to be approved. "This approval process is one of the most in-depth in the country," says McMaster.
During the review, State officials requested and tested warm mix asphalt samples of virgin and RAP designs using both PG 64-22 and PG 70-22 binders. The D.O.T. also required experience and feedback from other states where the system has been used to produce warm mix asphalt.
From calibration of the water pump to water injection rates to technical information covering how this warm mix technology operates, the N.Y. State D.O.T. left nothing to be questioned prior to approving the system to produce warm mix for State jobs. The review reached beyond the plant to include responses about lay down and compaction procedures.
Terex Roadbuilding partnered with Barrett to supply all the State-requested data covering the system. In the summer of 2010, the Terex® warm mix asphalt system became the first water-injection foamed warm mix asphalt technology to be approved for use on N.Y. State D.O.T. projects.
First Warm Mix Project
This fall, Barrett produced and paved asphalt for the first warm mix asphalt project specified by Region 3 of the N.Y. State D.O.T. The spec called for a mill-and-fill resurfacing job of Highway 481 straddling Fulton and Oswego Counties. Each direction of the divided highway consisted of two 12-ft lanes and 10- and 4-ft shoulders. In all, nearly 20 lane-miles were resurfaced along this 4.9-mile stretch of highway, requiring 22,000 tons of warm mix asphalt.
Barrett's crews milled the top two inches of the oxidized asphalt surface of the highway. Compacted to a two-inch thickness, a fresh 9.5 mm top course mix with a PG 64-22 binder and 20 percent RAP content replaced the old surface.
Equipped with the Terex® foamed asphalt system, the Magnum E400 plant in Jamesville produced mix for the project. Even though the jobsite was more than 30 miles from the plant with a one-way transit time of approximately one hour, "mix temperatures were lowered to between 285° and 290° F," says Lallier. Produced as hot mix asphalt, this design would have been mixed at temperatures ranging from 310° to 320° F. 
Even with the long transit time, little temperature loss was experienced with the tarped loads. "We received the mix at about 280° F," mentions Wesley Hood, construction manager for Barrett's N.Y. Central Region.
As soon as the mix left the screed, the breakdown roller compacted the mat. "When the mix was at a steady 275° to 285° F behind the screed, the pavement laid great," explains Donald Williamson II, project superintendent for Barrett's N.Y. Central Region. "We also noticed improved compaction with our breakdown roller, since we did not have to vibrate as many passes to achieve our needed compaction."
The finish roller followed closely behind and started its compaction passes in the 250° to 260° F range. Crews achieved specified density of 92 to 97 percent when the mat was approximately 230° F. Hood reports that the foamed asphalt stays workable longer than the hot mix version.
Fewer emissions associated with producing asphalt at lower temperatures also benefit the paving and work crews at the jobsite. "The biggest keys to warm mix are the emissions and better environment for the people working with the mix," says Hood. "It's not as hot, and you don't smell it as much. It's better to work with, better for the crews and better for the traveling public."
Not to mention, foamed warm mix asphalt is better for the asphalt producer's bottom line.