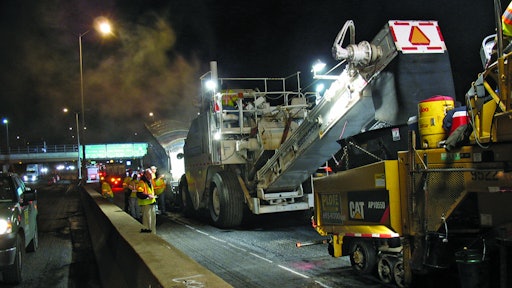 Three years in the making, the Illinois Road and Transportation Builders Association (IRTBA), the Illinois Department of Transportation (IDOT) and the American Council of Engineering Companies of Illinois (ACEC-IL) have unfurled I-LAST: the Illinois-Livable and Sustainable Transportation rating system. Modeled after the United States Green Building Council's (USGBC) LEED green building certification program, I-LAST establishes a scoring system for road and transportation projects.
Illinois is now one of only three states (New York and Washington State being the others) to provide this kind of framework for recognizing and promoting green practices across all key areas in road and transportation building.
"This program marks the start of a new era in transportation design and construction," says Michael Sturino, president and CEO of the Illinois Road & Transportation Builders Association (IRTBA). "Sustainability will be the norm."
The purpose behind I-LAST is threefold, says John Fortmann, P.E., engineer of program development with IDOT.
Provide a comprehensive list of practices that have the potential to bring sustainable results to highway projects.
Establish a simple and efficient method of evaluating transportation projects with respect to livability, sustainability, and effect on the natural environment.
Record and recognize the use of sustainable practices in the transportation industry.
Encouraging the use of sustainable practices
I-LAST is not a mandate or a dictate, says Douglas Knuth, P.E., S.E., project manager with Jacobs Engineering. It's purely advisory in nature, say those involved with its creation, and is intended to ascertain and document sustainable practices proposed for inclusion on state highway projects.
"What we wanted to do as a team was to provide a guide to sustainable practices," says Knuth. "We wanted to establish a simple way to evaluate those practices, and we wanted to recognize and encourage the use of sustainable practices."
Beth Tatro, director of External Programs with IRTBA, agrees with Knuth. "It's an opportunity, not a mandate," she says. "As a best practice manual, it's a continued work in progress. As all technology is new and evolving, so is this document."
The I-LAST manual debuted in June 2010 and was introduced to the media in late January. "The I-LAST manual can be used by consultants, IDOT and municipal staff to bring the best project forward for the community," explains Fortmann. "This manual compiles all of our current livable and sustainable practices under one booklet.  This would include Context Sensitive Solutions, Complete Streets, and other livable and sustainable measures that IDOT practices when designing an Illinois highway."
The manual contains a checklist of potentially sustainable practices. Following the checklist is a description of the intent of each section and the rationale and measures of effectiveness for each item. There are lists of source materials and additional background resources for each item to assist in understanding and applying the practices.
"This checklist can be used for highway projects – large or small – from resurfacing projects to airport runways," says Knuth.
There are 153 items to be considered, divided into eight categories: planning, design, environmental, water quality, transportation, lighting, materials and innovation.
This guide contains a wide variety of potential sustainable practices and features. Every highway project presents a different set of conditions. As a result there will be items that don't apply on every project. The goal should be to identify and document practices that are applicable and effective for a particular project, says Fortmann.
"We knew that IDOT was doing a good job in many areas of sustainability," says Fortmann. "However there was no measure or list to provide on each project.  The goal was to be able to provide this information on our project in a standard format. This would then also increase awareness among our designers as well as the public."
I-LAST is also a great way for the road construction  - and asphalt industry in particular - to toot its own horn, since asphalt is the number one recycled material and asphalt contractors are overachievers when it comes to sustainability.
"I-LAST is a new, one of a kind document that allows the transportation industry to highlight it's dedication to sustainability," says Tatro. This document will hopefully help change the perception that the transportation industry is old machines, when in fact, they are ahead of the curve and utilizing recycled asphalt."
Additionally, the IRTBA Green Council released its Construction Practices Addendum to the I-LAST manual. Both parts establish criteria for identifying and implementing practical and measurable green design and construction techniques and products for transportation projects.
The Construction Practices Addendum encourages companies and agencies to promote innovations, and experiment or use ideas and concepts that might not be included in the current specifications but should not be entirely ruled out, says Tatro.
"This is simply a tool for considering unique opportunities," says Tatro. "The Innovations section is meant to foster creativity and continued growth within the green transportation industry. This is a place to highlight experimental options and earn points for creativity."
Project evaluation
I-LAST includes a point system for evaluating the sustainable measures included in a highway project.
In the materials category, for example, if a contractor recycles on-site during a project, instead of hauling material off and back on again, the project is awarded points. In the design category, if a project minimizes earthwork by aligning grades as closely as possible, the project is awarded points. Several aspects of the design and construction processes and materials are considered.
The purpose of the scoring system is to give different points depending on the significance of the item, explains Fortmann. "Standard practice items were 1 point with more significant items 2 and 3 points," he says.
Due to the varying nature of highway projects and the range of items in I-LAST, there will often be a large number of points that are not applicable on an individual project. Therefore comparing the absolute score of different projects would not accurately indicate the level of sustainability for those projects.
Projects can be evaluated based on the inclusion of the practices that were applicable to the project. The evaluation can consist of two steps:
1.  At the beginning of the project, the project team can determine which elements apply to the project. Those items that are applicable can be noted and considered in the development of the project.
For instance, on a highly urban project there may be no wetlands in the project corridor, and the wetland items would not apply to that project.
2. At the end of the project, the team can determine which of the applicable items were included in the project plans. This evaluation can then be included in the project's file.
The final score is based on a percentage of the points available. Of the available 153 items, there is a maximum score of 233 points.
The scoring is intended to be relatively simple and require minimal time and effort. "We wanted to focus on sustainable results, not paperwork," says Knuth. "This system is designed so that a project manager can score a project in about an hour."
Projects & their scores
Several major Illinois road building projects have already been scored. Following is a brief description of three projects and the components that helped with their sustainability ratings.
I-55 at Arsenal Road, Will County
The I-55 at Arsenal Road Interchange Project, a $60 million project, is currently underway. The project includes interchange reconstruction and relocation traffic maintenance during construction, frontage road construction and interchange embankment placement, traffic maintenance during construction, roadway connections and existing interchange demolition, and widening of the northern portion of the Arsenal frontage road.
Design Score: The project scored 87 of 165 possible points.
Some components of the overall score:
•         More than 60 percent of the materials used were sourced regionally
•         Used recycled asphalt
•         Used native plants and bioswales
I-57 at I-294 Interchange, South Cook County
The improvements for the I-57 at I-294 Interchange in south Cook County, a congested urban area, were in some phase of planning for more than 15 years. Thirty-five proposals were considered before the final configuration was developed. There was considerable coordination among many agencies, organization and consultants to achieve improved access with minimal disruption to the environment, area businesses and residents.
Design Score: The project scored 77 of 211 possible points.
Some components of the overall score:
•         Wetland restoration/soil conservation
•         Innovative design
•         Use of recycled hot mix asphalt
I-290 from Thorndale to I-90/94 and I-355 from Army Trail Road to I-290, Cook and DuPage Counties  
This project involved the milling and resurfacing of 27 miles of I-290 from Thorndale Avenue to I-90/94 and I-355 from Army Trail Road to I-290. The project cost is $114 million. Thirty-seven structures within the project boundaries were repaired.
Design Score: 15 of 52 possible points
Some components of the overall score:
•         Innovation for blue tooth technology to provide traffic information
•         Sediment traps for stormwater treatment
•         Use of reflective signs to eliminate sign lighting
A federal program?
I-LAST isn't the only program measuring the sustainability of highway projects. In addition to I-LAST, New York offers GreenLites and the University of Washington in Washington state has developed its Greenroads rating system. The Federal Highway Authority (FHWA) is also working on a program - INVEST - at the national level.
INVEST is still in a very preliminary stage, but it was created in 2010 to help state DOTs, MPOs and other agencies as a voluntary self-evaluation tool, says Doug Hecox, a spokesperson for the FHWA. INVEST will help them assess sustainability in their processes, projects and programs, he says.
"FHWA sees incorporating sustainability principles and practices into the project planning, delivery and operations and maintenance to be a national priority," says Hecox. "Though other state-specific tools have been created, they have typically addressed the issue from different perspectives, some focusing on projects, others on operations and maintenance. Our goal was to develop a best practice tool that would leverage these other efforts, and provide a consistent foundation for evaluating sustainability in highway sector."
Why should asphalt contractors care about programs like I-LAST, INVEST and the topic of sustainability? "I-LAST is an opportunity to be green and save green," says Tatro with IRTBA. "I-LAST allows the contractor flexibility to use recycled materials and sustainable practices while being good stewards of the environment. For instance, on some projects a contractor has the option to recycle on-site. This practice utilizes recycled materials and saves the cost and carbon footprint of additional trucking. Typically a contractor would have to haul the material to another site, recycle it, and haul it back."
Fortmann concurs. "The asphalt industry has been at the forefront of recycling and sustainability," he says. "The industry is continually looking to be more sustainable. Most recently, it has started using recycled asphalt shingles (RAS) in mixes and the use of warm mix asphalt has escalated. I-LAST simply helps document these innovations.
"The measures included in I-LAST allow for recycling and minimizing the effects on the environment while still providing the same quality of product in the field," he continues. "The recycling and reuse of materials brings down the cost of the project. While it's great for the environment, it also helps extend those precious highway dollars."