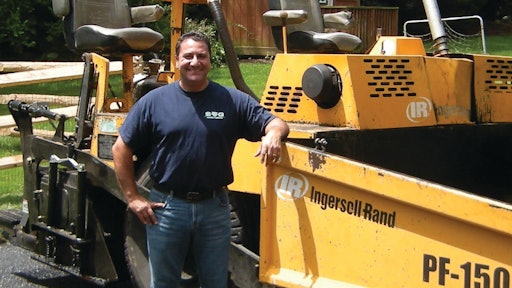 Tony Sorrentino started S&G Asphalt Service LLC, Slatington, PA, in 1982 when he was 19 years old. And since then, he's invested in not only his own education but in his employees' as well.
"Education is priceless, and we're not afraid to spend the resources to educate our employees," Sorrentino says.
During a normal season, Sorrentino employs between 12 and 16 workers who do paving and sealcoating primarily on residential driveways and in the private commercial sector.
"I learned to work real hard at an early age," Sorrentino says. He started working summers at age 13 for a small local paving company. After graduating high school he took a full time position with another paving contractor before starting his own company.
When the company first started, Sorrentino was doing mostly small patch jobs and driveways by hand. In 1984, he purchased a Mauldin 550 paver along with other equipment including a roller, dump truck, skid loader and trailers. But Sorrentino had always had a vision of growing the company.
In 1986, he attended a SealMaster event where he learned more about marketing and business. In 1990, he attended his first National Pavement Expo show. "I learned so much and got so excited about what I could do with my business," Sorrentino says. "It opened a lot of doors. NPE was one of the most important building blocks for the company. And each year we kept learning more and more and more."
Sorrentino tries to attend the NPE show every year and always takes a couple of employees along. If Sorrentino can't attend he still sends his employees. He wants his employees to learn as much as possible about all aspects of paving and sealcoating including prep, processes, techniques, and more.
"When our customers have a question we answer it with confidence," he says. "The customers can ask any crew leader a question and he'll know the answer." Plus, investing in the education of his employees keeps all the crew members on the same page.
Another reason Sorrentino believes educated employees are essential is the customer has become more educated as well. "The more-educated customer is more or less quizzing you. If you don't sound knowledgeable you won't get hired," Sorrentino says.
The recent economic situation influenced Sorrentino to make sure his company was working as efficiently as possible. He wrote a procedure manual for every aspect of the job so each employee knew what each role entailed. "We became more efficient on labor and material and then became even more competitive in our bid prices," Sorrentino says.
S&G Asphalt Service continues to focus on education as well as showing respect and appreciation for its employees. After 28 years in business, Sorrentino says he believes his company has earned the respect both of the customers as well as some of S&G's competitors, which is something Sorrentino is very proud of.