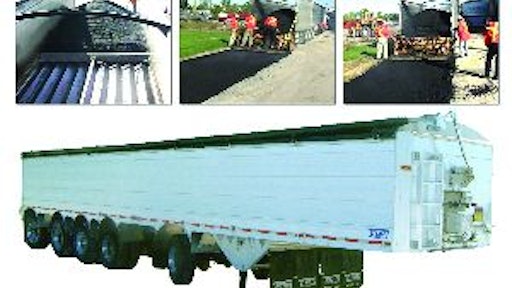 Titan V-Floor Asphalt Trailer
Titan Trailers offers an "extreme-duty" version of its THINWALL aluminum live-floor trailer, designed to handle the high heat of hot mat.
"V-Plow" cleaning system works with V-Floor to clean between the V-shaped steel slats after the load is walked off
48-foot five-axle model
Remote control to run the unloader from the paver
Can unload 40 tons in 10 minutes
Work Area Protection Nite Lite
The Nite Lite portable work zone light provides a non-glaring white light for all moving and static nighttime construction projects.
Lightweight and easily transportable
Microprocessor-controlled electronics ignite the 400-watt Pulse Start Metal Halide lamp
Draws only 4 amps at 120 volts AC from a 60-Hz electrical source
Light output rated at 42,000 lumens for lighting up to a 15,000-square-foot area
Liebherr Medium-Sized Wheel Loaders
Liebherr replaces its L 524, L 534 and L 538 loaders with the L 524 2plus1, L 528 2plus1, L 538 2plus1 and
L 542 2plus1.
Liebherr drive system with 2plus1 technology provides a higher speed of up to 25 mph and reduced fuel consumption
Z-shaped or parallel lifting frame
Operating weights from 22,818 to 28,748 pounds with bucket capacities from 2.62 to 3.53 cubic yards
141-bhp Liebherr (L 538 2plus1, L 542 2plus1) and 115-bhp John Deere (L 524 2plus1, L 528 2plus1) Tier III engines
Improved cooling system
Completely redesigned cabs with an operating control layout based on the larger 6th generation loaders
Keith Walking Floor
The Walking Floor design from Keith Mfg. features "V"-shaped hydraulically powered floor slats for maximum impact absorption
For conveying and unloading rock, sand or hot asphalt
Powered by tractor-mounted PTO
Floor speed controlled by increasing or decreasing rpm
Stationary and mobile systems available
ShedWorks Asphalt Mixture Testing Equipment
ShedWorks Inc. manufactures laboratory and field asphalt mixture testing equipment for mix design, structural design, and construction quality control/assurance.
Three models of computer controlled testing machines and three models of automated sawing and coring devices
Testing machines available include an overlay tester, an indirect tension tester and a dynamic modulus hot mix asphalt tester, each of which have integral temperature control systems
InstroTek Model 3500 Explorer
The model 3500 Xplorer moisture density gauge from InstroTek Inc. features the most up-to-date electronics, improved performance and straight forward, simple operation.
Menu options are easy to read and navigate
Backlit LCD screen and special scroll functions allow operators to easily read the two-line display during day or nighttime work
Unit has been thoroughly tested for ruggedness and accuracy
Battery Saver and InteliCharge extend battery life keeping the gauge on the job instead of on the charger
Stehr Plate Compactors
Stehr offers hydraulically-driven vibrating plate compactors as single-, double- or triple-plate assemblies that can be easily attached to various equipment.
Force produced by the two counter-acting eccentric shafts is concentrated 100 percent vertically
Models range from 27- to 100-inch operating widths with 1,257- to 2,899-pound operating weights
Adjustable vibration system with frequency from 40 to 60 Hz and amplitude of .08 inches
Asphalt Zipper AZ-500
The AZ-500 attachment transforms your loader into an asphalt recycling/milling machine.
Re-engineered from the ground up
Processes asphalt up to 12 inches thick?
18- to 48-inch cutter widths
Bullet head, carbide-tipped cutting teeth
Improved active hydraulic depth control
Active hydraulic top opening bit hatch
Pressurized belt tensioning system
CEAttachments Severe-Duty Edge Cold Planer
The Edge severe-duty cold planer is suited for use on high-flow skid steers.
Available in 40-inch width and 10-inch depths
Electro-hydraulic-controlled tilt, depth and sideshift
In-line filter
Full side plates and rear mounting flange enclose drum
Front lid for easy access for cleaning and maintenance of picks
Case Onboard Scale Systems
Case?announces the availability of the Loup Electronics Load Log 800 and Load Log 8000 onboard scale systems for its Models 521, 621, 721, 821 and 921 wheel loaders.
Weigh 'on the lift' to speed operation
Enable operators to load more trucks per shift
Ensure trucks are correctly loaded the first time
Reduce visits to the weigh scale
Generate operational logs to ensure accurate record keeping