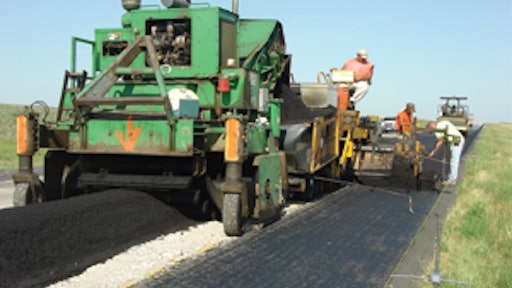 When the South Dakota Department of Transportation let a reconstruction project on an approximate 10-mile stretch of Interstate-90 between Presho and Kennebec, SD earlier this year, officials projected a May 2006 completion — "if all goes well."
According to the original plan, eastbound traffic was scheduled to be switched to head-to-head traffic on the westbound lanes in late April, when demolition and new drainage work was to begin on the eastbound portion of the project. At the time, bridge deck work was also scheduled to begin and take approximately 10 to 12 weeks to complete.
Antigo Construction of Antigo, WI was then scheduled to begin rubblization of the original 8-inch Portland cement concrete roadway, rubblizing one lane width the entire distance of the project and then the second travel lane. Both would then receive a 2-inch gravel "cushion" course prior to the start of the asphalt application. Rubblization of the eastbound lanes was estimated to take approximately two weeks. Another smaller project, the Murdo exchange, was also scheduled to begin once rubblization work on the eastbound lanes was complete.
Border States Paving, the primary and asphalt contractor out of Fargo, ND, was scheduled to begin paving the eastbound I-90 lanes and the Murdo project the first part of June. Border States hoped its aggressive construction schedule would allow it to have the eastbound lanes and Murdo project complete by late July, allowing work to begin on the westbound lanes, with the same sequence to be followed. After drainage, deck work and rubblization, Border States planned to place four of the six inches of hot mix asphalt (HMA) by the end of this construction season, completing the final 2-inch surface course next year.
Well, all has not "gone well" according to the original plan, with weather and other construction glitches throwing the project a full two months behind schedule. But like other projects of this nature, South Dakota's DOT and the contractors responsible for executing the plan have adapted and revised the construction schedule. The eastbound portion, as well as the Murdo interchange, will be completed this year and work on the westbound lanes is scheduled to begin next spring.
Project specifics
Due to the project's soil conditions, the South Dakota DOT opted to rubblize the original concrete roadway as the best approach in preparing for the new 6-inch HMA surface. There are different sections of I-90, which travels east/west through the state, which require different solutions — some requiring full-depth reconstruction with removal of the concrete and some being reconstructed with a new Portland cement concrete structure. But for the Presho/Kennebec project, rubblization and HMA overlay was selected
The DOT wanted to accelerate the construction project and offered a completion incentive to primary contractor, Border States. The contract offered a maximum early completion incentive of $200,000 if the project was completed by November 4 (opened to unrestricted traffic), with only the surface course remaining on the westbound lanes and other finishing details to be completed in 2006. Unfortunately, significant delays have pushed the entire westbound portion back until 2006.
Some modifications in the DOT's Quality Control/Quality Assurance specifications were allowed, with Border States putting together its own guidelines to maintain checks and balances to monitor HMA production and placement within the state's original mix specifications. The DOT's surface wearing course, for example, is a high volume traffic (HVT) mix design using the Marshall air void design requirement of 4 percent, with a ½-inch nominal aggregate and 64-34 AC content.
"We've had these specs in place for 10 years and even though we allowed Border States to develop their own QC/QA approach, they still have to meet the requirements of our HVT specifications," says Jay Pepple, DOT lead project engineer.
Border States is responsible for all QC measures and has a certified lab technician conducting tests, as well a certified field technician monitoring pavement placement by taking density readings and core samples.
When the $14.6 million project is complete, the contractor will have placed approximately 160,000 tons of HMA that was produced at its nearby portable Beta parallel-flow, 400-tph asphalt plant. Reclaimed asphalt pavement (RAP) was not allowed in the project mix designs, with original trial mixtures consisting of 15 percent ¾-inch aggregate, 20 percent 9/16-inch chips, 46 percent manufactured sand and 19 percent quarried sand.
HMA placement
Border States used a Blaw-Knox PF-3200 paver to place the three HMA lifts required for the main travel lanes of the I-90 project. All three 2-inch thick mats were constructed with the DOT's HVT mix design. Mix was transferred from the plant and deposited in windrows in front the paving crew, which used a Barber Greene material pick-up device to convey the HMA back into the hopper. Initial breakdown and density was achieved with an Ingersoll-Rand DD-130 vibratory roller, with a Dynapac 3116 roller used for shoulder work. A rubber-tire roller was also used during the placement of the base and intermediate courses.
Border States' QC measures call for sample testing every 1,000 tons of HMA produced and then taking two core samples for every 1,000 tons placed. The density requirement for the project's HVT mix was set at 92 percent.
Flexible Pavement Smoothness guidelines for the project were monitored by the DOT using a profiler to measure and analyze the International Roughness Index (IRI) of the final roadway surface of only the main travel lanes. Smoothness was evaluated on a lot basis, with a lot defined as a single paved lane 12-feet wide and one-tenth of a mile long.
If Border States maintains an IRI smoothness specification of fewer than 45 inches of surface deviations (1/4-inch) for every mile, the contractor can pick up another $125 incentive per tested lot (one-tenth of a mile). Incentives decrease as total length of deviations increase, and disincentives are levied if surface deviations exceed 75 inches per lane mile. If there are more than 100 inches if deviated surface, Border States is required to grind those surfaces.
In September, Lynn Anderson, general superintendent of paving for Border States, says work on the eastbound lanes had been completed and bridge work on the westbound lanes was underway.
"We experienced some significantly delays at the start of this project (due largely to the weather), and we know we'll lose a large portion of the original completion bonus as a result of the delays, but we're moving forward and expect to complete the westbound portion next spring," Anderson says. "It's been an interesting project (only the third DOT rubblization reconstruction in South Dakota, according to Anderson) and when we're finished, I know we'll have a very good road that meets the travel needs of that part of the state for a long time to come."