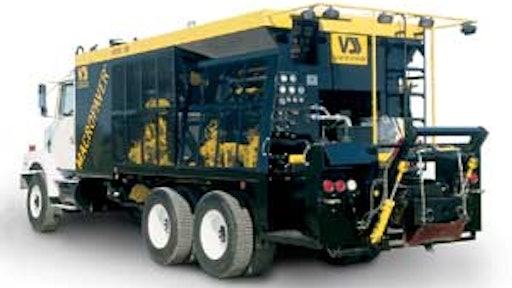 Here's a small sampling of the products you'll see on the show floor at the 2005 National Pavement Expo West, Nov. 17-19 in Las Vegas. The show floor will be open from 10:30 a.m. to 5:00 p.m. on Friday, Nov. 18, and from 10:00 a.m. to 2:00 p.m. on Saturday, Nov. 19.
VSS Macropaver
Truck-mounted Macropaver applies all slurry and polymer-modified microsurfacings
Automatic sequencing provides consistent quality throughout production cycle
Rugged construction
VSS Macropaver
1-800-ASPHALT
Designed to increase advertising response up to 14 times
Overcome area code confusion
Own multiple area codes in your state
Keep customers out of the phone book
1-800-ASPHALT
Sure Stripe 4000
Stainless-steel piston pump
.8-gpm walk-behind pavement striper
Operator releasable front swivel wheel with Radius Memory
Gun mounts on any corner of striper
Room for oversize containers
4-hp Honda engine with oil alert
Airlessco
Generation II Magma Series
110-, 230-, and 410-gal. capacities
Superflex III heated hose
Wand incorporates replaceable aluminum pipe, ball valve construction, and trigger flow control
Pump is mounted on the back of the unit in a heated cabin
Cimline Inc.
Carbide Scarifier
Clean, grind, or mill concrete and asphalt surfaces, thermoplastics, membranes, epoxy, and other hard or soft materials
Three times the carbide and three times the cutting power of traditional carbide scarifiers
Available for all brands
Kut-Rite Mfg. Co.
Diamond Shield Fortifier
Designed to dry from the bottom up
Sealer dries "ultra black"
Improves film strength
Dries in 2 to 4 hours
Reduces sand roll out
SGA Global LLC
ProPaver 4400 Series
Paving widths from 4 to 13 ft.
56-hp Isuzu water-cooled diesel engine
Load-sensing hydraulic system saves on fuel consumption
Working speeds up to 160 fpm
Travel speeds up to 320 fpm
Hydrostatic track drive system includes 13-in.-wide tracks
Bomag Paving Products
Asphalt Paver Rubber Tracks
Advanced tread rubber compounds designed for high weight loading and to prevent cuts and gouges
Tread pattern features a high tread to void ratio for a smooth ride and extended service life
Incorporate extreme, high-density, anti-gouge guide lug rubber compound and reinforced roller path
Bridgestone Industrial Products America, Inc.
DD-112HF Compactor
High-frequency compactor has vibration frequency of 4,200 vpm
Weighs 27,260-lbs.
42,070-lb. maximum centrifugal force with a maximum nominal amplitude of .032 in.
Chamfered, radiused edges on drums prevent drum marking and maintain smooth surfaces
Dual water spray system
Ingersoll-Rand Co.
Billy Goat Grazor
Removes vegetation, debris, and oxidized material and burnishes sidewalls
360-degree swiveling 5-in. caster for maximum maneuverability
5-position height adjustment, solid steel wire bristles, and 8-in. pneumatic rear tires
Billy Goat Ind. Inc.
NH 400-DX Model
Ideal for light construction debris pickup
HFP hydraulic sweeping system
4-cu.-yd. hopper
81-in. pick-up head
109-in. wheel base
Available on a cab-over diesel chassis
Nite-Hawk Sweepers
Electric Heat Legend Screed
Available for the 8500 and 8515 models with an 8- to 15-ft. paving width, and on the 24,000-lb. 8816 model with an 8- to 15.5-ft. paving width
Features include bull-nose screed plates, angle of attack controls, front-mounted screed extensions, and crown/invert control
LeeBoy
Pro Strip Brooms
Change the main broom without removing the core
100% polypropylene plastic-back strips
Easy to install and replace
Recyclable and environmentally friendly
Spiral strip core
United Rotary Brush Corp.
I.D. Locator
Pops up after paving
Withstands truck tires and paving machine tracts
3½ in. square by 4¼ in. high
Allows up to 4½ in. of an asphalt overlay
Working range between -40° to 450° F
American Highway Products Ltd.
MT Series Gas Rammers
All models with contoured handles, vibration reduction, and built-in guide handle retainer
MT-65HA delivers 2,900 lbs. impact force, 3 hp engine, and weighs 152 lbs.
MT-74FA delivers 3,100 lbs. centrifugal force with 3.5hp engine and weighs 179 lbs.
MT-84F generates 3,500 lbs. impact force, 3.5-hp engine, and travels up to 36 feet per minute
Multiquip Inc.