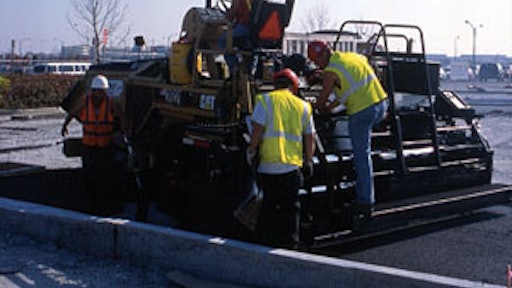 Recent budget cuts have left many Illinois road contractors shaking their heads and hoping for the return of better times in 2005, but that reality hasn't deterred K-Five Construction Corporation from making the investments required to be one of the preeminent asphalt contractors in the Midwest.
The Lemont, IL-based company, which typically generates approximately $125-plus million in annual sales, anticipates a significant shortfall in 2004 revenues, but expects 2005 to show improvement thanks to the Illinois Toll Highway Authority's decision to reconstruct 90 percent of the toll way system. K-Five's commitment to invest in technology, even during a down economy, has and will continue to play a critical role in its ability to profitably deliver on projects it is awarded.
K-Five employs over 500 associates and bids on over 1,000 projects each year. The technology and skilled workforce that has helped this contractor achieve profitable growth over the years is instrumental in the company's success rate of winning over 20 percent of the jobs it bids.
And while the company's success dates back to the early 20th century, the past 30 years truly define the evolutionary course the company has taken to be recognized as an industry leader. In 1977, the company incorporated under the K-Five name (representing the five children of George and Josephine Krug), and began emphasizing its paving expertise. Today the fourth generation has taken its place as torchbearer committed to delivering quality products and services customers have grown to expect from this well-established heavy-highway paving contractor.
As a producer of asphalt and concrete with in-place capabilities, K-Five also provides many other construction services, including estimating, private sales, quality control/quality assurance, project management, heavy highway general contracting, and residential/commercial subcontracting. K-Five's services range from milling, crushing and paving large Interstate projects to constructing large commercial parking lots and residential subdivisions in addition to sales of hot mix asphalt to other independent paving contractors.
Technological advancements
To advance its paving expertise and competitive position in the market, K-Five management realized technology would have to be an integral part of the success equation. Dennis Devitto, vice president of K-Five's asphalt operations has firsthand experience with how the company has leveraged technology over the years to meet the high standards customers demand. Devitto, who has been with the company for the past 32 years, praises the technical advancements that have helped elevate the paving process from a historical data-driven approach to one of constant testing and adjusting the process as it's happening.
"When we started using nuclear density testers to check volumetrics of a mix design after it was placed and compacted, we were able to obtain some immediate information on whether or not we were achieving the specifications required for a particular project," Devitto says. "We realized how technology could help us better control the end results. As a company, we started to develop a philosophy based on using technology to improve the process; and we backed that approach by training our project superintendents and foremen to use the technology to achieve better results."
With that evolving technology, quantifiable data — like that produced by the Strategic Highway Research Program — helped establish some standards contractors would have to achieve with an asphalt constructed project.
"We recognized that in order to be competitive, K-Five had to produce an economical product, place it economically and professionally, and do so at a quality standard that satisfied the customer," Devitto says.
By the mid-'80s K-Five stepped up its training efforts by sending superintendents and foremen to trade schools and equipment supplier-sponsored training workshops. With new advancements in paving equipment, training is ongoing to help K-Five associates maximize the benefits the technology can provide.
Viewing equipment upgrades as a competitive advantage is not limited to the equipment used by paving crews in the field. K-Five upgrades and maintains its five Chicago-area asphalt production facilities (Lemont, Chicago, Naperville, Markham and Elmhurst) to ensure quality mixes are produced in the most cost-effective way possible. Devitto says 80 percent of the mix quality and productivity for the company is a direct result of the ongoing plant improvements K-Five makes at its production facilities. With K-Five's five plants producing 1.5 million tons of HMA annually, producing a quality mix efficiently is very important. Sixty percent of the company's production is used on its own projects, and with 40 percent of those projects government jobs, quality and price are critical.
The company recently implemented an equipment management plan that replaces equipment on regular intervals. The intent is to maximize a piece of equipment's productivity then replace it before it requires a lot of repair work to keep it in production. Productivity is critical to this company's success and new equipment helps the company be more productive.
Laydown proficiency
K-Five has leveraged improvements in paving equipment to further advance its competitive edge in the market. As with improvements and upgrades of production facilities to achieve a cost-effective quality mix, similar upgrades to field equipment over the years have also maximized the efforts of the company's skilled workforce. Equipping pavers with adjustable screeds, for example, provided paving crews with the versatility to pave various widths and improve the quality of the project during laydown.
K-Five equips four to five paving crews, and as many as seven crews during peak season, with the latest equipment available. The company has five Caterpillar AP-1055B rubber track pavers, one Cat AP-1000 rubber track paver, an eight-foot Cat AP-650 steel track paver for shoulder work and parking lots, two Ingersoll-Rand DD-130HF compactors, three IR DD-110HF compactors, five IR DD-90 compactors, and a Topcon automated screed control system just to mention a few of the machines used to produce quality asphalt placements.
"As a low bidder, we compete for every dollar we get," Devitto says. "So having the right equipment to maximize our profitability on those projects is what it's all about in this business. To give you another example, we used to think milling 2,500 yards a day off of a project was pretty good. Now, we have equipment that can mill 10,000 yards a day off that project.
"You're competing with other contractors who pay roughly the same for materials, production, labor rates and equipment," he adds. "The key for us is to constantly look at ways (particularly at the type of equipment available) to be more productive than our competitors. You need to invest in equipment that will improve your productivity and quality levels and allow you to compete more effectively."
Midway project
K-Five recently completed a parking lot reconstruction for the City of Chicago's Midway Airport; and like many of the other government agency jobs which represents 40 percent of the contractor's paving projects, K-Five used its expertise to provide a cost-effective solution to the stringent guidelines outlined in the contract.
After placing a 10-inch aggregate frost protection base for the new parking lot, paving crews applied a 6-inch HMA base course, followed by a 1.5-inch binder course and a 1.5-inch surface course. The City's "green initiative" required reclaimed asphalt pavement (RAP) to be used in all three lifts of the project. The base course called for 33.4 percent RAP and a PG 58-22 asphalt cement binder. Because of the AC content in the RAP, the company's Lemont plant operators only had to add 2.9 percent AC to the mix to achieve the required 4.5 percent AC content. The lift was placed with a Cat AP-1055B rubber track paver and compacted to the required 93 percent density using two Ingersoll-Rand DD-90HF vibratory rollers.
On the binder and surface course mats, K-Five was allowed to place mix designs containing 20 and 15 percent RAP respectively, using a PG 64-22 AC binder. Compaction density for both lifts was 97 percent.
The $1.1-million project required 15,746 tons of base mix, 4,000 tons of binder mix and 4,000 tons of surface mix. All mixes were produced at approximately 315 to 320 degrees F to maintain a working temperature during the approximate 40-minute transport from the Lemont plant to Midway. Temperature at the screed was constantly monitored and recorded at 285 to 290 degrees.
And even with all the obstacles (light poles, manholes and landscape islands) the paving crew had to contend with on the project, K-Five still managed to place 1,500 tons of HMA a day by matching the right technology with the skill of laborers and equipment operators working on the project.
Matching technology's benefits and a skilled workforce has positioned K-Five as one of Chicago's competitive road construction players for years to come.