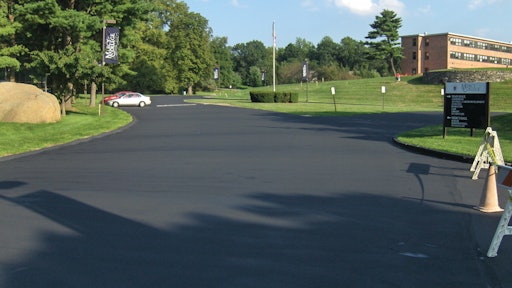 Applying sealer by hand is no surprise to most sealcoating contractors. In fact it's safe to say that most sealcoating contractors got their start in the business working sealer into the pavement with a hand squeegee or brush.
But few contractors, if any, would take on the 420,000-square-foot Mercy College job Jet-Black of Rockland tackled last summer – in their first full year of operation -- in the process successfully completing the Jet-Black's largest-ever sealcoating job..and by hand.
"It's impressive," says Nick Kelso, owner of Jet-Black Corp., Minneapolis, an asphalt maintenance franchise system, which is celebrating its 25th year in business. "A lot of our franchises would shy away from a job that large. They might be a little intimidated by it, partly because most would need equipment to get it done. So for Jet-Black of Rockland to take this on, and do it by hand, is really pretty amazing. And they were able to provide the customer with a higher quality job by brushing."
A true family affair, Jet-Black of Rockland is owned by Suzanne Pegg, managed by her son, Brent Sauchuk, and receives assistance from Brent's step-father, Robbie Pegg. Sauchuk had worked for Jet-Black of Orange County for two years and when the opportunity for a Rockland franchise opened up Pegg and Sauchuk jumped at it.
"It was an entrepreneurial move," Sauchuk says. "We saw a business opportunity and took advantage of it."
They were awarded the franchise midway through the 2010 season and he says spent the rest of that year "getting the hang of running the business." When 2011 rolled around they were ready "and from the first day to the last day of the season we worked nonstop."
From the start Jet-Black of Rockland offered sealcoating, cracksealing, patching and striping (though striping was subcontractor out). Using one Equipt 550-gallon tank Sauchuk and one or two employees (depending on job size) sealcoated almost 300 driveways and 15 commercial properties – including the six parking lots and connecting streets at the main campus of Mercy College in Dobbs Ferry.
"We got the college job because we work closely with MCM Paving," Sauchuk says. "He subs his sealcoating to us and we refer paving to him." MCM Paving bid the job and when he was awarded the contract he contacted Sauchuk and Jet-Black to get it done.
"And we took it on," Sauchuk says. "We knew in advance that it would be the biggest job in franchise history and that just gave us a little extra motivation. We were just determined to do something like that and have it under our belt."
A proponent of brushing sealer, Jet-Black Corp. promises its customers that jobs of less than 20,000 square feet will be done by hand because the company says brushing is the best way to work material into the pavement and provides a better finish. The company also recognizes that on larger jobs contractors might need to turn to spray application simply for cost-effectiveness, but that didn't matter to Sauchuk, who saw the 420,000-square-foot job as an opportunity to quickly make a mark in their local market. "We figured that if we did this and did it well it would get our name out there – and it worked," Sauchuk says.
Planning & Organizing
Kelso says Sauchuk was in contact with the corporate office for "a little coaching" but really didn't need much help. "They were really organized, and that was the key," Kelso says.
Sauchuk says the Mercy College job involved 10,000 square feet of crack repair and 420,000 square feet of sealcoating six parking lots and all connecting roads. Jet-Black had a 14-day window to start and finish the work, and the school, while not open to all students in early August, was in use by faculty and by sports teams so offices and dorms would remain open throughout the project.
"When we first got it we were excited -- it is a big job and we were going to set a record," Sauchuk says. "Then we definitely got nervous."
"We were pretty organized but we knew we had to be," Sauchuk says. "Otherwise we'd have been running around out there like chickens with our heads cut off." Sauchuk's first call was to the manager of buildings and grounds at Mercy College. "We went to the school and met with him, he gave us blueprints of the property, and then we walked every inch of the blacktop with him," Sauchuk says. Because he was familiar with on-campus activity the manager guided Jet-Black to which areas to work on which days. "We worked closely with him throughout the project and he was on the jobsite with me every day," Sauchuk says. "That was a big help because we didn't have to try to find him if we had a question or a problem."
He says the manager helped determine which areas could be done on which days because he knew which areas they could section off without causing problems for the school. "Size of the area wasn't an issue," Sauchuk says. "One day we did a 100,000-square-foot lot because they could close that entire parking lot down that day and not disrupt the school. Another day we did a 50,000-square-foot road because that worked for the school that day."
Kelso says he is impressed with the way Sauchuk and family handled the challenges of the job, including a small window to complete the work, weather issues, and the campus remaining open throughout the job. "It takes a lot of patience to handle a project like that with all the challenges," Kelso says. "For a new small business owner to tackle something like this they did a great job."
A Drop Tank and Pre-mixed Sealer
Next Sauchuk contacted his Jet-Black supplier, outlined the job, and determined that a 5,000-gallon tank would need to be dropped at the location. "It's a one-hour drive from our yard and we couldn't be hauling 550-gallons up there and running back to get more so we knew right away we'd need a drop tank."
He says selecting the location for the drop tank at the college was important – as was being there when the tank was delivered. "We wanted it in a location that would give us easy access to it throughout the project – we didn't want to have to move it as we went," Sauchuk says. And the manager of buildings and grounds wanted it out of the way of everyday campus activity. They eventually identified a location where the tank could sit on grass (so it wouldn't have to be moved off pavement to sealcoat beneath it). "We found a perfect spot on the outskirts of school where it was easy for us to fill the 550 and easy for Jet-Black to refill the tank."
The only issue came the morning of delivery when the trucker delivering the tank was nervous about squeezing it into the selected location. "The tanks was so big the driver wanted to put it someplace else so it was a good thing I was there to make sure it was placed where we needed it," Sauchuk says.
On most jobs Sauchuk and his crew mix the sealer themselves, adding water and sand at the site. But for a job this size they looked into having premixed sealer delivered to the drop tank. Robbie Pegg, Sauchuk's stepfather, ran the numbers with him and it became clear that it was more cost-effective to buy premixed sealer than to have workers stop their sealcoating so they could add water and sand and mix the material onsite. Plus, mixing onsite would have required delivery of pallets of sand and a water truck on the jobsite.
"It was just more cost-effective to buy the material premixed for us," Sauchuk says. "It cost a little more but it would have been too tough for us and too hard on the employees and it would have taken too long at the jobsite if we had to spend time mixing and not sealcoating. This way all we had to do was drive to the drop tank and fill the 550 and we could be out sealcoating again."
And they had to find additional labor. Because Jet-Black of Rockland did primarily driveway work it had only one or two additional workers it could call on to assist with this job. Sauchuk figured he needed six. so he hired additional temporary workers and of his six-person crew two had never sealcoated before. "But we threw them in doing the very basic work and with some guidance from the rest of us they picked it up very quickly," he says.
On the Job
Before work could start Mercy College had to do its job informing the college community, and Sauchuk says they did a great job. "With a large job like this and a tight time frame we couldn't afford any delays because of people leaving cars in parking lots or something like that," Sauchuk says. The college relied on letters, announcements, and flyers in every entrance and exit door on campus informing people which areas would be closed on which days. "It was a little tough at the beginning but in almost all cases the areas we needed to sealcoat were empty of cars and blocked off when we got there to work," Sauchuk says.
The university also took the lead blocking off roads and parking lots each day with campus security setting up cones and barricades and in some cases even closing down access by parking cars across roads.
Then Jet-Black could get to work. Sauchuk says they started each day cleaning the pavement using walk-behind blowers and backpack blowers. As soon as that was done the crew started sealing cracks. Sauchuk estimates they sealed cracks in about 10,000 square feet of pavement using three 10-gallon wheeled melters and Crackmaster Supreme hot pour crack filler. "We don't own a melter applicator so we just relied on the small hot pour boxes melting one brick at a time with two or three people repairing cracks," Sauchuk says. "It took a while." (See Sauchuk's tips for future big jobs.)
Sealcoating by Brush
Then came the sealcoating and Sauchuk used the 550-gallon Equipt tank to move material from the drop tank to the day's location. He says the hose on the tank was too small to deliver the required amount of sealer quickly so instead they opened the bottom on the back of the tank and let the sealer fall to the pavement. The driver of the unit pulled away, leaving a heavy bead of material behind, then returned to the drop tank for a refill.
Sauchuk says a four-person crew the finished the sealcoating. Three people used a stiff 36-inch-wide heavy duty synthetic fiber applicator brushes to spread the sealer and work it into the pavement, then Sauchuk provided the finishing touch using a softer bristle 36-inch brush.
"Three people spread the material around and then I finished it off, making sure there are no lines or footprints," Sauchuk says. "The people pushing the sealer around to get coverage used brooms with harder bristles than mine to better work the sealer into the blacktop. My brush is softer and puts a nice finish on the sealer," he says, adding that it's the same process Jet-Black uses on its driveways.
"The brushes work the sealer into the blacktop and the sealcoat lasts a lot longer that way, so that's why we did it that way," he says. "We wanted to provide Mercy College with a long-lasting sealcoat with a great finish and this approach does that."
Sauchuk says he's a firm believer in brushing sealer and plans on doing most jobs that way. "But it does depend somewhat on the numbers," he says. "If we can make money sealcoating by hand then that's what we're going to do because it provides the best job. But in some cases it's just not possible.
"We were able to tackle this huge job by hand because we had a 14-day window and a lot of cooperation from the college," he says. "But when you work with someone who works with you and you're given a big enough time frame and you have the time to brush it on you can do it that way."
Sauchuk says the bottom line – other than the profit on the job – is that Mercy College and MCM Paving is happy with the work. "They're all kind of amazed at how quickly and efficiently we got there and got it all done and really had no issues," he says.
That is giving him the confidence to pursue more commercial work this year. "We won't abandon driveways because driveways give us steady business, but we want to get into more commercial wor because it will help us get noticed more."
Not that they need too much help after finishing the largest job in Jet-Black franchise history. "The Mercy College job got our name out there and got Jet-Black's name out there and we're proud of that," Sauchuk says. "We're now recognized as one of the bigger companies in our area. And people have started to call us and recognize our company. We can show other owners how we did a job like that and that helps convince other owners that we can do their job."