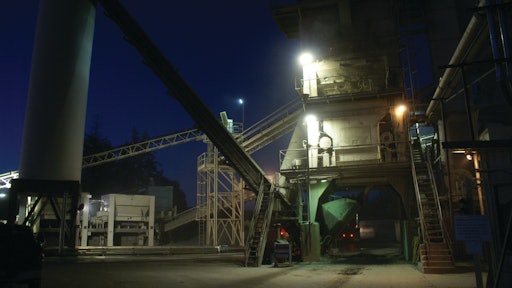 Too many times, the asphalt industry is seen as being on the wrong side of environmental issues. The asphalt production industry is often seen as dirty and stinky. For those of us in the asphalt industry, we know this is far from the truth. And with businesses like the BoDean Company in our corner, perceptions will change quickly.
For over 20 years, the BoDean Company has been one of the foremost suppliers of quality crushed rock and asphaltic concrete in the Napa County and Santa Rosa areas of Northern California. The company is operated by Belinda (Bo) & Dean Soiland. The couple started their journey by taking over the operations at the Mark West Quarry, near Calistoga, in 1989. Before the Soilands took it over, this quarry ran as a crushed stone operation under several different operators dating back to 1910.
In the 1980s, the Sonoma County Board of Supervisors developed the "Aggregate Resource Management Plan" (ARM Plan). In order to reduce impacts and preserve the Russian River, the ARM Plan called for reduced terrace and in-stream gravel mining within the Middle Reach of the Russian River in favor hard-rock hillside mining where environmental impacts can be better managed. The 1994 ARM Plan called for the complete phase-out of all river terrace mining by 2006.
In 2001 BoDean acquired its asphalt plant on Maxwell Drive in Santa Rosa. Since the ARM Plan phased out sand extraction from the Russian River, BoDean found itself having to purchase sand from British Columbia, Canada in order to produce its asphalt.  The company felt doing this, however, was not sustainable, environmentally responsible, or cost effective.  In order to address this dilemma, BoDean invested in the construction of its own wash plant.
Adapting in a tough climate
For BoDean, the economic downturn of the last few years has forced them to adapt to changing times.
"In many respects, BoDean has had to re-invent itself over the last six years," says Bill Williams, general manager. "This has been done by diversifying its products as well as creating products that meet a growing need in the environmental market segment."
Williams says the company managed to find work on larger government projects, including a highway revival and widening project being contracted by the California Department of Transportation (CALTRANS) for which BoDean was one of the primary suppliers of asphalt.
"Most all of our work in the last couple of years has been municipal in nature with the largest percentage being state highway projects through CALTRANS," says Williams. "Both Sonoma County and the City of Santa Rosa make up the bulk of remaining work and then to a smaller degree commercial and private jobs. 
"However, this has not always been the case," he continues. "Prior to the economic downturn we had significant work in private development and commercial jobs.  Hopefully 2012 and 2013 will see a turn around with more and more commercial and private work being done."
BoDean offers several types of mixes, including recycled mixes, to both large and small paving contractors. The company produces several hundred-thousand tons a year.  Mix types include typical ½", ¾" ¼", 3/8" asphalt, as well as Topeka, Berm, Open Grade, permeable/porous, and rubberized asphalts. 
"We can produce these asphalts as hot mix asphalt (HMA) or as warm mix asphalt (WMA)," says Williams. "Our ½" and ¾" asphalt also contains between 15% and 25% reclaimed asphalt pavement (RAP).  We also have used recycled asphalt shingles (RAS) in our mixes and will be doing more starting later this year.  We also produce an all-weather cold patch mix, Bond-X Green, used for pot-hole repair.  This product is environmentally superior to typical 'cut back' mixes and will actually last longer as well."
Using recycled materials during the production process allows the company to simultaneously cut costs as well as reduce its carbon footprint. BoDean uses a mechanical foaming process to create its WMA. The company felt the foaming process was a more sustainable choice than using an additive.
"Using additives is an additional cost upon the asphalt," explains Williams. "Part of our cost would then become beholden to the additive supplier to a small degree.  It also means using chemicals, trucking in those chemicals and storing them and/or protecting them from storm water, etc.  These are problems we did not want to take on.  Besides the small upfront capital cost to putting in a foaming system, our foaming system only uses about a cup of water per ton of asphalt produced – meaning  virtually no cost added to the mix, no purchases of chemicals and no challenges with chemical handling."
Sustainability as a growth strategy
WMA and recycled mixes are just a small part of the many "green" changes BoDean is undergoing facing an evolving marketplace.
"Our site is paved and is sloped downward to the north," says Williams. "By doing this, we allow the aggregates to drain and then we load the aggregates from the drier southern edge of the piles.  By giving the piles of aggregates southern exposure, we utilize the sun to bake out the moisture in the rock.  This practice saves a tremendous amount of money in drying costs. Every 1% moisture removed saves BoDean between 10% and 14% in energy costs.
"We also sell cold mix asphalt which is made from vegetable oils rather than straight petroleum-based oil," he continues. "In late 2012 we also plan on constructing additional silo storage which will allow our batch plant to run in more of a 'continuous' fashion instead of intermittently which will save in natural gas consumption."
Why emphasize sustainability as a growth strategy? Williams says it's more than dollars and cents.
"Sustainability adds to our bottom line, but more importantly, and in a larger sense, it makes sense to use business practices that are built around sustainability," he says. "By having this as a central core value we allow ourselves the ability to learn more and more how what we do affects those around us.
"Not recognizing this prevents us from seeing how what we do today may negatively affect future generations from enjoying the resources that we use today" he continues.  "It's important that we protect our resources and use them in a way that does not compromise future generations, but instead adds value to these resources by building upon what we learn today by these practices.  These practices therefore not only lead to personal growth as an individual, but also to corporate growth that synthesizes responsibility with profit.
If people are sincere in their desire to go green, they will eventually realize many benefits, says Williams. 
"The first benefit is a sense that you are doing something right for the future," he says. "Secondly, since sustainability by definition means saving something instead of using it up and using something over and over again, that equals greater profitability. If we use less energy, we save money.  If we recycle something instead of spending time and money to extract or create that product, then we are saving money.  Going green shifts our notions of consuming something to saving something. 
"When we shift to this understanding we become more 'thrifty,' and when times are tough economically, don't we all want to become thriftier?" Williams asks. "This 'thriftiness' leads to bottom line savings, and slowly but surely, alters how we allocate resources."
A bright future
The BoDean Company is definitely dedicated to sustainability and protecting our resources. With its strong commitment to the environment and continued emphasis on customer satisfaction, Williams sees a bright future ahead for the company.
"Early on, our greatest challenge for 'going green' has been cultural," he notes. "In order to be truly green, it must become a part of your identity within the corporate culture. Everyone – from the bottom up – must begin to buy into what is being expressed by its leaders."
Williams says this kind of culture change cannot be done overnight. "It can be achieved in baby steps, like putting up recycle receptacles throughout a work area, using compostable products or real utensils instead of disposable utensils, cups, plates etc.," he says.
Even though BoDean has taken some rather large steps, like the solar project at the Mark West Quarry, the company is still learning to take those baby steps. 
"We are getting better, but we have more to do," says Williams. "Sometimes going green means having to put up large capital funding with long-term savings not being realized right away.  This can be a hard sell within a leadership team that is trying to cut back on costs.  However, there are incentives out there (federal grants, utility rebates, etc.) that can help hedge against these upfront costs.  These incentives can bring about ongoing savings earlier rather than later and can make it easier in 'selling' a green initiative to a weary leadership team."
Williams credits the owners, Dean and Belinda Soiland, and their strong leadership as well as commitment to sustainability, for getting the company positioned well to meet the future.
"There is no substitute for leadership and visionary thinking," he says. "If there is a will, there is a way."