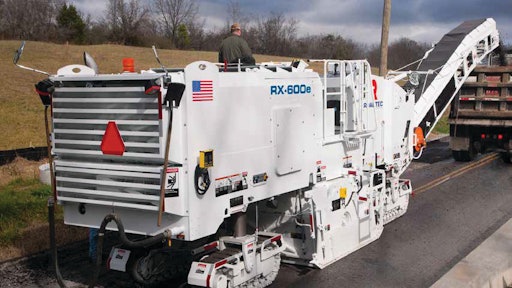 During the World of Asphalt in San Antonio in March, Roadtec had nearly its entire booth filled with its new equipment lineup.
The new generation of Roadtec machines arrives with a slight change in terminology used to classify each model. The model number of each new machine will include the letters "e" or "ex". The single letter "e" denotes that the machine's engine has a Tier IV emissions rating. The letters "ex" denote that the machine's engine has a Tier III emissions rating. The "ex" models are machines exported to countries that do not require a Tier IV emissions rating.
Roadtec offers its new e-series cold planers. The 325-hp RX-400e/ex compact cold planer is designed for commercial applications and narrow milling projects. The 620-hp RX-600e/ex offers various drum options to allow smooth machine operation in different applications. The 755-hp RX-700e/ex half-lane cold planer cuts up to 14 in. deep. And last, but not least, the 950-hp RX-900e/ex half/full lane unit features Sollami triple wrap, single hit drum with cutter bits for traditional milling. All four models feature the Guardian Remote Telematics System.
Roadtec's mid-size SX-4e/ex soil stabilizer/reclaimer weighs less than 60,000 pounds and can perform road rehabilitation, cold recycling, or soil stabilization. Designed to be compact, the SX-4 can load and unload quickly and easily. The ergonomic design of the sealed cabin situates the driver in optimal reach of all important controls and offers a soundproofing system that protects the operator from excessive engine noise, as well.
Click here for video of the SX-4e.
The new 8-ft. RP-2505 steel-tracked paver operates with high density tamper bar screeds. Both tamper bar screeds have 8-ft. 4-in. hydraulically extendable extensions with integral rear mounted extensions that allow a maximum paving width of 16-ft. 8-in. The unit is powered by a Caterpillar 174-hp 6-cylinder diesel engine.
The new Tier4i SP-200e spray paver features improved visibility, fingertip controls, fully adjustable seats, and an automated spray system. The unit offers a 2,100-gal.-capacity product tank which is heated by an on-board hot oil heating system. This high-capacity tank is well insulated so that emulsion does not have to be offloaded overnight.
Available as standard on e-series cold planers and e-series pavers, the Roadtec Guardian Telematics System consists of software, on machine viewing screens, and wireless signal boosters to send and receive data at the machine. Numerous functions such as engine data and fuel consumption can be viewed at the machine or on your computer screen from a remote location. Software is automatically updated when a new version is released.
The new MB-85 heavy-duty mid-mount broom features a Tier 3 Caterpillar engine, 6,700-lb. weight and12-mph working speed.