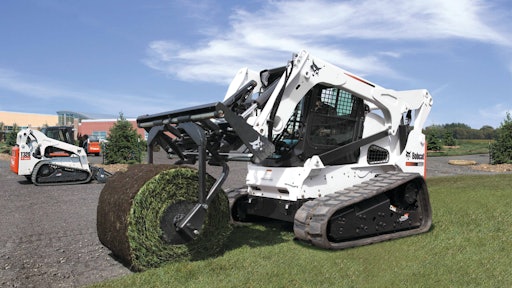 How ready are you to accommodate customers who walk through your door seeking an attachment for a job requiring a compact excavator or a compact loader? If you can't answer that question with certainty, perhaps it's not only time to review your inventory, but you might also need to think outside your current stock.
Our slowly improving economy has customers looking for cost-effective attachment rentals, rather than buying them. Attachments are the key to compact equipment versatility and your ability to successfully stock the right ones in quantities to meet demand is directly tied to understanding your customers' needs and helping them identify business opportunities.
Stocking attachments that generate revenue involves an evaluation of utilization across your markets. This will help stock attachments that can create a sustainable competitive edge. Stocking multiple units of properly selected attachments offers a low initial investment with a high rate of return. In order to achieve this, attachments must ultimately provide value to your customers.
Multiply versatility with attachments
The goal in managing an attachment rental program is to make power units as versatile and productive on as many different jobsites as possible. Both compact excavators and compact loaders should be offered for rent with a variety of different attachments, which can add several capabilities to enhance a rental business year-round. While augers and hydraulic breakers are two of the most highly demanded attachments for construction contractors, some manufacturers offer more than 70 different attachments for compact equipment that can create distinct advantages in today's competitive market.
While customer rental needs vary widely - from loading dirt and aggregate, to moving brush, to sweeping debris to breaking up concrete - a machine outfitted with an attachment is typically designated for a very specific purpose. Attachment versatility for compact equipment, however, can stretch equipment resources with their ability to adjust to changing applications and serve as work tools to perform multiple jobs.
For example, customers who determine that a dedicated compact excavator can only be used to perform digging might be missing an opportunity to equip it with attachments, such as a grapple for land clearing, an auger for utility installations, a breaker for demolition, a trenching bucket to dig foundation footings, or a plate compactor to finish trenches. Likewise, winter seasonal work could present a business opportunity with snow removal, as some contractors will typically seek a four- or six-month rental contract of machines and dedicated snow removal attachments.
Compact excavators
Compact excavators are perfect candidates for attachment integration, which can help owner/operators build an ideal combination to complete projects far beyond just earth-moving. With their ability to access tight areas, compact excavators and attachments are as effective in pavement and utility rehabilitation applications as in new construction. With an aging infrastructure, they can be used to answer the growing need to refurbish aging utilities, specifically gas and sewer lines and septic tank systems. More municipalities are also realizing the aesthetic and protective value of using them to help bury overhead power lines. Attachment mounting systems and auxiliary hydraulics allow compact excavators to be extremely effective tool carriers for a wide variety of attachments, such as:
Augers
Breakers
Grapples
Clamps
Plate compactors
Rippers
Trenchers
Grading blades
Packer wheels
Compact loaders
The most popular attachments for most manufacturers' compact loaders range from general, all-purpose material handling buckets to heavy-duty industrial buckets for more serious applications. Generally, a compact loader is fitted with a general-purpose-size bucket designed for cleaning feedlots, moving wood chips and lighter organic materials and aggregates in construction, agriculture, municipal and recycling applications. Stronger buckets are also available and are typically designed for moving higher-density materials, such as those found in quarries and mines and larger roadwork and site development projects.
Compact loaders can also be fitted with a number of other attachments to handle demand, which can multiply their capability to serve a wide variety of different applications year-round, including asphalt preservation and snow removal:
Augers
Asphalt heaters and processors
Buckets
Brooms
Brush chippers
Pallet forks
Tillers
Snow blades
Wheel saws
Snow pushers
Soil conditioners
Grapples
Snow blowers
Mowers
Dozer blades
Sod layers
Stand out from the crowd
Rental operations need to further explore how different attachments can help distinguish your services in a crowded or competitive market. What makes you different? Perhaps your rental business always provides a clamp with your bucket rentals, or an attachment exchange system that increases a customer's efficiency. 
Consider the fact that stocking machines with a quality attachment exchange system can open up more attachment options for machines and speed up customer efficiency. With some manufacturers' attachments, compatibility extends across loader and excavator lines for greater efficiencies and economies of scale. Some have also been designed to vertically integrate with the machine's electronics and hydraulics. While each type of loader or excavator has its own set of performance benefits in certain conditions, some of today's attachments are interchangeable to provide flexibility and convenience for an equipment fleet that needs to be responsive to multiple jobsites.
Such an investment in compact excavator and compact loader versatility can be a strategic way to expose a customer to a better approach that can potentially create a niche for your rental operation. For example, if a company's excavator with a compatible auger attachment is located on one jobsite, but the auger attachment is needed somewhere else, operators don't have to move the excavator just to be able to use an auger at a different jobsite. Additionally, some compact loaders offer attachment mounting systems and accessories for their machines that allow operators to make exchanges without leaving the cab.
Identifying and connecting regionally based trends driving attachment selection represents an opportunity for rental operations. Some areas might use a different type of clamp or attachment mounting system that's more acceptable in their region. That's an opportunity for rental companies on the borders of those areas to carry a mix of each technology and help educate customers about which one is best for their application.