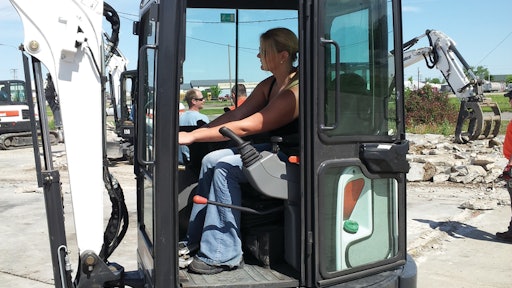 My first week on the job, my editor informs me I will be attending a Bobcat Boot Camp in Fargo, ND in just three weeks. Umm… what? Putting the words Bobcat and Boot Camp together sounded terrifying. She went on to explain that many companies invite editors to events for experience running heavy machinery for themselves. Yup, terrifying. Being a city girl, the thought of operating equipment was not even on my radar – I just started to mow my own lawn! Nevertheless, Fargo called and off I went.
The Attachments Boot Camp I was invited to, was actually a concentrated equipment training for Bobcat salesmen. It was apparent on the first day these guys really know their stuff – only adding to my fear of operating in front of them. Luckily for me, the product specialists know their stuff too. At each site, someone was there to walk me through the operating of each machine I was put in control of. They stayed close (but not too close - for their own safety), in case I ran into any trouble or had questions.
Within two minutes of buckling myself in to an E26 Excavator, I was using the breaker attachment to bust up a parking lot and huge chunks of concrete. One word – Amazing. Throughout the next two days, I grappled, dug, broke, shredded, cut and yes, even mowed the grass (although at a much grander scale than I was used to), with various attachments that are added with the push of a few buttons to a Bobcat skidsteer or excavator.
Sounds fun, right? It definitely was. The funny thing about fun is that it can have a tricky way of teaching you things too. While watching the asphalt preservation presentation, I found myself enthralled in the process and couldn't wait to learn more.
This process is simple and extremely effective for repairing cracks and potholes on site – no asphalt mix transportation required, no cold bonds. All it takes is two attachments – a generator with an infrared asphalt heater and the Bobcat Processor Attachment – and three simple steps.
Heat the area you want to repair. A generator heater is placed over the repair area with a Bobcat loader. In this case, a Doosan generator was attached to an infrared heating element that was placed over the area with a Bobcat skidsteer. The 3,000 lbs generator, and its three infrared heating elements, can heat a repair area as large as 30 square feet to soften the asphalt for the milling process. The heater should sit over the area for 30-40 minutes or until the temperature is 300 degrees 
Once the heater is removed from the patch area, the Bobcat Processor Attachment is used to mill the heated area by backing up over the site. The attachment is then repositioned to become a screed, lowered and then moved forward over the milled area to level it off. A small amount of asphalt rejuvenator is added, and the mix is re-milled and leveled until the mix is consistent. The use of an asphalt rake is also helpful to smooth the surface 
Finally, a vibratory roller starts to compact and smooth the patch along the edges. It is worked into the middle and rolled over the patch again and again until it is tight and smooth 
According to Bobcat, this asphalt recycling system saves an average of 60% of the costs associated with other asphalt repair methods. Not only does it reduce the consumption of raw materials, the system also eliminates the purchase, storage and transportation of additional resources. Plus, the process requires less manpower and can conduct work within a single lane, minimizing traffic disruption. The patch will be ready to tolerate regular traffic after just 24 hours.
In the month since I started working for this magazine, I continually hear about the importance of sustainability and the increased use of recycled materials to complete a job. This process is the epitome of green, seamlessly fusing recycled asphalt with surrounding asphalt to create a strong and durable bond.
Reading articles and hearsay can only do so much for a new editor learning the business. Being given the opportunity to operate these machines and see these processes in action was invaluable to my growth and education in this industry. Can't wait for my next adventure!