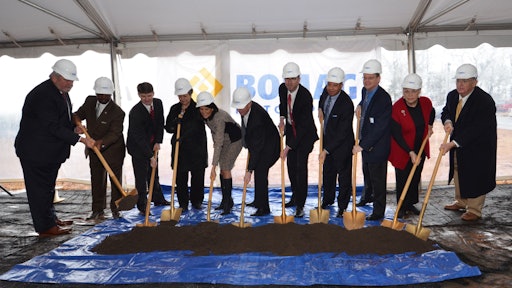 [photo and caption story]
Bomag Breaks Ground in South Carolina
BOMAG Americas Inc. representatives along with South Carolina state and local officials broke ground in February on the future site of Bomag's North American headquarters in Ridgeway, SC. The 127,600-sq.-ft. facility will house 107,100 sq. ft. of spare parts warehousing and machine assembly along with 20,500 sq. ft. of office space. BOMAG begins construction this March and expects to complete the facility in October, when the manufacturer will begin the move from its current Kewanee, IL. headquarters. "We believe this area offers our company several strategic benefits, such as: close to port of entry, proximity to an air hub for spare parts fulfillment and a climate conducive to offering year-round sales and service training for our customers," says Walter Link, president of BOMAG Americas Inc. Rob Mueckler, vice president of sales for BOMAG, adds, "The primary objective of this new facility is to strengthen the services of our North American organization with the purpose of being closer to and better serving our customers."
Superior Tire Celebrates 50 Years in 2014
Superior Tire & Rubber Corp., Warren, PA, will celebrate its 50th anniversary in 2014. is celebrating its 50th anniversary. Superior Tire & Rubber was founded as a tire retailer, re-capper, and molder of solid industrial rubber tires. In 1974, Henri LeMeur Sr. purchased the company and refocused the company's strategy as a manufacturer of specialty industrial tires. An early success was tires for floor scrubbers and sweepers where wet traction, chemical resistance, and high-load carry capability necessitated specialty compounds.
Today, Superior Tire & Rubber Corp. has two manufacturing facilities, a technical center, and a third manufacturing facility in the planning stages. All of this is to support a new product development effort that generates 200 new products per year incorporating high performance polyurethane and rubber compounds, some of which are based on new patents.
Henri LeMeur Jr., who became President and CEO in 1994, said that none of the success that the company has built would be possible without the energy and enthusiasm of a great group of employees. "Every product challenge I have thrown at our team has succeeded in time."
The company's technical excellence has created competitive advantages for many of the world's largest original equipment manufacturers in the material handling, road construction, floor maintenance, agriculture, and infrastructure markets. Superior Tire & Rubber Corp. also serves the aftermarket with material handling and agricultural specialty tires through distribution locations in Chicago and Los Angeles for its well-known brands.
Schwarze Industries celebrates 40th anniversary
Schwarze Industries, Huntsville, AL, will celebrate its 40th anniversary in 2014.
Founded in 1974, Schwarze Industries was originally a sweeping contractor, who wanted to provide contractors with a type of customer experience that was innovative in the sweeping industry and has evolved into an industry leading manufacturer with a global presence.
The company's main factory is located in Huntsville, and it also has an assembly facility in Brisbane, Queensland, Australia, which was opened in 1996. This Australian facility not only serves Australia but also the New Zealand, and some Asian and South African markets. 
In 2000 Alamo-Group, a Texas-based corporation that specializes in the design, manufacture, distribution and service of high-quality equipment for right-of-way maintenance and agriculture, acquired Schwarze Industries, Inc.
By joining forces with Alamo Group, Schwarze was able to increase its penetration of the governmental market and expand its geographic reach. In addition to the obvious market synergies, it was also be able to preserve the close relationships they had built with its customers and employees.
Industry Appointments
At Avery Dennison, Mentor, OH, Nick Tucci is vice president and general manager of Reflective Solutions … At Bergkamp Inc., Salina, KS, David Anderson is director of sales, Government Business Unit, and Rex Eberly is director of sales, Contractor Business Unit
The National Asphalt Pavement Association (NAPA) President Mike Acott is the 2013 inductee to the Asphalt Pavement Hall of Fame…Rod Birdsall, All States Materials Group, Sunderland, MA, is the new president of FP2 Inc.
FHWA, MnDOT Release "Rolling Resistance" Report
A report on "rolling resistance" that gauges pavement surface characteristics' effect on fuel consumption and energy conservation has been released by the Federal Highway Administration (FHWA) and the Minnesota Department of Transportation (MnDOT). Pavement Texture Evaluation and Relationships to Rolling Resistance at MnROAD is now freely available online at http://www.dot.state.mn.us/research/TS/2013/201316.pdf.
MnDOT is investigating the influence of pavement surface characteristics on rolling resistance—resistance to motion caused by pavement's interaction with a vehicle's tires—because lessening this resistance reduces the energy required to overcome it during road travel. A 10% decrease in rolling resistance could reduce the U.S. public's fuel consumption by two to three percent and eliminate up to $12.5 billion in fuel costs per year.
"The research conducted under this study intends to produce data that will allow MnDOT to identify ideal ranges for surface characteristics including texture, friction, and roughness and how these variables interact," said MnDOT's Dr. Bernard Izevbekhai, the lead agency contact. "The goal: improve pavements' quietness and ride quality while keeping them safe and durable."
The report is based on test data collected at the MnROAD testing facility and laboratory in cooperation with MnDOT, the Technical University of Gdansk, and pavement engineering firm The Transtec Group (Transtec). Transtec used their robotic laser texture profiler, RoboTex, to collect precise texture data from MnROAD's varied set of pavement surfaces, then analyzed the relationships between each pavement's coefficient of rolling resistance and surface characteristics data. The full results of this analysis are available in the report.